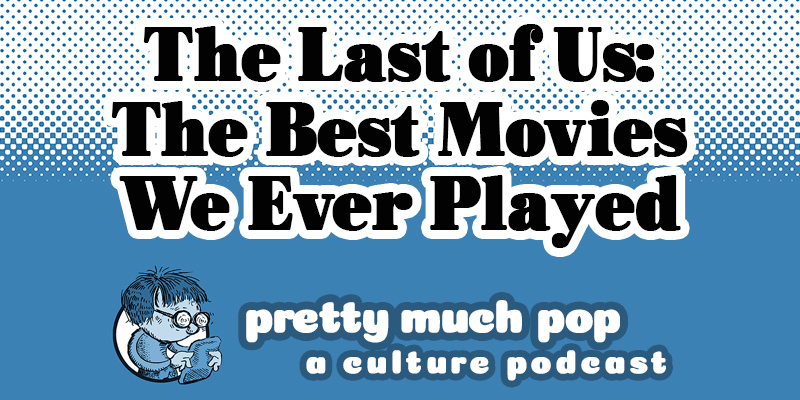 Your Pretty Much Pop hosts Mark Linsenmayer, Brian Hirt, and Erica Spyres all played both The Last of Us, and more recently immersed themselves in the lengthier The Last of Us 2, which has been generating a lot of acclaim but also controversy. Actually, Erica just watches her husband Drew Jackson play these things, but he showed up to this discussion too. Yes, these creations of Neil Druckmann with the Naughty Dog team are groundbreaking, and riveting, but by design not necessarily "fun," or thereby involving much "playing."
The franchise is ostensibly about a zombie apocalypse and an immune girl that might be its cure, but it's really a drawn-out drama about loss, family, and the cycle of revenge… You know, in between running around looking for scraps to craft weapon upgrades and skulking around driving shivs through the necks of numerous monsters and people.
We compare The Last of Us to other zombie media like Walking Dead, address the shifting points of view in the game (playable flashbacks!), representation, fan and critical reaction, the effectiveness of the game's message, and more.
This conversation should work both for listeners who've actually played the games and those who are just curious about what the fuss is about. There are some plot spoilers about the end of the first game and events near the beginning of the second game necessary to discuss the narrative.
Listen to the official Last of Us podcast. For another player perspective, check out the Besties podcast.
Other resources:
Learn more at prettymuchpop.com. This episode includes bonus discussion that you can only hear by supporting the podcast at patreon.com/prettymuchpop. This podcast is part of the Partially Examined Life podcast network.
Pretty Much Pop: A Culture Podcast is the first podcast curated by Open Culture. Browse all Pretty Much Pop posts.