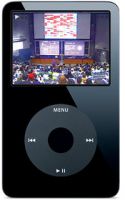 Lifehacker has assembled a great list that will help you maximize the use of your iPod. Here, they point you to free software that will let you 1) rip a DVD to your iPod, 2) copy music and videos to and from your iPod, and also from and to any computer, 3) load videos (and particularly YouTube videos) to you iPod, 4) put Wikipedia on your iPod, 5) free yourself from using iTunes, 6) backup your iPod, etc.
Check out the full list here and learn to make your iPod a better learning/entertainment tool.
PS: A very similar list of iPod tips was published a few days ago over at Pachecus.com, and they were kind of enough to include a link to one of our old features. Have a look here too.