96 years ago today, Orson Welles, the "ultimate auteur," was born in Kenosha, Wisconsin. Hence his early nickname, The Kenosha Kid. Nowadays, we remember Welles as arguably the greatest director of the 20th century, a superb actor on stage and screen, and a pioneering radio dramatist. To celebrate his 96th birthday, we have dipped into our archives and pulled together some of Welles' finest artistic works, all now freely available online:
The Stranger
Welles' third film, The Stranger, a 1946 film noir thriller, was a commercial success upon release. The same couldn't be said for Citizen Kane. The Stranger features Edward G. Robinson hunting a Nazi fugitive (Welles himself) who marries the daughter (Loretta Young) of a Supreme Court justice. The film, now available online in its entirety, is one of the first post WWII films to show footage of concentration camps. You can find this film, and others mentioned below, in our collection of Free Movies Online.
The Third Man

The Third Man by crazedigitalmovies
Welles famously starred in The Third Man, a must-see noir film, which won the Grand Prix at the 1949 Cannes Film Festival and an Academy Award for Best Black and White Cinematography in 1950. A half century later, the British Film Institute named The Third Man the best British film of the 20th century. Quite a statement. You can watch it here.
Freedom River
Almost 40 years (and seven presidential administrations) have passed since Orson Welles narrated Freedom River. And although the animation shows some age, the parable, a commentary on America, still resonates today. Or, at least I suspect many viewers will think so. You can get the backstory on this intriguing little project here.
The War of the Worlds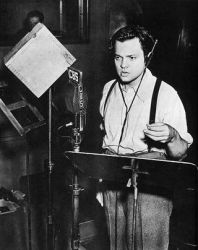 Back in the late 1930s, Orson Welles launched The Mercury Theatre on the Air, a radio program dedicated to bringing dramatic productions to the American airwaves. The show had a fairly short run. It lasted from 1938 to 1941. But it made its mark. During these few years, The Mercury Theatre aired The War of the Worlds, an episode narrated by Welles that led many Americans to believe their country was under Martian attack. The legendary production was based on H.G. Wells' early sci-fi novel, and you can listen to it here. We have more links to Mercury Theatre productions here.
Welles Reads Moby Dick
He only gives you two tantalizing minutes. And he's paraphrasing more than reading the text itself. But it's vintage Welles. You can find him reading another passage from Melville's classic here…