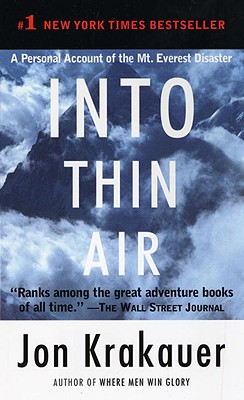 A few days ago, The Guardian published its list of the 100 Greatest Non-Fiction Books of all time. The collection spans biography, art, philosophy, history and several other hefty categories, and, for the most part, there's not much for anyone seeking light summer reading, unless you're the sort who regularly brings Kant, Hume, Herodotus, and Pepys down to the seaside. (Note: The Guardian published Friday The Best Holiday Reads, which goes heavy on vacation-worthy fiction.)
Inspired by the Guardian project, The New York Times turned to its staff and put together a list of their own favorite non-fiction books. Some of their choices are what you'd expect (Jon Krakauer's Into Thin Air, Joan Didion's The White Album, Michael Lewis' Moneyball), and a few others both surprised and delighted us (Geoff Dyer's Out of Sheer Rage, Adrian Nicole LeBlanc's Random Family and Please Kill Me: The Uncensored Oral History of Punk by Legs McNeil and Gillian McCain). But we still found the list vaguely incomplete.
So now, dear readers, we turn to you.
Several years ago we asked you to tell us about the books that changed your life, and you delivered. (Your first choice by a wide margin was George Orwell's 1984.) This time around, we want to hear your favorite non-fiction books, and we'll both post your choices and — of course — let you know if they're available for free online.
We'll kick it off with a few personal favorites:
The Possessed, by Elif Batuman. A delightful reminiscence by a recovering graduate student, in which she treats, among other things, Russian novelists, doomed love affairs, academic conferences, Turkic poetry, and mostly, the pleasures and perils of loving books just a little bit too much.
The Best American Sports Writing of the Century, edited by David Halberstam and Glenn Stout. You don't even need to know or care about sports, because like all great literature, these essays aren't really just about what they're about. The subject may be sports, but the stories are America.
Your turn! Feel free to add your favorites to the comments section below…
Sheerly Avni is a San Francisco-based arts and culture writer. Her work has appeared in Salon, LA Weekly, Mother Jones, and many other publications. You can follow her on twitter at @sheerly.