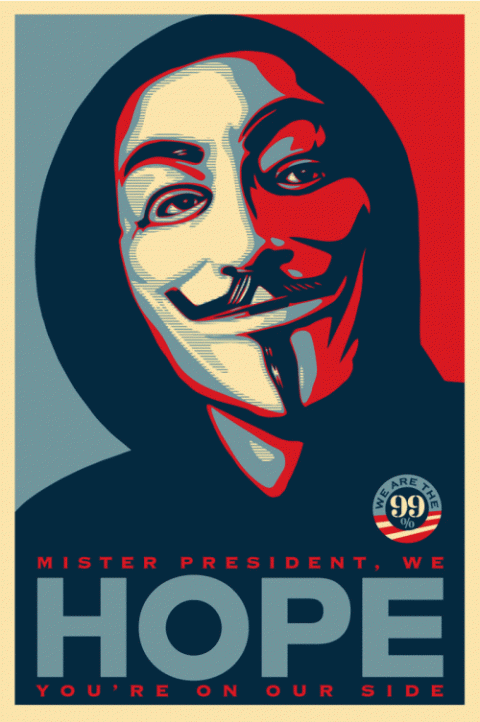 Shep­ard Fairey's famous 2008 Oba­ma "Hope" poster has been the source of count­less imi­ta­tions and par­o­dies. Last week Fairey released his own par­o­dy for Occu­py Wall Street, replac­ing Oba­ma's head with a hood­ed fig­ure in a Guy Fawkes mask, along with the words, "Mis­ter Pres­i­dent, We HOPE You're On Our Side." As Fairey explained on his web­site, "I see Oba­ma as a poten­tial ally of the Occu­py move­ment if the ener­gy of the move­ment is per­ceived as con­struc­tive, not destruc­tive."
Not every­one agreed. Yes­ter­day, after a series of dis­cus­sions with one of the orga­niz­ers of the pur­port­ed­ly lead­er­less move­ment, Fairey announced he was back­ing down and drop­ping the provoca­tive mes­sage to the pres­i­dent and replac­ing it with "We Are The HOPE." A few of the move­men­t's orga­niz­ers report­ed­ly thought Fairey's poster implied that Occu­py Wall Street either sup­port­ed Oba­ma or was beg­ging for his sup­port.
"As Oba­ma has raised more mon­ey from Wall Street than any oth­er can­di­date in his­to­ry, it would make us naive hyp­ocrites to sup­port him under present cir­cum­stances," the anony­mous orga­niz­er wrote to Fairey. "As for the design, the fact that you put the 99% inside the Oba­ma O is cross­ing a sacred line. While it def­i­nite­ly looks cool, whether intend­ed or not, this sends a clear mes­sage that Oba­ma is co-opt­ing OWS."
"I have no inter­est in pan­der­ing to Oba­ma," respond­ed Fairey. "I see my image as a reminder to him that he has alien­at­ed his pop­ulist pro­gres­sive sup­port­ers."
But Fairey sub­mit­ted to the pres­sure and changed his design any­way. You can read more about the exchange here, and see the altered ver­sion of Fairey's poster below.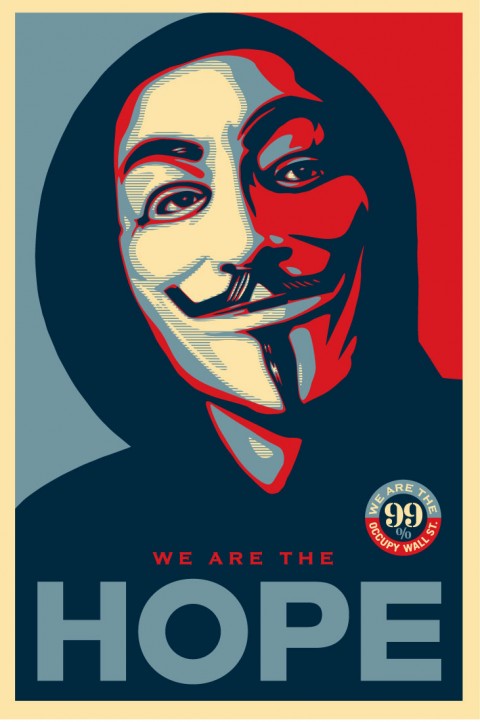 For more Occu­py Wall Street posters, stay tuned for our post com­ing lat­er today.…