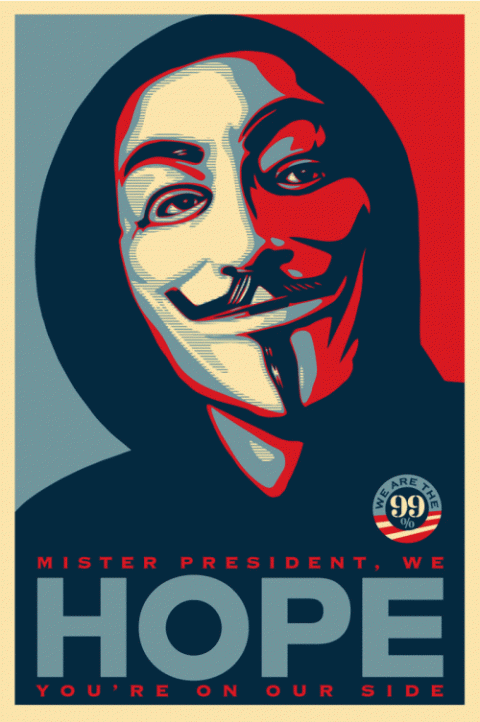 Shepard Fairey's famous 2008 Obama "Hope" poster has been the source of countless imitations and parodies. Last week Fairey released his own parody for Occupy Wall Street, replacing Obama's head with a hooded figure in a Guy Fawkes mask, along with the words, "Mister President, We HOPE You're On Our Side." As Fairey explained on his website, "I see Obama as a potential ally of the Occupy movement if the energy of the movement is perceived as constructive, not destructive."
Not everyone agreed. Yesterday, after a series of discussions with one of the organizers of the purportedly leaderless movement, Fairey announced he was backing down and dropping the provocative message to the president and replacing it with "We Are The HOPE." A few of the movement's organizers reportedly thought Fairey's poster implied that Occupy Wall Street either supported Obama or was begging for his support.
"As Obama has raised more money from Wall Street than any other candidate in history, it would make us naive hypocrites to support him under present circumstances," the anonymous organizer wrote to Fairey. "As for the design, the fact that you put the 99% inside the Obama O is crossing a sacred line. While it definitely looks cool, whether intended or not, this sends a clear message that Obama is co-opting OWS."
"I have no interest in pandering to Obama," responded Fairey. "I see my image as a reminder to him that he has alienated his populist progressive supporters."
But Fairey submitted to the pressure and changed his design anyway. You can read more about the exchange here, and see the altered version of Fairey's poster below.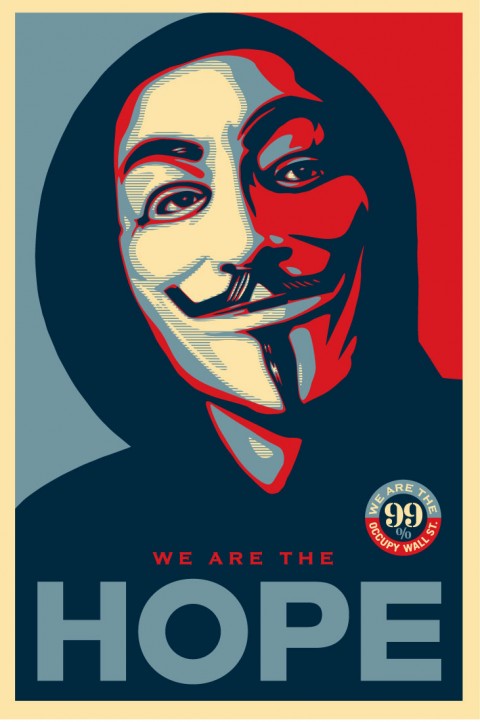 For more Occupy Wall Street posters, stay tuned for our post coming later today….