Freshly posted on publisher Melville House's blog, you'll find examples of visual art by textual artists; drawings and paintings, in other words, drawn and painted by people who have gone down in history for their way with sentences. This could easily turn into a lesson about not quitting one's day job. But, as you can see from the work above, Maria Nys Huxley at Siesta, Melville House blogger Kevin Murphy hasn't put together a study in the incompetence of the dilettante. You've surely already guessed the literary connection: the painting came from the hand of Brave New World author Aldous Huxley, who put his wife Maria Nys to canvas in 1920, when both were still in their twenties.
The post features more paintings from the late eighteenth century to the mid-twentieth by Johann Wolfgang von Goethe, Victor Hugo, Marcel Proust, Hermann Hesse, e.e. cummings, Zelda Fitzgerald, Jack Kerouac, Flannery O'Connor, and Henry Miller. Each one reflects  something familiar about the painter's main line of work: Goethe's, bucolic reverie; Proust's, the sketchiness of fading memory enriched by a scattering of bold details; Hesse's, a stare of unbroken intensity. One particular outlier, with its simple pen-and-ink composition as well as its overt humor, expresses the literary personality of its creator more strongly than all the others put together: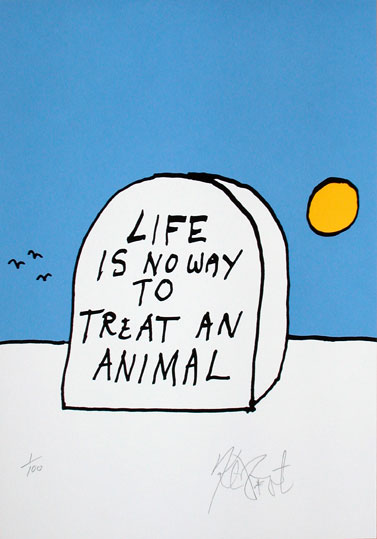 Can you guess the author — er, artist?
Find the full collection here.
via @KirstinButler
Related content:
Photos of Famous Writers (and Rockers) with their Dogs
The Writing Rooms of Famous Writers
Famous Authors Read Other Famous Authors
Colin Marshall hosts and produces Notebook on Cities and Culture. Follow him on Twitter at @colinmarshall.