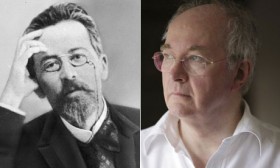 Through December 22, the Guardian's new Short Stories podcast (iTunes - RSS - Web Site) will present 12 well-known authors reading stories by other famous writers. So far, we have Philip Pullman reading Chekhov, Anne Enright presenting Raymond Carver's story "Fat," and William Boyd reading JG Ballard's "My Dream of Flying to Wake Island." The schedule for the nine remaining stories is right here.
If this podcast feels vaguely familiar, it's perhaps because you have already encountered The New Yorker Fiction podcast (iTunes - Feed - Web Site). Here again, leading authors read short works by other great writers – Paul Theroux reads "The Gospel According to Mark" by Jorge Luis Borges, Joyce Carol Oates reads Eudora Welty's "Where Is the Voice Coming From?," Orhan Pamuk reads Vladimir Nabokov's "My Russian Education," the parade of great readings goes on.
All of these readings, plus many more, are catalogued in our collection of Free Audio Books. And there they will remain. Thanks to Stephen for the heads up on the new Guardian podcast...
Related Content:
20 Great Authors (and Actors) Read Famous Literature Out Loud