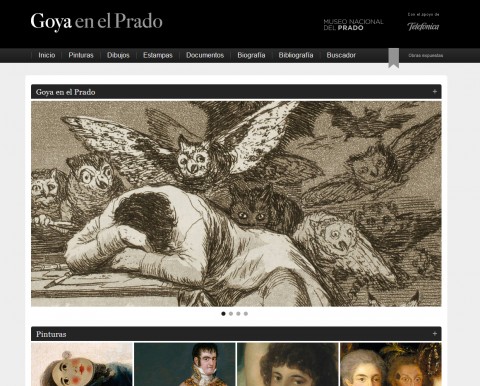 Two of the the tow­er­ing fig­ures of West­ern art–Fran­cis­co de Goya and Rem­brandt van Rijn–have just become more acces­si­ble to peo­ple around the world with the intro­duc­tion of a pair of new online data­bas­es.
The Museo del Pra­do in Madrid has just launched a Web site, Goya en el Pra­do, which makes over 1,000 works by the late 18th- and ear­ly 19th-cen­tu­ry Span­ish mas­ter avail­able for online view­ing, along with his cor­re­spon­dence and oth­er doc­u­ments. Although the site is cur­rent­ly avail­able only in Span­ish (tip: view the site with Google Chrome and it will trans­late things for you!) the pic­to­r­i­al con­tents are easy to explore for peo­ple who are not flu­ent in the lan­guage. They fall under three cat­e­gories: paint­ings (pin­turas), draw­ings (dibu­jos) and prints (estam­pas). More than half of Goy­a's sur­viv­ing works–from his mas­ter­pieces to obscure sketches–are housed at the Pra­da and are now avail­able for brows­ing by schol­ars and the gen­er­al pub­lic alike. Many of the works are rarely seen. "Notable fea­tures with­in this excep­tion­al­ly impor­tant and inter­est­ing project," writes artdaily.org, "include the option to access online the unique col­lec­tion of works on paper by Goya in the Muse­um, which is not nor­mal­ly on dis­play for con­ser­va­tion rea­sons." Here's the link: Goya en el Pra­do.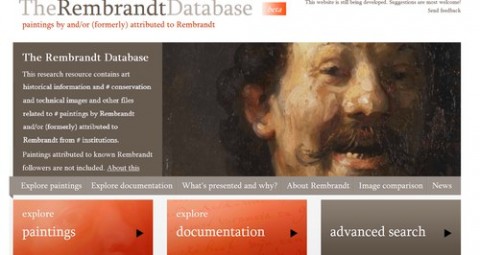 Two ven­er­a­ble Dutch art institutions–the Nether­lands Insti­tute for Art His­to­ry (RKD) and the Roy­al Pic­ture Gallery Mau­rit­shuis have joined forces to cre­ate The Rem­brandt Data­base, a resource that brings togeth­er mate­ri­als from research insti­tu­tions around the world, includ­ing the Nation­al Gallery of Lon­don and the Met­ro­pol­i­tan Muse­um of Art. Unlike the Prado's Goya project, which is intend­ed for a wide audi­ence, the Rem­brandt site is designed specif­i­cal­ly for art schol­ars. "The Rem­brandt Data­base aims to become the first port of call for research on Rem­brandt's paint­ings," accord­ing to a state­ment on the site. "Our objec­tive is not to present a final set of data, but to devel­op and grow con­tin­u­al­ly, espe­cial­ly as more doc­u­men­ta­tion becomes avail­able through new research and col­lab­o­ra­tion with new part­ners." By 2014 the orga­niz­ers hope to have mate­r­i­al from 20 muse­ums. At present there are only a dozen Rem­brandt paint­ings in the data­base, but some of the entries are sup­port­ed by exten­sive doc­u­men­ta­tion, includ­ing infrared and X‑ray imagery. Here's the link: The Rem­brandt Data­base.
via Metafil­ter/The Art Tri­bune