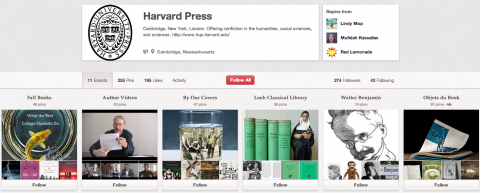 I'll admit it: I'm not a big Pinterest user. Until very recently I thought the social networking site was a bit twee—too much about cute clothes and crafts, not enough about ideas.
Turns out the web's 15th largest site has a lot more to offer.
Open Culture has its own embryonic Pinterest page. But, more importantly, university presses are making widespread use of Pinterest to promote new book titles. Likewise, academic libraries are using their Pinterest pages to promote events and help fund major capital improvements. For libraries and archives, a major ongoing mission is to keep the collections visible. It's not easy to let the world know about your one-of-a-kind holdings, and Pinterest potentially offers a great way to bring these materials to new and  younger audiences.
Big retailers haven't figured out how to make real money off of Pinterest yet, though one theory holds that the site's highly visual nature puts people in the mood to click and buy. True or not, university presses and libraries need all the help they can get to gin up sales, so they're wading into the Pinterest waters and seeing what happens.
Alice Northover has created a Tumblr that catalogues a few of the best university presses that have Pinterest pages. The list is a handy map of treasures to be found online.
There are the usual, and completely worth checking out, suspects: Of course, Harvard University Press has a page that features, among other things, interviews with Harvard Press authors. Watch mathematician Paul Lockhart, author of Measurement, trip out on parallelograms.
The University of Mississippi has a robust presence that features an extensive collection of Faulkner criticism and appreciation.
Syracuse University's page links to its audio archive, which includes a fun, episodic program called "Wait? They Banned What?". You might be surprised to find out that Bing Crosby song was banned during World War II for being too catchy.
One of the best may be one of the most unsung, however. New Zealand's Victoria University of Wellington's library houses a major collection of Samoan historical objects. Check out the library's repository of amazing South Pacific history.
These sites offer very few decorating tips for your Air Stream trailer, and I found no links to locavore jam-making businesses, but Alice, whomever she may be, has created a great curatorial tool for exploring a new trend in book promotion.
But wait. Cambridge University Press has a pin on its page called "Librianista" that links to short-hemline clothes modeled by bespectacled cuties. I guess even the world's oldest publisher gets to have a little fun.
Thanks to Kirstin Butler for sending Alice's Tumblr our way.
Kate Rix is an Oakland-based freelance writer. See more of her work at .