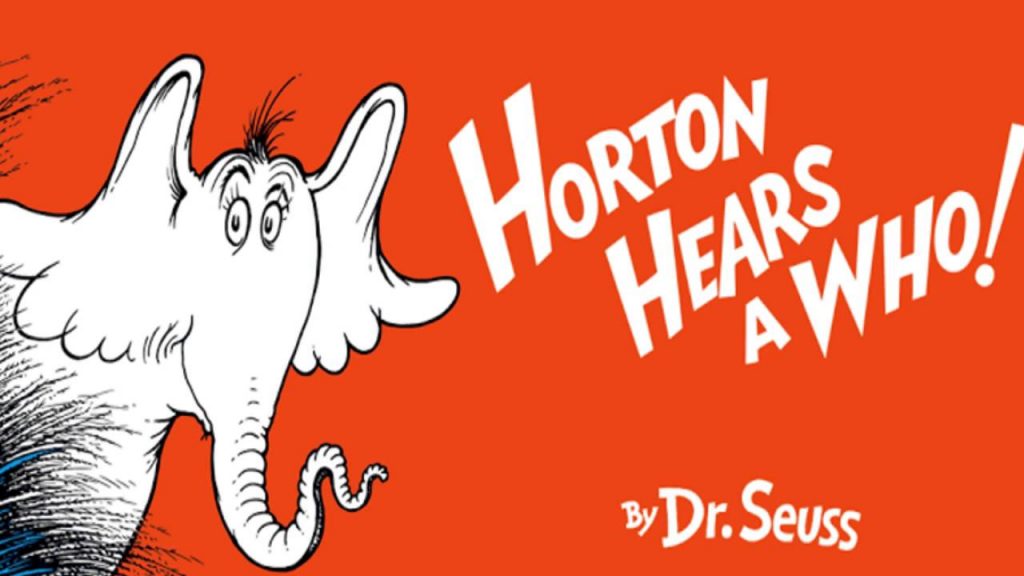 Now for a sto­ry which "rais­es ques­tions about the the­o­ry and nature of knowl­edge." An ele­phant "hears a faint noise com­ing from a small speck of dust; it seems to him like a tiny per­son is call­ing out for help." He "finds it pecu­liar that a dust speck could speak so he rea­sons that there must be a very small crea­ture on it. With­out being able to see the crea­ture, he seems to know it is there and that it is his duty to save it from harm. The oth­er ani­mals in the jun­gle see him speak to the dust speck and find it impos­si­ble that there could be a crea­ture liv­ing on it." Met with only dis­be­lief, "he holds tight to what he knows is true and learns from the voice that there exists an entire uni­verse." At last, the speck­'s res­i­dent tiny towns­peo­ple "come togeth­er and make enough noise for the ani­mals to hear; they have proven their exis­tence and the jun­gle ani­mals are able to know what Hor­ton has known all along." Most of us have read this clas­sic chil­dren's book, Hor­ton Hears a Who! by Dr. Seuss. But how many of us have probed its "ques­tions about the nature of human knowl­edge"?
The last para­graph's quot­ed text all comes from Teach­ing Chil­dren Phi­los­o­phy's Hor­ton Hears a Who mod­ule. The project, an out­growth of Mount Holyoke Col­lege pro­fes­sor Tom Warten­berg's course "Phi­los­o­phy for Chil­dren," comes premised on the notion not only that young­sters can learn phi­los­o­phy, but that they pos­sess minds par­tic­u­lar­ly well-suit­ed to its study. Teach­ing Chil­dren Phi­los­o­phy draws out the rel­e­vant philo­soph­i­cal issues and ques­tions from the books they've been read­ing already, from the epis­te­mol­o­gy of Hor­ton Hears a Who! to the meta­physics of Sylvester and the Mag­ic Peb­ble to phi­los­o­phy of mind in Harold and the Pur­ple Cray­on. Tar­get­ed toward par­ents, edu­ca­tors, and kids them­selves, the site promis­es great solace to any philo­soph­i­cal­ly mind­ed read­er (or read­er-aloud) of chil­dren's sto­ries who feel they have long since exhaust­ed the depths of these beloved slim vol­umes. "How does Hor­ton know that this voice means there is a per­son on the speck?" "Is the moon that Harold draws the same as the moon we can see in the sky at night?" "If Sylvester is still a don­key because he thinks, what hap­pens when Sylvester is not think­ing?" You sup­ply the chil­dren's books, and Warten­berg and com­pa­ny sup­ply the phi­los­o­phy.
Relat­ed con­tent:
200 Free K‑12 Edu­ca­tion­al Resources: Video Lessons, Mobile Apps, Free Books & More
Free Phi­los­o­phy Cours­es from our Col­lec­tion of 550 Free Online Cours­es from Top Uni­ver­si­ties
Col­in Mar­shall hosts and pro­duces Note­book on Cities and Cul­ture. Fol­low him on Twit­ter at @colinmarshall.