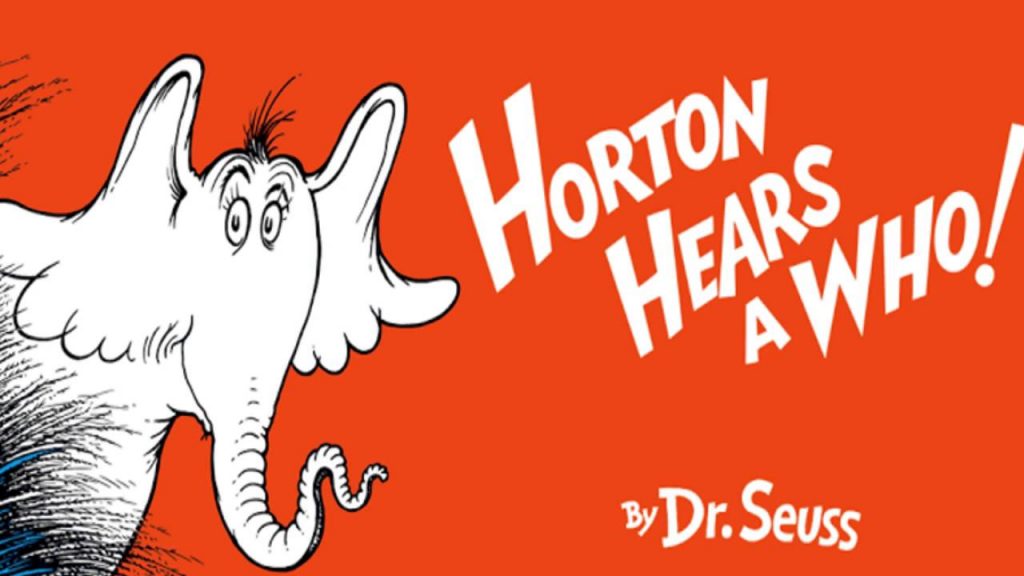 Now for a story which "raises questions about the theory and nature of knowledge." An elephant "hears a faint noise coming from a small speck of dust; it seems to him like a tiny person is calling out for help." He "finds it peculiar that a dust speck could speak so he reasons that there must be a very small creature on it. Without being able to see the creature, he seems to know it is there and that it is his duty to save it from harm. The other animals in the jungle see him speak to the dust speck and find it impossible that there could be a creature living on it." Met with only disbelief, "he holds tight to what he knows is true and learns from the voice that there exists an entire universe." At last, the speck's resident tiny townspeople "come together and make enough noise for the animals to hear; they have proven their existence and the jungle animals are able to know what Horton has known all along." Most of us have read this classic children's book, Horton Hears a Who!  by Dr. Seuss. But how many of us have probed its "questions about the nature of human knowledge"?
The last paragraph's quoted text all comes from Teaching Children Philosophy's Horton Hears a Who module. The project, an outgrowth of Mount Holyoke College professor Tom Wartenberg's course "Philosophy for Children," comes premised on the notion not only that youngsters can learn philosophy, but that they possess minds particularly well-suited to its study. Teaching Children Philosophy draws out the relevant philosophical issues and questions from the books they've been reading already, from the epistemology of Horton Hears a Who! to the metaphysics of Sylvester and the Magic Pebble to philosophy of mind in Harold and the Purple Crayon. Targeted toward parents, educators, and kids themselves, the site promises great solace to any philosophically minded reader (or reader-aloud) of children's stories who feel they have long since exhausted the depths of these beloved slim volumes. "How does Horton know that this voice means there is a person on the speck?" "Is the moon that Harold draws the same as the moon we can see in the sky at night?" "If Sylvester is still a donkey because he thinks, what happens when Sylvester is not thinking?" You supply the children's books, and Wartenberg and company supply the philosophy.
Related content:
200 Free K-12 Educational Resources: Video Lessons, Mobile Apps, Free Books & More
Free Philosophy Courses from our Collection of 550 Free Online Courses from Top Universities
Colin Marshall hosts and produces Notebook on Cities and Culture. Follow him on Twitter at @colinmarshall.