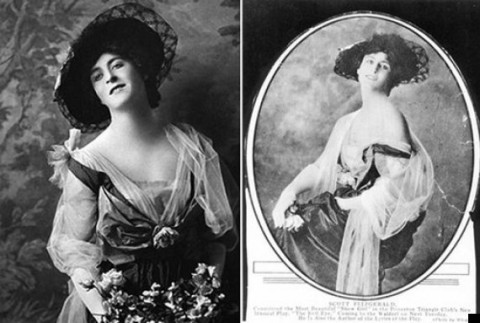 It has been said that the dominant influences on F. Scott Fitzgerald were literature, Zelda, alcohol, and Princeton. The photos above were taken during the novelist's Princeton days, where he played an active role in The Princeton Triangle Club, writing scripts and lyrics for what's now the oldest collegiate musical-comedy troupe in the US. After Fitzgerald failed several exams, he was barred from performing in the club's 1916 musical production, The Evil Eye!. A shame, given that he co-wrote the script. But F. Scott wasn't going to be completely denied. Yes, he posed in drag for a publicity photo that appeared in The New York Times on January 2, 1916. The newspaper called him "the most beautiful" girl in the show.
H/T Retronaut
Related Content:
F. Scott Fitzgerald Creates a List of 22 Essential Books, 1936
F. Scott Fitzgerald Reads From Shakespeare's Othello and John Masefield's "On Growing Old" (c.1940)
Ernest Hemingway to F. Scott Fitzgerald: "Kiss My Ass"
Find major works by F. Scott Fitzgerald in our Free eBooks and Free Audio Books collections.