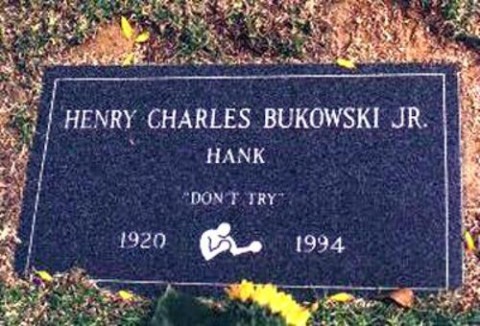 In 1994, Charles Bukows­ki was buried in a Los Ange­les ceme­tery, beneath a sim­ple grave­stone. The stone memo­ri­al­izes the poet­'s name. It recites his dates of birth and death, but adds the sym­bol of a box­er between the two, sug­gest­ing his life was a strug­gle. And it adds the very suc­cinct epi­taph, "Don't Try."
There you have it, Bukowski's phi­los­o­phy on art and life boiled down to two words. But what do they mean? Let's look back at the epis­to­lary record and find out.
In Octo­ber 1963, Bukows­ki recount­ed in a let­ter to John William Cor­ring­ton how some­one once asked him, "What do you do? How do you write, cre­ate?" To which, he replied: "You don't try. That's very impor­tant: 'not' to try, either for Cadil­lacs, cre­ation or immor­tal­i­ty. You wait, and if noth­ing hap­pens, you wait some more. It's like a bug high on the wall. You wait for it to come to you. When it gets close enough you reach out, slap out and kill it. Or if you like its looks you make a pet out of it."
So, the key to life and art, it's all about per­sis­tence? Patience? Tim­ing? Wait­ing for your moment? Yes, but not just that.
Jump­ing for­ward to 1990, Bukows­ki sent a let­ter to his friend William Packard and remind­ed him: "We work too hard. We try too hard. Don't try. Don't work. It's there. It's been look­ing right at us, aching to kick out of the closed womb. There's been too much direc­tion. It's all free, we need­n't be told. Class­es? Class­es are for ass­es. Writ­ing a poem is as easy as beat­ing your meat or drink­ing a bot­tle of beer."
The key to liv­ing a good life, to cre­at­ing great art — it's also about not over-think­ing things, or muscling our way through. It's about let­ting our tal­ents appear, almost jedi-style. Or is it?
In 2005, Mike Watt (bass play­er for the Min­ute­men, fIRE­HOSE, and the Stooges) inter­viewed Lin­da Bukows­ki, the poet­'s wife, and asked her to set the record straight. Here's their exchange.
Watt: What's the sto­ry: "Don't Try"? Is it from that piece he wrote?

Lin­da: See those big vol­umes of books? They're called Who's Who In Amer­i­ca. It's every­body, artists, sci­en­tists, what­ev­er. So he was in there and they asked him to do a lit­tle thing about the books he's writ­ten and duh, duh, duh, duh, duh. At the very end they say, is there any­thing you wan­na say, you know, what is your phi­los­o­phy of life, and some peo­ple would write a huge long thing. A dis­ser­ta­tion, and some peo­ple would just go on and on. And Hank just put, "Don't Try." Now, for you, what do you think that means?

Watt: Well for me it always meant like be nat­ur­al.

Lin­da: Yeah, yeah.

Watt: Not like…being lazy!

Lin­da: Yeah, I get so many dif­fer­ent ideas from peo­ple that don't under­stand what that means. Well, "Don't Try? Just be a slack­er? lay back?" And I'm no! Don't try, do. Because if you're spend­ing your time try­ing some­thing, you're not doing it…"DON'T TRY."
It's Mon­day. Get out there. Just do it. But patient­ly. And don't break a sweat.
Relat­ed Con­tent:
Charles Bukows­ki: Depres­sion and Three Days in Bed Can Restore Your Cre­ative Juices (NSFW)
Tom Waits Reads Charles Bukows­ki
The Last Faxed Poem of Charles Bukows­ki
Lis­ten to Clips of Bukows­ki Read­ing His Poems in our Free Audio Books col­lec­tion.