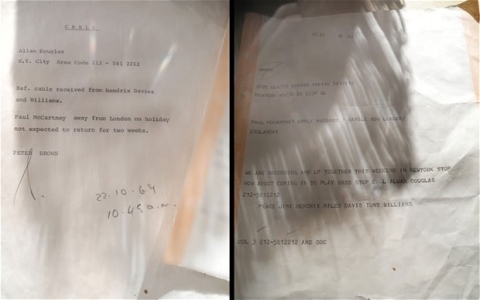 Click above for a (slightly) larger image
A trending story this weekend brings to light what could have been a pretty super 1969 collaboration between Miles Davis, his phenomenal longtime drummer Tony Williams, Jimi Hendrix and Paul McCartney. Davis and Hendrix had already been jamming together informally in New York, planning to record an album. The pairing seems natural considering this was Davis' Bitches Brew psychedelic fusion phase.
The inclusion of McCartney's pop sensibilities seems odd, though, and possibly inspired. It could have resulted in some really fascinating music, or a mess of personalities and ideas. But alas, it never came to pass. Davis and Hendrix sent McCartney an impromptu October 21st, 1969 telegram request to record with them in New York: "We are recording an LP together this weekend. How about coming in to play bass stop call Alan Douglas 212-5812212. Peace Jimi Hendrix Miles Davis Tony Williams." [Alan Douglass was the ostensible producer.] But, as Rolling Stone explains:
It's unclear if McCartney was aware of the request….  Beatles aide Peter Brown responded the next day, telling Hendrix and Davis that McCartney was out on vacation and wasn't expected back for two weeks.
Unfortunately, the only reproductions of the correspondence available online are the poorly visible images at the top and below. Nonetheless, you can make out Davis, Hendrix, and Williams' request on the right, and the response at the left (the order is reversed below). Both telegrams are located at the Hard Rock Café in Prague. For more on the story, read the Telegraph's summation. I'm sure it won't be long before some enterprising music hacker creates the ultimate Davis/Hendrix/McCartney mashup and gives us a taste of what might have been.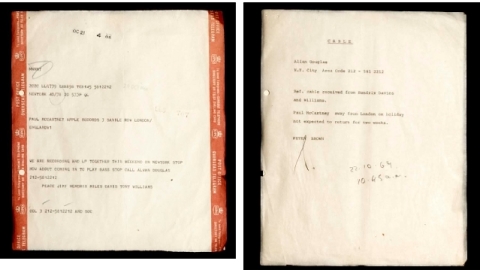 Click to (slightly) enlarge
Related Content:
Rare Miles Davis Live Recordings Capture the Jazz Musician at the Height of His Powers
Previously Unreleased Jimi Hendrix Recording, "Somewhere," with Buddy Miles and Stephen Stills
Paul McCartney Shoots New Music Video with Natalie Portman and Johnny Depp
Josh Jones is a writer and musician based in Washington, DC. Follow him @jdmagness