Click for larger image
Americans sometimes complain that, unlike the currency of many other countries, which feature portraits of artists, scientists, and writers, U.S. dollar bills don't tend to feature intellectuals. But one could, I think, make the case for Benjamin Franklin, who must certainly count as a man of letters, and did illustrate an important physics lesson when he flew that kite with a key on it. Still, that doesn't exactly make him a physicist, as residents of Austria, New Zealand, Scotland, and Croatia, all of whom have used bills emblazoned with the faces of physicists, well know.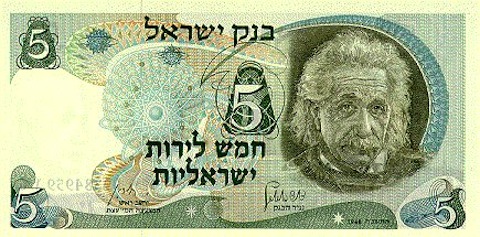 It does, however, get Franklin a place on University of Maryland physicist Edward F. Redish's page "Physicists on the Money," which was featured on Jason Kottke's site yesterday. Redish highlights 24 bills bearing portraits of noted figures throughout the history of physics, including, at the top of the post, the Danish 500-kroner note that pictures quantum theorist Niels Bohr. Just above we have the universally recognizable dishevelment of Albert Einstein, who found his way onto Israel's five-pound note by, among other achievements, coming up with the general theory of relativity. Below you'll see a physicist you may not have heard of, let alone spent: tenth-century scholar Abu Nasr Al-Farabi, pictured on Kazakhstan's one-tenge note. Redish's delightfully retro site also offers a collection of physicists on stamps, and links to a page with more scientist- and mathematician-bearing banknotes.
via Kottke
Related Content:
Listen as Albert Einstein Reads 'The Common Language of Science' (1941)
The Richard Feynman Trilogy: The Physicist Captured in Three Films
The Karl Marx Credit Card – When You're Short of Kapital
Colin Marshall hosts and produces Notebook on Cities and Culture and writes essays on literature, film, cities, Asia, and aesthetics. He's at work on a book about Los Angeles, A Los Angeles Primer. Follow him on Twitter at @colinmarshall.