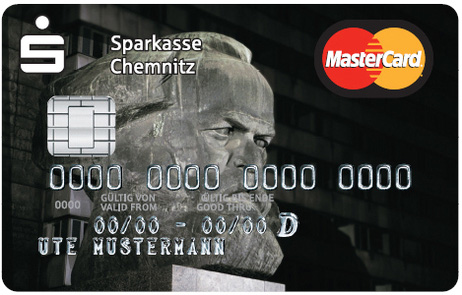 Is it a tragedy? Is it a farce? In the land once called East Germany, in a town once called Karl-Marx-Stadt, a bank called Sparkasse Chemnitz ran an online poll letting customers vote for images to place on their credit cards. And the hands-down winner was Karl Marx, an ironic pick given that ... well, you don't need me to explain why.
In response to this selection, Planet Money has encouraged readers to post a tagline for the card on Twitter, using the hashtag #marxcard. Here are a few of our favorites so far:
There are Some Things Money Can't Buy. Especially If You Abolish All Private Property.
From each according to their ability, to each according to his need. For everything else, there's #Marxcard.
The Marx Card - Because Credit is the Opiate of the Masses.
The Karl Marx MasterCard - When You're Short of Kapital
Got your own to suggest? cc: us on Twitter: @openculture
Follow Open Culture on Facebook and Twitter and share intelligent media with your friends. Or better yet, sign up for our daily email and get a daily dose of Open Culture in your inbox. 
If you'd like to support Open Culture and our mission, please consider making a donation to our site. It's hard to rely 100% on ads, and your contributions will help us provide the best free cultural and educational materials.
Related Content:
Reading Marx's Capital with David Harvey (Free Course)