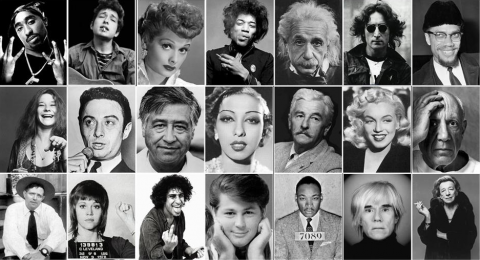 Yesterday we featured pages from Charles Bukowski's FBI file and, along the way, mentioned William T. Vollman's. But the Federal Bureau of Investigation has kept tabs on a much wider variety of cultural figures than just writers: musicians, comedians, filmmakers, scientists, actors, and activists have also caught its much-seeing eye. You can browse a great many of these files, now declassified, in The Vault, the FBI's "new electronic reading room, containing 6,700 documents and other media that have been scanned from paper into digital copies so you can read them in the comfort of your home or office." The FBI helpfully breaks down the files into categories, from anti-war (Abbie Hoffman,Howard Zinn) to gangster era (Al Capone, John Dillinger) to unexplained phenomena (Roswell UFO, extra-sensory perception). But you, Open Culture reader, might find the most material of interest in The Vault's popular culture section.
There you'll find materials pertaining to:
If you dig into the Vault, you'll see that not every FBI investigation begins with a suspicion that the luminary in question is up to no good. In many cases, cultural figures received threats (usually extortion-related) from mysterious parties and called in the FBI to, well, investigate. As with any tool in human hands, nations can use their investigation organizations for good, or for, shall we say, more ambiguous purposes. Whatever their aims, they do produce fascinating reading.
Above you can find a mosaic of cultural figures that were on the FBI radar. The image comes from decryptedmatrix.com.
Related Content:
Read 113 Pages of Charles Bukowski's FBI File From 1968
How to Spot a Communist Using Literary Criticism: A 1955 Manual from the U.S. Military
Colin Marshall hosts and produces Notebook on Cities and Culture and writes essays on literature, film, cities, Asia, and aesthetics. He's at work on a book about Los Angeles, A Los Angeles Primer. Follow him on Twitter at @colinmarshall.