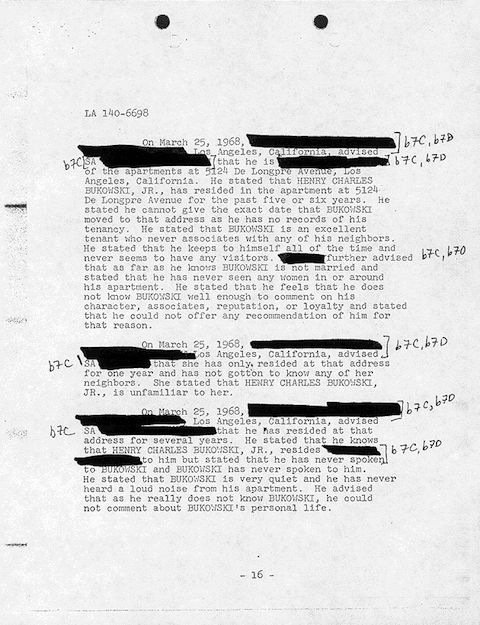 Click image for a larger version
If certain well-known writers come off as a bit paranoid, they may have good cause. Then again, the Powers That Be conduct their surveillance in mysterious ways, never targeting quite whom you'd expect. William T. Vollmann, for instance, a novelist known less for his paranoia than his productivity, recently revealed in Harper's that the Federal Bureau of Investigation, on the lookout for Unabomber suspects, built up quite a file on him. "Individuals this bright are capable of most anything," reads one of its starkly typewritten pages. "By all accounts, VOLLMANN is exceedingly intelligent and possessed with an enormous ego." Perhaps writerly ego, albeit of an entirely different stripe, also got post office-working poet Charles Bukowski in trouble. "In 1968 various branches of the U.S. government performed an investigation into the background of civil servant Charles Bukowski," according to bukowski.net. "Apparently the FBI and the Postal Service took offense to some of his writing (mainly the Notes From a Dirty Old Man column he wrote for the Los Angeles hippie tabloid Open City)," the page continues, "and had their 'informants' report Bukowski to higher-ups in the post office."
Bukowski.net offers 113 pages of Bukowski's FBI file, directly scanned. "He stated that BUKOWSKI is an excellent tenant who never associates with any of his neighbors," one page reports, apparently from an interview with the landlord of Bukowski's now-famous bungalow at 5124 De Longpre in Los Angeles. And from an interrogation of the writer himself: "He explained that these articles are 'an inter-mixture of fiction and fact' and are 'highly romanticized in order to give the story juice.'" Released FBI files of this type tend to give an impression of fruitlessness and ineptitude, but at least Bukowski's did make one discovery that may fascinate avid fans: "Bukowski claimed he was married to Jane Cooney," says bukowski.net. "Every Bukowski biography written thus far names Barbara Frye as his first wife. However, in 1952 (three years before his marriage to Barbara Frye) Bukowski stated that he was married to Jane Cooney Baker - the 'Jane' of many of his most heartfelt works." Once America puts its terrorism problems behind it, perhaps the FBI can devote its resources to more literary research — albeit of a non-invasive variety.
Related Content:
Listen to Charles Bukowski Poems Being Read by Bukowski, Tom Waits and Bono
Charles Bukowski Sets His Amusing Conditions for Giving a Poetry Reading (1971)
"Don't Try": Charles Bukowski's Concise Philosophy of Art and Life
Colin Marshall hosts and produces Notebook on Cities and Culture and writes essays on literature, film, cities, Asia, and aesthetics. He's at work on a book about Los Angeles, A Los Angeles Primer. Follow him on Twitter at @colinmarshall.