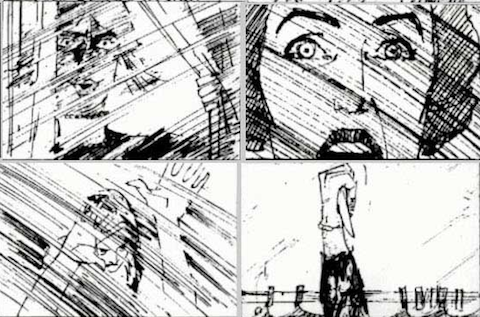 Who killed Mar­i­on Crane? If you've watched Psy­cho, the best-known film by British mas­ter of cin­e­mat­ic sus­pense Alfred Hitch­cock, you have the answer. And giv­en that the pic­ture came out in 1960, even if you haven't seen it, you prob­a­bly know the answer any­way. But today's Hitch­cock-lov­ing cinéastes and enthu­si­asts of design have anoth­er impor­tant ques­tion to con­sid­er: who direct­ed Mar­i­on Crane get­ting killed? We pre­vi­ous­ly fea­tured some­thing of a mas­ter class in edit­ing from Hitch­cock him­self in which he explains the mechan­ics of cut­ting togeth­er the "show­er scene" of the unsus­pect­ing sec­re­tary's death. But that part of the process obvi­ous­ly began with all its com­po­nents — Janet Leigh, the raised knife, the cur­tain pulled off of its rings, the choco­late syrup cir­cling the drain — already cap­tured on cel­lu­loid. To know the ori­gins of this most famous sequence in Hitch­cock­'s oeu­vre, and one of the most famous sequences in 20th cen­tu­ry cin­e­ma, you have to begin with its sto­ry­boards, straight from the hand of graph­ic-design leg­end Saul Bass, who also put togeth­er the film's title sequence.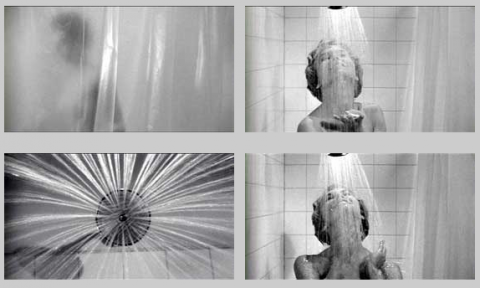 "After Hitch­cock­'s death, Bass assert­ed that he had direct­ed the scene at Hitch­cock­'s invi­ta­tion — a claim defin­i­tive­ly con­tra­dict­ed by both Janet Leigh and Assis­tant Direc­tor Hilton Green," writes Catholic Uni­ver­si­ty of Amer­i­ca Eng­lish pro­fes­sor Glen John­son on the com­pan­ion page to his Hitch­cock course. "Bass's par­ti­sans have sub­se­quent­ly held that Hitch­cock mere­ly mechan­i­cal­ly filmed shots already laid out by Bass. Com­par­ing the sto­ry­boards to the filmed scene shows that to be untrue. On the oth­er hand, the most cru­cial ele­ments of the scene, such as the drain-eye match­cut and the track­ing shot that fol­lows it, are in the sto­ry­boards. That proves noth­ing about the author of the scene, how­ev­er, since Bass drew the sto­ry­boards after exten­sive dis­cus­sions with Hitch­cock about the design of the scene." Though it appears that no sin­gle cre­ator "made" the show­er scene — or made any giv­en ele­ment of most motion pic­tures — its place in the endur­ing lega­cy of mid-20th-cen­tu­ry cul­ture goes undis­put­ed. Below, you can watch this so often quot­ed, imi­tat­ed, and par­o­died sequence play out in anoth­er form, com­bin­ing sto­ry­boards, clips, and mak­ing-of drama­ti­za­tion, in last year's fea­ture film Hitch­cock:
Relat­ed Con­tent:
Alfred Hitchcock's Sev­en-Minute Edit­ing Mas­ter Class
Alfred Hitchcock's Rules for Watch­ing Psy­cho (1960)
Hitch­cock (Antho­ny Hop­kins) Pitch­es Janet Leigh (Scar­lett Johans­son) on the Famous Show­er Scene
A Brief Visu­al Intro­duc­tion to Saul Bass' Cel­e­brat­ed Title Designs
21 Free Hitch­cock Movies Online
Col­in Mar­shall hosts and pro­duces Note­book on Cities and Cul­ture and writes essays on lit­er­a­ture, film, cities, Asia, and aes­thet­ics. He's at work on a book about Los Ange­les, A Los Ange­les Primer. Fol­low him on Twit­ter at @colinmarshall.