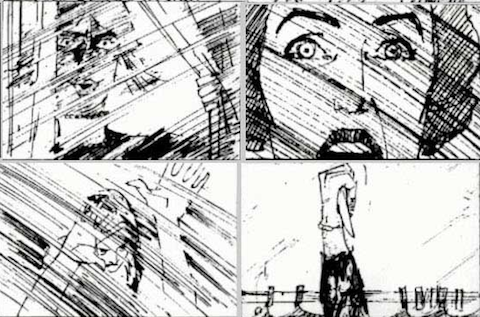 Who killed Marion Crane? If you've watched Psycho, the best-known film by British master of cinematic suspense Alfred Hitchcock, you have the answer. And given that the picture came out in 1960, even if you haven't seen it, you probably know the answer anyway. But today's Hitchcock-loving cinéastes and enthusiasts of design have another important question to consider: who directed Marion Crane getting killed? We previously featured something of a master class in editing from Hitchcock himself in which he explains the mechanics of cutting together the "shower scene" of the unsuspecting secretary's death. But that part of the process obviously began with all its components — Janet Leigh, the raised knife, the curtain pulled off of its rings, the chocolate syrup circling the drain — already captured on celluloid. To know the origins of this most famous sequence in Hitchcock's oeuvre, and one of the most famous sequences in 20th century cinema, you have to begin with its storyboards, straight from the hand of graphic-design legend Saul Bass, who also put together the film's title sequence.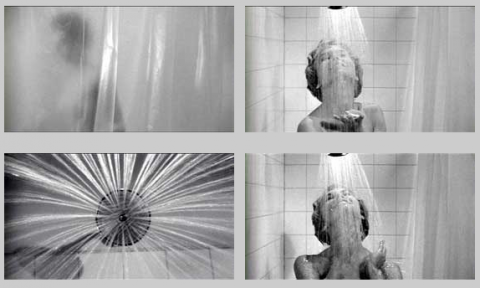 "After Hitchcock's death, Bass asserted that he had directed the scene at Hitchcock's invitation — a claim definitively contradicted by both Janet Leigh and Assistant Director Hilton Green," writes Catholic University of America English professor Glen Johnson on the companion page to his Hitchcock course. "Bass's partisans have subsequently held that Hitchcock merely mechanically filmed shots already laid out by Bass. Comparing the storyboards to the filmed scene shows that to be untrue. On the other hand, the most crucial elements of the scene, such as the drain-eye matchcut and the tracking shot that follows it, are in the storyboards. That proves nothing about the author of the scene, however, since Bass drew the storyboards after extensive discussions with Hitchcock about the design of the scene." Though it appears that no single creator "made" the shower scene — or made any given element of most motion pictures — its place in the enduring legacy of mid-20th-century culture goes undisputed. Below, you can watch this so often quoted, imitated, and parodied sequence play out in another form, combining storyboards, clips, and making-of dramatization, in last year's feature film Hitchcock:
Related Content:
Alfred Hitchcock's Seven-Minute Editing Master Class
Alfred Hitchcock's Rules for Watching Psycho (1960)
Hitchcock (Anthony Hopkins) Pitches Janet Leigh (Scarlett Johansson) on the Famous Shower Scene
A Brief Visual Introduction to Saul Bass' Celebrated Title Designs
21 Free Hitchcock Movies Online
Colin Marshall hosts and produces Notebook on Cities and Culture and writes essays on literature, film, cities, Asia, and aesthetics. He's at work on a book about Los Angeles, A Los Angeles Primer. Follow him on Twitter at @colinmarshall.