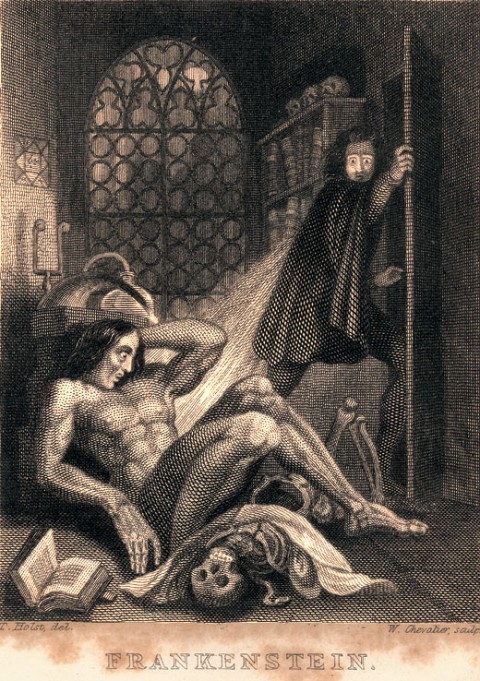 Thanks to the newly-opened Shelley-Godwin Archive, you can read "for the first time in digital form all the known manuscripts of Frankenstein," Mary Shelley's finest work and arguably the most famous work of British Romanticism.
The story behind the writing of Frankenstein is famous. In 1816, Mary Shelley and Percy Bysshe Shelley, summering near Lake Geneva in Switzerland, were challenged by Lord Byron to take part in a competition to write a frightening tale. Mary, only 18 years old, later had a waking dream of sorts where she imagined the premise of her book:
When I placed my head on my pillow, I did not sleep, nor could I be said to think. My imagination, unbidden, possessed and guided me, gifting the successive images that arose in my mind with a vividness far beyond the usual bounds of reverie. I saw — with shut eyes, but acute mental vision, — I saw the pale student of unhallowed arts kneeling beside the thing he had put together. I saw the hideous phantasm of a man stretched out, and then, on the working of some powerful engine, show signs of life, and stir with an uneasy, half vital motion.
This became the kernel of Frankenstein; or, The Modern Prometheus, the novel first published in London in 1818, with only 500 copies put in circulation. In writing Frankenstein, Shelley used a series of notebooks that "can now be viewed in high quality, resizable page images." Each hand-written page comes accompanied by a typed transcript. Find them all here.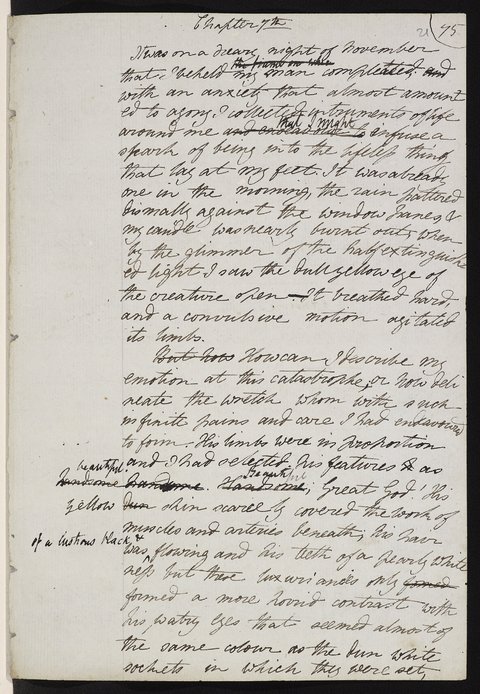 Funded by The National Endowment for the Humanities and The Gladys Krieble Delmas Foundation, the new archive was assembled by the University of Maryland's Institute for Technology in the Humanities, The New York Public Library, the Bodleian Library, The Huntington, and the Harvard University Library.
Down the line, the Shelley-Godwin Archive "will provide the digitized manuscripts of Percy Bysshe Shelley, Mary Wollstonecraft Shelley, William Godwin, and Mary Wollstonecraft, bringing together online for the first time ever the widely dispersed handwritten legacy of this uniquely gifted family of writers." So stay tuned for more.
Note: The Archive recommends using recent versions of Google's Chrome browser or the latest version of Safari or Mozilla Firefox when viewing the manuscripts.
Related Content:
Literature: Free Online Courses
See F. Scott Fitzgerald's Handwritten Manuscripts for The Great Gatsby, This Side of Paradise & More
The Online Emily Dickinson Archive Makes Thousands of the Poet's Manuscripts Freely Available
James Joyce Manuscripts Online, Free Courtesy of The National Library of Ireland
Frankenstein: The First Adaptation of Mary Shelley's Novel to Film (1910)
Find Frankenstein in our Free eBooks and Free Audio Books collections