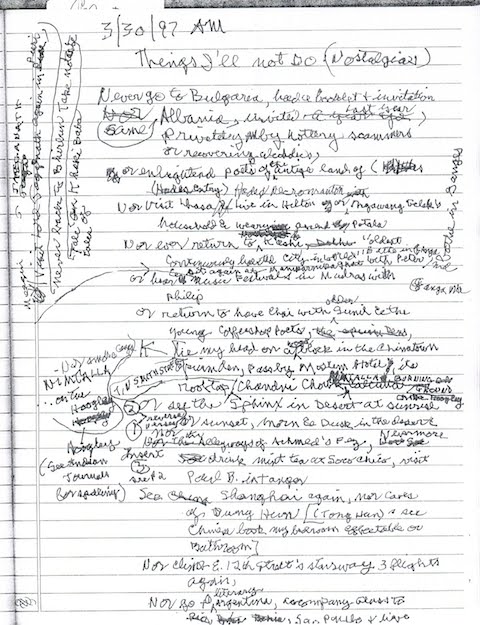 Allen Gins­berg died on April 5, 1997. Less than a week before, after the long ter­mi­nal­ly ill poet had made part­ing phone calls to near­ly every­one in his address book, he wrote the poem above, "Things I'll Not Do (Nos­tal­gias)." He once called all his work extend­ed biog­ra­phy, and we might call this par­tic­u­lar work a piece of biog­ra­phy extend­ed into spec­u­la­tion, com­pris­ing all the places (Tibet, Moroc­co, Los Ange­les), peo­ple (com­pos­er Philip Glass, not­ed Tang­i­er expat Paul Bowles, his own rel­a­tives), and things (attend­ing con­certs, teach­ing stu­dents, smok­ing var­i­ous sub­stances) he knew he would nev­er expe­ri­ence again, or indeed for the first time — items left over, in short, from what we might now call Gins­berg's buck­et list. The tran­script runs as fol­lows:
Nev­er go to Bul­gar­ia, had a book­let & invi­ta­tion
Same Alba­nia, invit­ed last year, pri­vate­ly by Lot­tery scam­mers or
recov­er­ing alco­holics,
Or enlight­ened poets of the antique land of Hades Gates
Nor vis­it Lhasa live in Hilton or Ngawang Gelek's house­hold & weary
ascend Pota­la
Nor ever return to Kashi "old­est con­tin­u­ous­ly habit­ed city in the world"
bathe in Ganges & sit again at Manikarni­ka ghat with Peter,
vis­it Lord Jag­ganath again in Puri, nev­er back to Bib­hum take
notes tales of Kha­ki B Baba
Or hear music fes­ti­vals in Madras with Philip
Or enter to have Chai with old­er Sunil & Young cof­feeshop poets,
Tie my head on a block in the Chi­na­town opi­um den, pass by Moslem
Hotel, its rooftop Tin­smith Street Choudui Chowh Nim­tal­lah
Burn­ing ground nor smoke gan­ja on the Hoogh­ly
Nor the alley­ways of Achmed's Fez, nev­er­more drink mint tea at Soco
Chico, vis­it Paul B. in Tang­iers
Or see the Sphinx in Desert at Sun­rise or sun­set, morn & dusk in the
desert
Ancient sol­lapsed Beirut, sad bombed Baby­lon & Ur of old, Syr­i­a's
grim mys­ter­ies all Ara­by & Sau­di Deserts, Yemen's spright­ly
folk,
Old opi­um trib­al Afghanistan, Tibet — Tem­pled Beluchis­tan
See Shang­ha again, nor cares of Dun­huang
Nor climb E. 12th Street's stair­way 3 flights again,
Nor go to lit­er­ary Argenti­na, accom­pa­ny Glass to Sao Pao­lo & live a
month in a flat Rio's beach­es and favel­la boys, Bahi­a's great
Car­ni­val
Nor more day­dream of Bali, too far Ade­laide's fes­ti­val to get new scent
sticks
Not see the new slums of Jakar­ta, mys­te­ri­ous Bor­neo forests & paint­ed
men and women
Nor mor Sun­set Boule­vard, Mel­rose Avenue, Oz on Ocean Way
Old cousin Dan­ny Lee­gant, mem­o­ries of Aunt Edith in San­ta Mon­i­ca
No mor sweet sum­mers with lovers, teach­ing Blake at naropa,
Mind Writ­ing Slo­gans, new mod­ern Amer­i­can Poet­ics, Williams
Ker­ouac Reznikoff Rakosi Cor­so Creely Orlovsky
Any vis­its to B'nai Israel graves of Buda, Aunt Rose, Har­ry Meltzer and
Aunt Clara, Father Louis
Not myself except in an urn of ash­es

March 30, 1997, A.M.

Allen Gins­berg
As much of a final state­ment as it sounds like, "Things I'll Not Do (Nos­tal­gias)" remains, in a way, a work in progress, giv­en the man­u­scrip­t's semi-deci­pher­able hand. "Although many of his poems' first drafts looked like this," say the care­tak­ers of AllenGinsberg.org, "if any­thing was unclear, we could just ask. That, obvi­ous­ly, was­n't an option after April 5 that year." Ten of Gins­berg's asso­ciates passed the paper around, Google- and Wikipedi­aless­ly try­ing to piece togeth­er all of his char­ac­ter­is­ti­cal­ly far-flung ref­er­ences. The Caves of Dun­huang "went incor­rect­ly tran­scribed for the first edi­tion as 'cares of Dun­huang', since none of us were aware these were caves," and "when we got to the 'antique lands of Hades Necro­man­teion," we could­n't find a sin­gle ref­er­ence to it any­where, and in the end sim­ply stat­ed 'Hades Gates.' That's how it's pub­lished today — still. Till the next edi­tion that is."
Relat­ed Con­tent:
The Last (Faxed) Poem of Charles Bukows­ki
Hear the Very First Record­ing of Allen Gins­berg Read­ing His Epic Poem "Howl" (1956)
Allen Ginsberg's "Celes­tial Home­work": A Read­ing List for His Class "Lit­er­ary His­to­ry of the Beats"
James Fran­co Reads a Dream­i­ly Ani­mat­ed Ver­sion of Allen Ginsberg's Epic Poem 'Howl'
Col­in Mar­shall hosts and pro­duces Note­book on Cities and Cul­ture and writes essays on cities, Asia, film, lit­er­a­ture, and aes­thet­ics. He's at work on a book about Los Ange­les, A Los Ange­les Primer. Fol­low him on Twit­ter at @colinmarshall or on his brand new Face­book page.