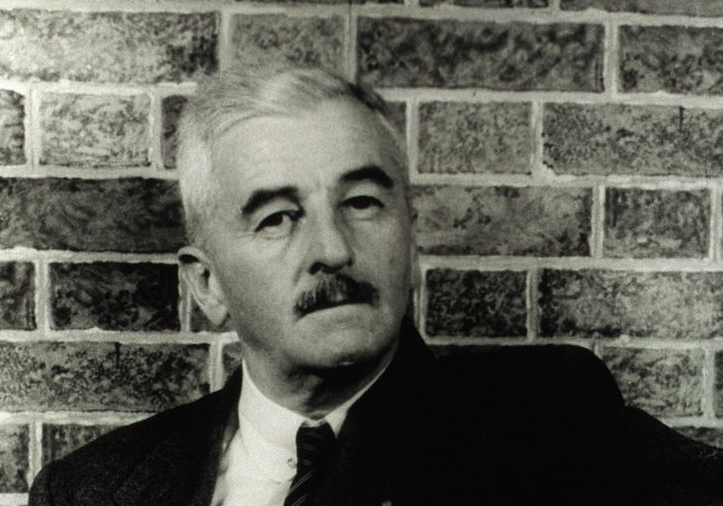 Image by Carl Van Vechten, via Wikimedia Commons
My two favorite William Faulkner novels are, without a doubt, Absalom, Absalom! and The Sound and The Fury. After readers get thrust into the narrators' dizzying streams of consciousness, both books mount in tension to a frightful, almost unbearable pitch, before reaching their grim, cathartic climaxes. I've always felt that the white-hot intensity of the novels meant that, somehow, they had meant more to Faulkner than his other writings. According to an audio recording of Faulkner himself, it turns out that I was half right.
In 1957 and 1958, Faulkner served as the Writer-in-Residence at the University of Virginia at Charlottesville, and today the school retains what is likely to be the largest Faulkner archive in the world. In addition to Faulkner's private library, original manuscripts, letters, and personal effects, the archive also contains hours upon hours of Faulkner's Q & A sessions, speeches, and readings. In April of 1957, during a class lecture, a student asked Faulkner about his favorite novel. Listen to the audio clip here:
Unidentified participant: Mr. Faulkner, what do you consider your best book?
William Faulkner: The one that—that failed the most tragically and the most splendidly. That was The Sound and the Fury—the one I worked at the longest, the hardest, that was to me the—the most passionate and moving idea, and made the most splendid failure. That's the one that's my—I consider the best, not—well, best is the wrong word—that's the one that I love the most.
The recordings themselves are a fascinating resource, with Faulkner commenting widely on his novels and stories. Where else could one hear, for example, what the author considered the best book to start with when reading him? Listen here.
Unidentified participant: Do you think that there's a particular order in which your works should be read […]? Many people have offered a sequence. Do you think there's a particular sequence that your books should be read in?
William Faulkner: Probably to begin with a book called Sartoris. That has the germ of my apocrypha in it. A lot of the characters are postulated in that book. I'd say that's a good one to begin with.
For those interested in learning more about Faulkner and his writing, the Southeast Missouri State University's Center for Faulkner Studies is offering a promising MOOC called Faulkner 101, led by the Center's founder, Dr. Robert Hamblin, as well as its current director, Dr. Chris Rieger. You can sign up now. Or find countless other MOOCs in our big, ever-expanding list of MOOCs.
Ilia Blinderman is a Montreal-based culture and science writer. Follow him at @iliablinderman, or read more of his writing at the Huffington Post.
Related Content:
William Faulkner Reads from As I Lay Dying
William Faulkner Audio Archive Goes Online
The Art of William Faulkner: Drawings from 1916-1925