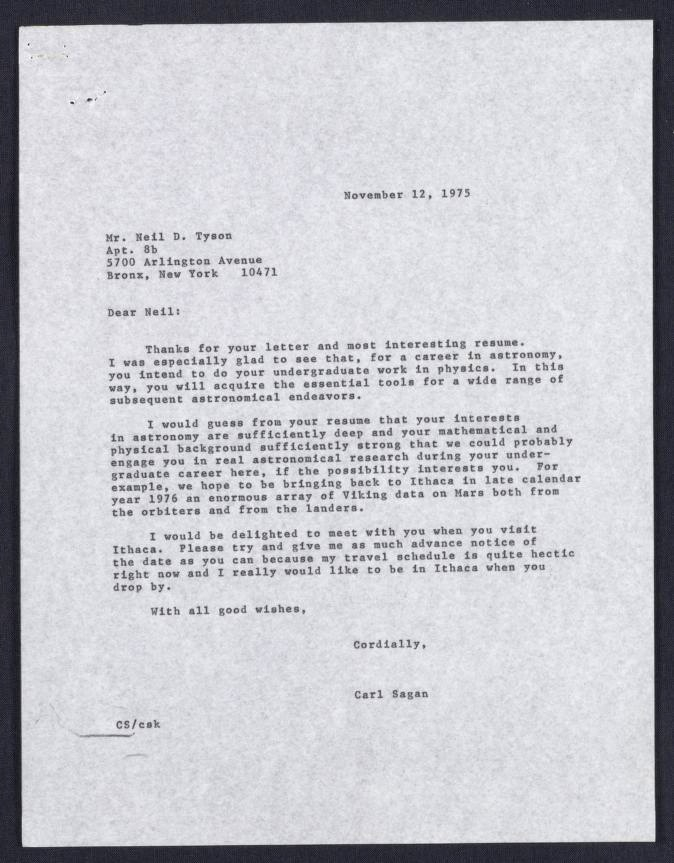 Carl Sagan, the turtleneck-sporting astrophysicist from Cornell, was the greatest communicator of science of his generation. Not only did he publish hundreds of scientific papers and was instrumental in putting together that golden record on the Voyager spacecrafts but he also wrote twenty critically praised best sellers on science, appeared regularly on the Tonight Show, and even had a catch phrase — "billions and billions." But Sagan is perhaps best known for his landmark 1980 series Cosmos: A Personal Voyage (watch it here). He took viewers through a tour of the universe, showing them things from the mind-boggling big to the infinitesimally small and everything in between. The show proved to be a huge hit; close to a half-billion people tuned in worldwide.
Even before the reboot of Cosmos premiered on FOX in March, Neil deGrasse Tyson – who hosts the show – was already seen as Sagan's successor. Not only does he serve as the director of the Hayden Planetarium in New York City and was instrumental in kicking Pluto out of the brotherhood of planets, but he also authored numerous books, appears regularly on The Daily Show, and frequently hosts AMAs on Reddit. He's also one of America's most vocal defenders of science at a time, unlike Sagan's heyday, when Creationism, climate change denial, and anti-vaccination hysteria seem to be making inroads in our culture.
Anyone who saw Tyson's heart felt tribute to Sagan at the beginning of the first episode of Cosmos knows that Sagan's influence on his younger counterpart extended much further than his media appearances. It was personal. In 1975, Sagan, who was already famous at that time, was so impressed by Tyson's college application that he personally reached out to him, hoping to convince the high school student to attend Cornell. He even offered to personally show Tyson around his lab.
You can read Sagan's letter, dated November 12, 1975, below.
Dear Neil:

Thanks for your letter and most interesting resume. I was especially glad to see that, for a career in astronomy, you intend to do your undergraduate work in physics. In this way, you will acquire the essential tools for a wide range of subsequent astronomical endeavors.

I would guess from your resume that your interests in astronomy are sufficiently deep and your mathematical and physical background sufficiently strong that we could probably engage you in real astronomical research during your undergraduate career here, if the possibility interests you. For example, we hope to be bringing back to Ithaca in late calendar year 1976 an enormous array of Viking data on Mars both from the orbiters and from the landers.

I would be delighted to meet with you when you visit Ithaca. Please try and give as much advance notice of the date as you can because my travel schedule is quite hectic right now and I really would like to be in Ithaca when you drop by.

With all good wishes,

Carl Sagan
Tyson was deeply moved by Sagan's kindness and sincerity. He did venture out to Ithaca from the Bronx on a snowy afternoon. As Tyson recalled years later, "I thought to myself, who am I? I'm just some high school kid." In the end, Sagan's personal plea wasn't quite enough to convince young Tyson to attend his school. As you can read in his response below, dated April 30, 1976, Tyson decided to go to Harvard.
Dear Prof. Sagan

Thank you for your offer concerning the Viking Missions. After long thought and decision making I have chosen to attend Harvard University this September. I chose it not simply because of its "valuable" name but because they have a larger astronomy department in addition to the Smithsonian Astrophysical Observatory, so while I am majoring in physics I will have more surrounding me in the way of on-going research in astronomy.

I want to say that I did enjoy meeting you and I am very grateful for your hospitality and the time you spent with me while at Cornell. I will throughout my undergraduate years keep you informed on any noteworthy news concerning astronomy-related work that I'm involved in. I do plan to apply again for the Viking Internship next summer.

Thanks again

Neil D. Tyson
You can see Tyson talk about his afternoon with Sagan. 40 years later, he still seems incredulous that it happened.
Related Content:
Carl Sagan Presents Six Lectures on Earth, Mars & Our Solar System … For Kids (1977)
Carl Sagan Explains Evolution in an Eight-Minute Animation
Carl Sagan's Undergrad Reading List: 40 Essential Texts for a Well-Rounded Thinker
Carl Sagan, Stephen Hawking & Arthur C. Clarke Discuss God, the Universe, and Everything Else
Jonathan Crow is a Los Angeles-based writer and filmmaker whose work has appeared in Yahoo!, The Hollywood Reporter, and other publications. You can follow him at @jonccrow.