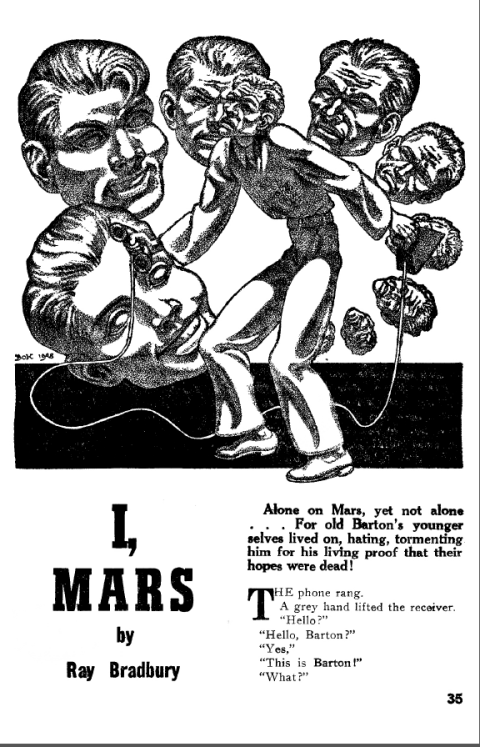 "We think audio is the best medium for Science Fiction literature and drama," says the "About" page at SFFaudio.com. "We're not against the dead tree, cathode ray, and celluloid versions, we just know them to be the inferior medium for transmission of story, mood, and ideas." A strong position indeed, but one wonders: what do they think of the digital display of text as a means of sci-fi conveyance? They must harbor more than a little love for it, given that on their site, otherwise a rich trove of the genre's literature and drama in free audio form, they've also cultivated a robust collection of equally free books and stories available as PDFs, many scanned straight from the original dead-tree magazines in which they first appeared. "The stories listed below are, to the best of my research, all PUBLIC DOMAIN in the United States," writes the collector in an introduction to the long list, a quick scan of which reveals a who's who of respected names in science fiction from the mid-twentieth century and earlier, from Piers Anthony to John Wyndham.
In between those two sci-fi eminences, you'll also encounter a few possibly unexpected names, like Henry James, Jack London, Guy de Maupassant — yes, the very same Henry James, Jack London, and Guy de Maupassant, who seem to have used just enough of the adventurous and the supernatural in their fiction to fit into the spirit of the collection, if not quite into the genre boundaries. But even if you want to stick to sci-fi and sci-fi only, you'll certainly find plenty of the finest shorter-form work with which to treat yourself. Perhaps "I, Mars" by none other than Mr. Martian Chronicles himself, Ray Bradbury? Alternatively, if you prefer the "harder" side of the tradition, behold the offerings from Foundation series author Isaac Asimov:
Or those from Arthur C. Clarke, he of Rendezvous with Rama and 2001: A Space Odyssey:
For another vintage entirely, see also their formidable lineup of over forty pieces from H.G. Wells, progenitor of so much of what we think of as science fiction today, which includes "The Island of Dr. Moreau," "The War of the Worlds," and "The Time Machine." Just about as many of the stories of H.P. Lovecraft, a man with a now similarly classic body of work but one with an entirely different sensibility altogether, also appear. You can sample his special brand of the unspeakable in tales like "The Shunned House," "The Nameless City," and "The Horror at Red Hook." Then there are the works of Philip K. Dick, many of which have been aggregated in our collection: 33 Great Sci-Fi Stories by Philip K. Dick: Download as Free Audio Books & Free eBooks.
Though you'll have plenty of reading material here, do also pay a visit to SFFaudio's podcast collection, where you can discover a universe more listening material besides.
Related Content:
100 Great Sci-Fi Stories by Women Writers (Read 20 for Free Online)
Free Science Fiction Classics on the Web: Huxley, Orwell, Asimov, Gaiman & Beyond
Download 33 Great Sci-Fi Stories by Philip K. Dick as Free Audio Books & Free eBooks
Free: Download 151 Sci-Fi & Fantasy Stories from Tor.com
Colin Marshall hosts and produces Notebook on Cities and Culture and writes essays on cities, language, Asia, and men's style. He's at work on a book about Los Angeles, A Los Angeles Primer. Follow him on Twitter at @colinmarshall or on Facebook.