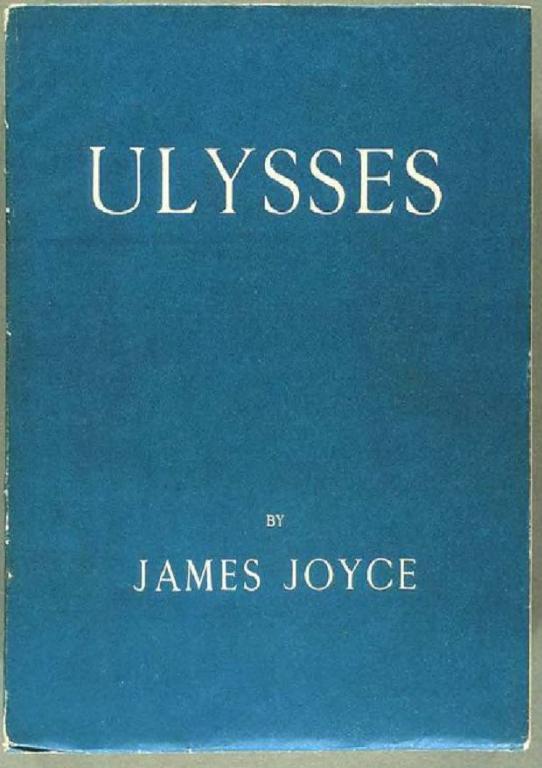 Since its publication in 1922, James Joyce's Ulysses has enjoyed a status, in various places and in various ways, as The Book to Read. Alas, this Modernist novel of Dublin on June 16, 1904 has also attained a reputation as The Book You Probably Can't Read — or at least not without a whole lot of work on the side. In truth, nobody needs to turn themselves into a Joyce scholar to appreciate it; the uninitiated reader may not enjoy it on every possible level, but they can still, without a doubt, get a charge from this piece of pure literature.
Today, on this Bloomsday 2014, we offer you everything that may help you get that charge, starting with Ulysses as a free eBook (iPad/iPhone – Kindle + Other Formats – Read Online Now). Or perhaps you'd prefer to listen to the novel as a free audio book; you can even hear a passage read by Joyce himself.
The work may stand as a remarkably rich textual achievement, but it also has a visual history: we've previously featured, for instance, Henri Matisse's illustrated 1935 edition of the book, Joyce's own sketch of protagonist Leopold Bloom (below), and Ulysses "Seen," a graphic novel adaptation-in-progress.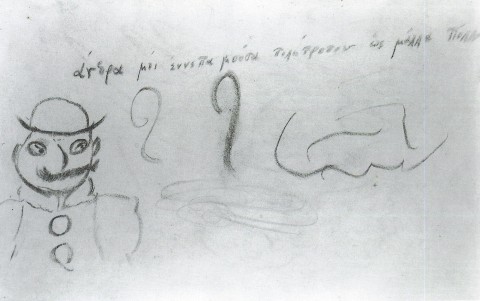 Even Vladimir Nabokov, obviously a formidable literary power himself, added to all this when he sketched out a map of the paths Bloom and Stephen Dedalus (previously seen in Joyce's A Portrait of the Artist as a Young Man) take through Dublin in the book.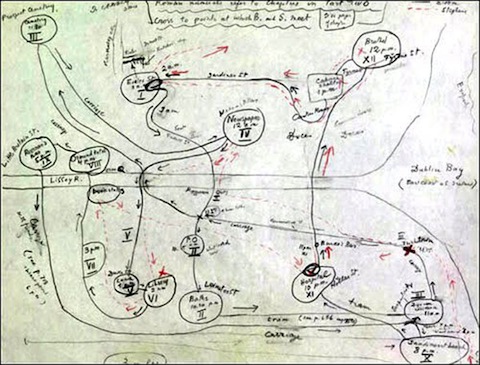 Other high-profile Ulysses appreciators include Stephen Fry, who did a video expounding upon his love for it, and Frank Delaney, whose podcast Re: Joyce, as entertaining as the novel itself, will examine the entire text line-by-line over 22 years. Still, like any vital work of art, Ulysses has drawn detractors as well. Irving Babbitt, among the novel's early reviewers, said it evidenced "an advanced stage of psychic disintegration"; Virginia Woolf, having quit at page 200, wrote that "never did any book so bore me." But bored or thrilled, each reader has their own distinct experience with Ulysses, and on this Bloomsday we'd like to send you on your way to your own. (Or maybe you have a different way of celebrating, as the first Bloomsday revelers did in 1954.) Don't let the towering novel's long shadow darken it. Remember the whole thing comes down to an Irishman and his manuscripts — many of which you can read online.
Related Content:
James Joyce's Ulysses: Download the Free Audio Book
James Joyce Reads From Ulysses and Finnegans Wake In His Only Two Recordings (1924/1929)
Henri Matisse Illustrates 1935 Edition of James Joyce's Ulysses
Read Joyce's Ulysses Line by Line, for the Next 22 Years, with Frank Delaney's Podcast
The First Bloomsday: Watch Dublin's Literati Celebrate James Joyce's Ulysses in Drunken Fashion, 1954
James Joyce, With His Eyesight Failing, Draws a Sketch of Leopold Bloom (1926)
Colin Marshall hosts and produces Notebook on Cities and Culture and writes essays on cities, language, Asia, and men's style. He's at work on a book about Los Angeles, A Los Angeles Primer. Follow him on Twitter at @colinmarshall or on Facebook.