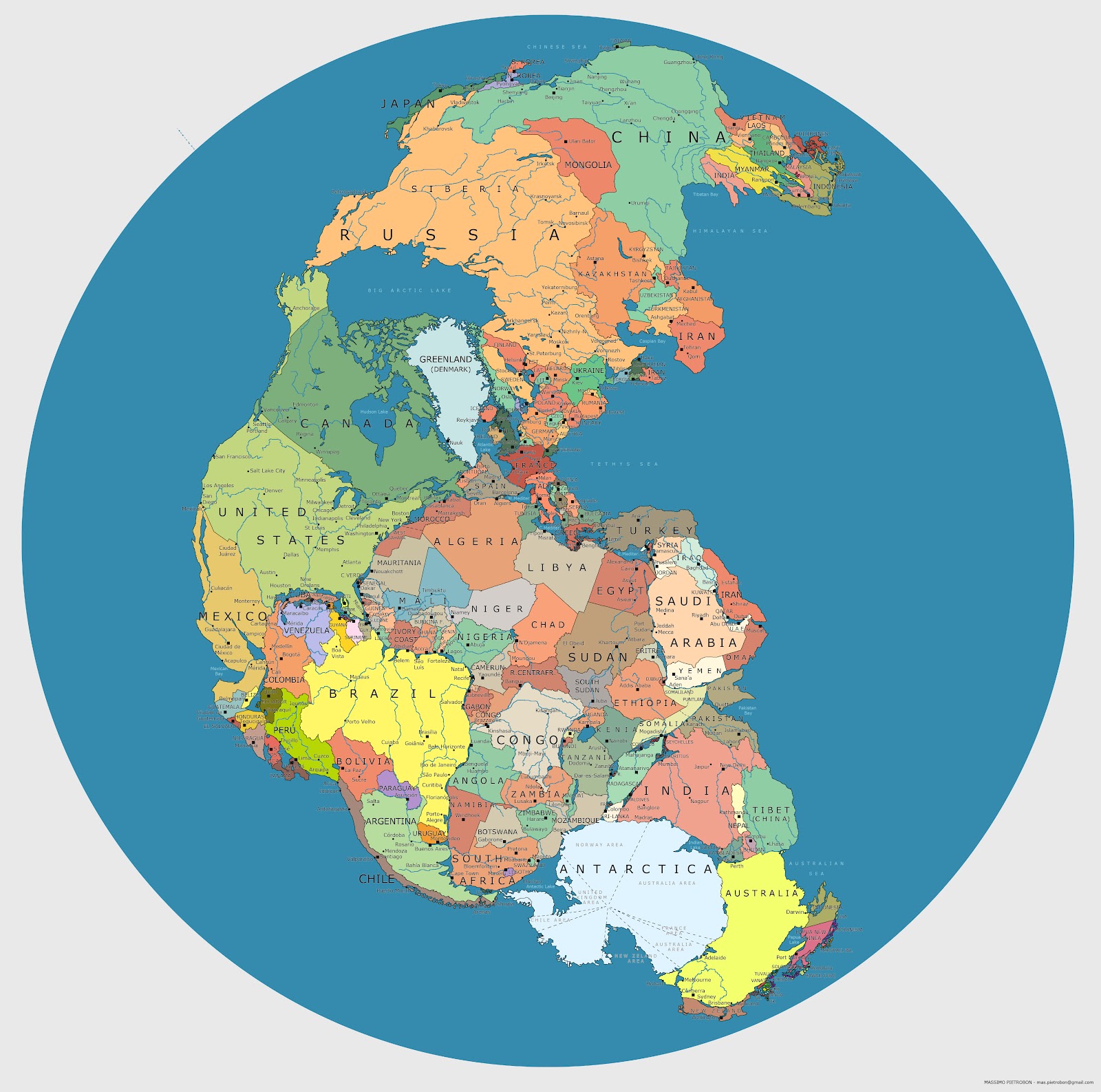 The super­con­ti­nent of Pangea formed some 270 mil­lion years ago, dur­ing the Ear­ly Per­mi­an Peri­od, and then began to break up 70 mil­lion years lat­er, even­tu­al­ly yield­ing the con­ti­nents we inhab­it today. Pangea was, of course, a peo­ple­less place. But if you were to drop today's nations on that great land mass, here's what it might look like. (Click on the image to view it in a much larg­er, high res­o­lu­tion for­mat.) The map's cre­ator is Mas­si­mo Pietrobon, some­one who play­ful­ly describes him­self as "a famous explor­er and car­tog­ra­ph­er of Atlantis," and who has tak­en on oth­er exper­i­ments with maps in the past. When some­one claimed that the scale of cer­tain coun­tries was­n't exact­ly right, Mas­si­mo was quick to con­fess on his blog, "Yes, it's just a tri­al, it can be bet­ter." But it's a cre­ative start.
If you would like to sign up for Open Culture's free email newslet­ter, please find it here.
If you would like to sup­port the mis­sion of Open Cul­ture, con­sid­er mak­ing a dona­tion to our site. It's hard to rely 100% on ads, and your con­tri­bu­tions will help us con­tin­ue pro­vid­ing the best free cul­tur­al and edu­ca­tion­al mate­ri­als to learn­ers every­where. You can con­tribute through Pay­Pal, Patre­on, and Ven­mo (@openculture). Thanks!
via Pick­over's Real­i­ty Car­ni­val
Relat­ed Con­tent:
An Inter­ac­tive Map of Odysseus' 10-Year Jour­ney in Homer's Odyssey
Play Cae­sar: Trav­el Ancient Rome with Stanford's Inter­ac­tive Map
Down­load 78 Free Online His­to­ry Cours­es: From Ancient Greece to The Mod­ern World