Before Theodor Seuss Geisel AKA Dr. Seuss convinced generations of children that a wocket might just be in their pocket, he was the chief editorial cartoonist for the New York newspaper PM from 1940 to 1948. During his tenure he cranked out some 400 cartoons that, among other things, praised FDR's policies, chided isolationists like Charles Lindbergh and supported civil rights for blacks and Jews. He also staunchly supported America's war effort.
To that end, Dr. Seuss drew many cartoons that, to today's eyes, are breathtakingly racist. Check out the cartoon above. It shows an arrogant-looking Hitler next to a pig-nosed, slanted-eye caricature of a Japanese guy. The picture isn't really a likeness of either of the men responsible for the Japanese war effort – Emperor Hirohito and General Tojo. Instead, it's just an ugly representation of a people.
In the battle for homeland morale, American propaganda makers depicted Germany in a very different light than Japan. Germany was seen as a great nation gone mad. The Nazis might have been evil but there was still room for the "Good German." Japan, on the other hand, was depicted entirely as a brutal monolith; Hirohito and the guy on the street were uniformly evil. Such thinking paved the way for the U.S. Air Force firebombing of Tokyo, where over 100,000 civilians died, and for its nuclear bombing of Hiroshima and Nagasaki. And it definitely laid the groundwork for one of the sorriest chapters of American 20th century history, the unconstitutional incarceration of Japanese-Americans.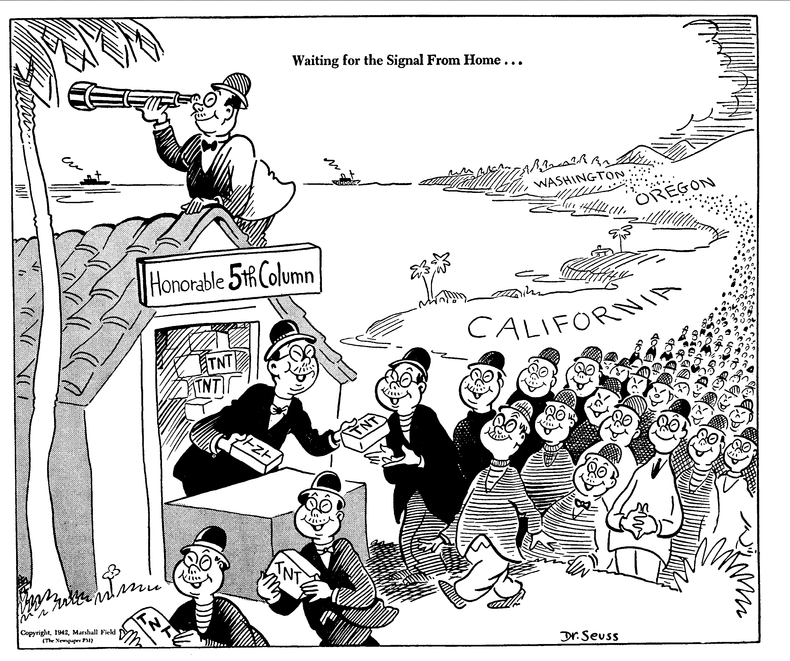 Geisel himself was vocally anti-Japanese during the war and had no trouble with rounding up an entire population of U.S. citizens and putting them in camps.
But right now, when the Japs are planting their hatchets in our skulls, it seems like a hell of a time for us to smile and warble: "Brothers!" It is a rather flabby battle cry. If we want to win, we've got to kill Japs, whether it depresses John Haynes Holmes or not. We can get palsy-walsy afterward with those that are left.
Geisel was hardly alone in such beliefs but it's still disconcerting to see ugly cartoons like these drawn in the same hand that did The Cat in the Hat.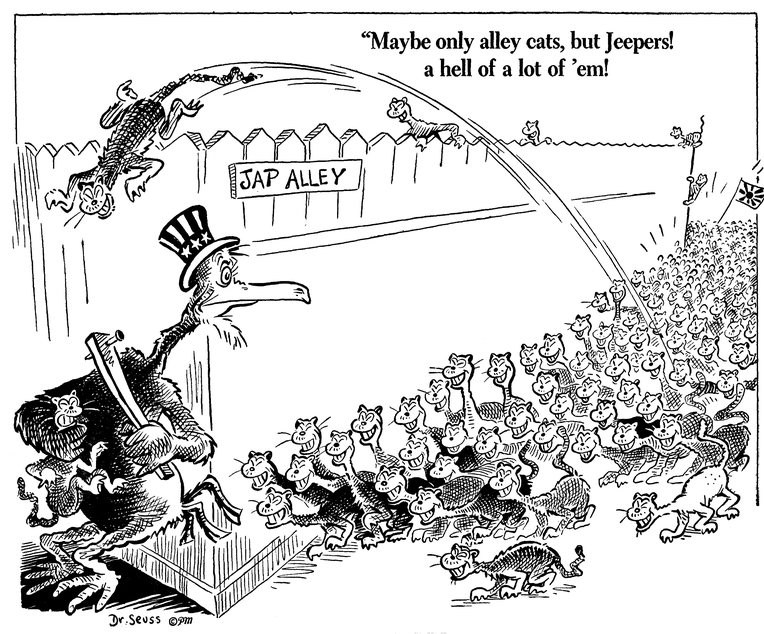 In 1953, Geisel visited Japan where he met and talked with its people and witnessed the horrific aftermath of the bombing of Hiroshima. He soon started to rethink his anti-Japanese vehemence. So he issued an apology in the only way that Dr. Seuss could.
He wrote a children's book.
Horton Hears a Who!, published in 1954, is about an elephant that has to protect a speck of dust populated by little tiny people. The book's hopeful, inclusive refrain – "A person is a person no matter how small" — is about as far away as you can get from his ignoble words about the Japanese a decade earlier. He even dedicated the book to "My Great Friend, Mitsugi Nakamura of Kyoto, Japan."
You can view an assortment of Dr. Seuss's wartime drawings in general, and his cartoons of the Japanese in particular, at the Dr. Went to War Archive hosted by UCSD.
via Dartmouth
Related Content:
Private Snafu: The World War II Propaganda Cartoons Created by Dr. Seuss, Frank Capra & Mel Blanc
New Archive Showcases Dr. Seuss's Early Work as an Advertising Illustrator and Political Cartoonist
Fake Bob Dylan Sings Real Dr. Seuss
The Epistemology of Dr. Seuss & More Philosophy Lessons from Great Children's Stories
Jonathan Crow is a Los Angeles-based writer and filmmaker whose work has appeared in Yahoo!, The Hollywood Reporter, and other publications. You can follow him at @jonccrow. And check out his blog Veeptopus, featuring one new drawing of a vice president with an octopus on his head daily.