Before Theodor Seuss Geisel AKA Dr. Seuss con­vinced gen­er­a­tions of chil­dren that a wock­et might just be in their pock­et, he was the chief edi­to­r­i­al car­toon­ist for the New York news­pa­per PM from 1940 to 1948. Dur­ing his tenure he cranked out some 400 car­toons that, among oth­er things, praised FDR's poli­cies, chid­ed iso­la­tion­ists like Charles Lind­bergh and sup­port­ed civ­il rights for blacks and Jews. He also staunch­ly sup­port­ed America's war effort.
To that end, Dr. Seuss drew many car­toons that, to today's eyes, are breath­tak­ing­ly racist. Check out the car­toon above. It shows an arro­gant-look­ing Hitler next to a pig-nosed, slant­ed-eye car­i­ca­ture of a Japan­ese guy. The pic­ture isn't real­ly a like­ness of either of the men respon­si­ble for the Japan­ese war effort – Emper­or Hiro­hi­to and Gen­er­al Tojo. Instead, it's just an ugly rep­re­sen­ta­tion of a peo­ple.
In the bat­tle for home­land morale, Amer­i­can pro­pa­gan­da mak­ers depict­ed Ger­many in a very dif­fer­ent light than Japan. Ger­many was seen as a great nation gone mad. The Nazis might have been evil but there was still room for the "Good Ger­man." Japan, on the oth­er hand, was depict­ed entire­ly as a bru­tal mono­lith; Hiro­hi­to and the guy on the street were uni­form­ly evil. Such think­ing paved the way for the U.S. Air Force fire­bomb­ing of Tokyo, where over 100,000 civil­ians died, and for its nuclear bomb­ing of Hiroshi­ma and Nagasa­ki. And it def­i­nite­ly laid the ground­work for one of the sor­ri­est chap­ters of Amer­i­can 20th cen­tu­ry his­to­ry, the uncon­sti­tu­tion­al incar­cer­a­tion of Japan­ese-Amer­i­cans.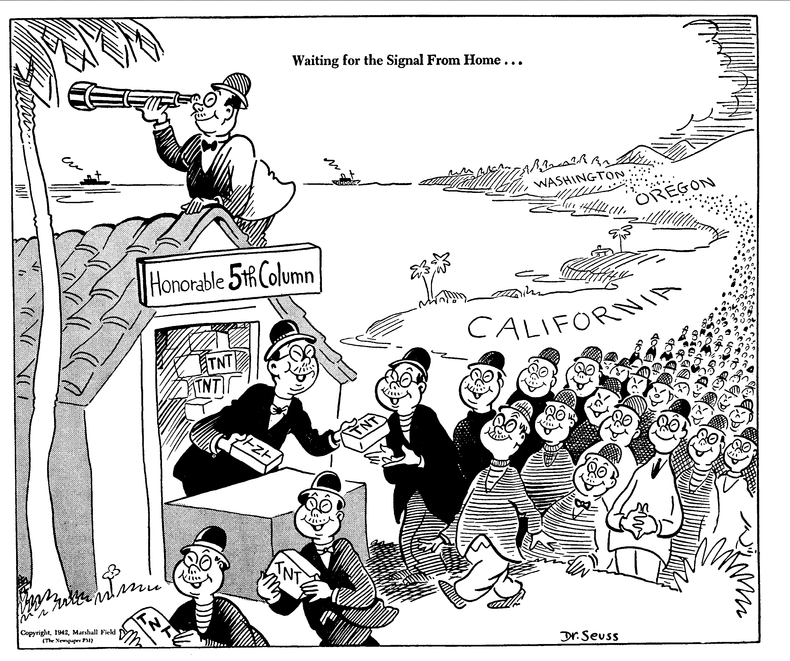 Geisel him­self was vocal­ly anti-Japan­ese dur­ing the war and had no trou­ble with round­ing up an entire pop­u­la­tion of U.S. cit­i­zens and putting them in camps.
But right now, when the Japs are plant­i­ng their hatch­ets in our skulls, it seems like a hell of a time for us to smile and war­ble: "Broth­ers!" It is a rather flab­by bat­tle cry. If we want to win, we've got to kill Japs, whether it depress­es John Haynes Holmes or not. We can get pal­sy-wal­sy after­ward with those that are left.
Geisel was hard­ly alone in such beliefs but it's still dis­con­cert­ing to see ugly car­toons like these drawn in the same hand that did The Cat in the Hat.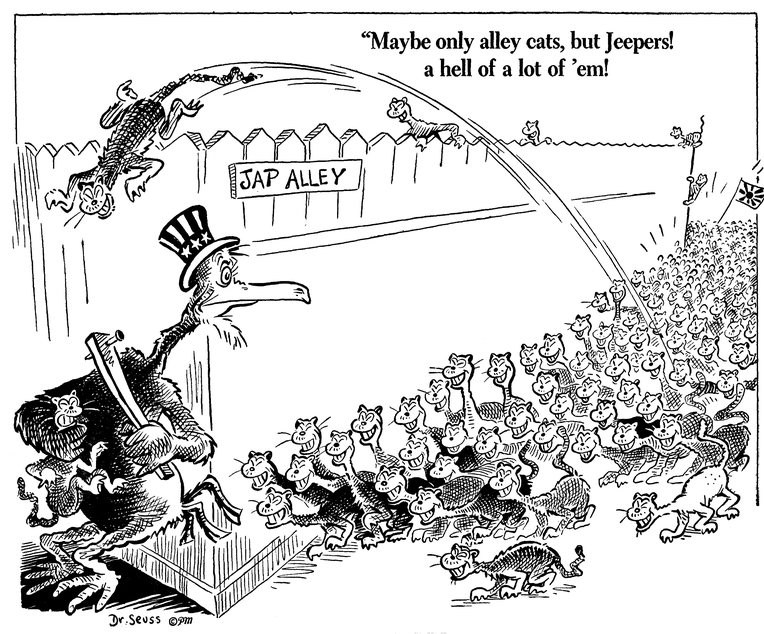 In 1953, Geisel vis­it­ed Japan where he met and talked with its peo­ple and wit­nessed the hor­rif­ic after­math of the bomb­ing of Hiroshi­ma. He soon start­ed to rethink his anti-Japan­ese vehe­mence. So he issued an apol­o­gy in the only way that Dr. Seuss could.
He wrote a children's book.
Hor­ton Hears a Who!, pub­lished in 1954, is about an ele­phant that has to pro­tect a speck of dust pop­u­lat­ed by lit­tle tiny peo­ple. The book's hope­ful, inclu­sive refrain – "A per­son is a per­son no mat­ter how small" — is about as far away as you can get from his igno­ble words about the Japan­ese a decade ear­li­er. He even ded­i­cat­ed the book to "My Great Friend, Mit­su­gi Naka­mu­ra of Kyoto, Japan."
You can view an assort­ment of Dr. Seuss's wartime draw­ings in gen­er­al, and his car­toons of the Japan­ese in par­tic­u­lar, at the Dr. Went to War Archive host­ed by UCSD.
via Dart­mouth
Relat­ed Con­tent:
Pri­vate Sna­fu: The World War II Pro­pa­gan­da Car­toons Cre­at­ed by Dr. Seuss, Frank Capra & Mel Blanc
New Archive Show­cas­es Dr. Seuss's Ear­ly Work as an Adver­tis­ing Illus­tra­tor and Polit­i­cal Car­toon­ist
Fake Bob Dylan Sings Real Dr. Seuss
The Epis­te­mol­o­gy of Dr. Seuss & More Phi­los­o­phy Lessons from Great Children's Sto­ries
Jonathan Crow is a Los Ange­les-based writer and film­mak­er whose work has appeared in Yahoo!, The Hol­ly­wood Reporter, and oth­er pub­li­ca­tions. You can fol­low him at @jonccrow. And check out his blog Veep­to­pus, fea­tur­ing one new draw­ing of a vice pres­i­dent with an octo­pus on his head dai­ly.