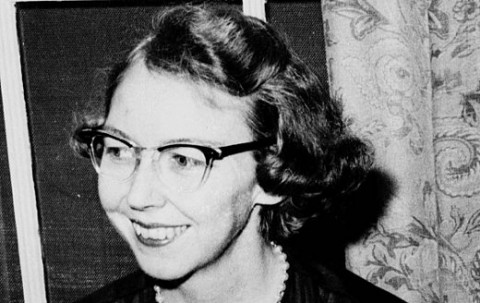 Flannery O'Connor once wrote, "because fine writing rarely pays, fine writers usually end up teaching, and the [MFA] degree, however worthless to the spirit, can be expected to add something to the flesh." That phrase "worthless to the spirit" contains a great deal of the negative attitude O'Connor expressed toward the institutionalization of creative writing in MFA programs like the one she helped make famous at the University of Iowa. The verbiage comes from an essay she wrote for the alumni magazine of the Georgia College for Women after completing her degree in 1947, quoted in the Chad Harbach-edited collection of essays MFA vs. NYC. Although fresh from the program, O'Connor was already on her way to literary success, having published her first story, "The Geranium," the year previous and begun work on her first novel, Wise Blood. Nevertheless, her insights on the MFA are not particularly sanguine.
On the one hand, she writes with characteristic dark humor, writing programs can serve as alternatives to "the poor house and the mad house." In graduate school, "the writer is encouraged or at least tolerated in his odd ways." An MFA program may offer some small respite from the loneliness and hardship of the writing life, and ultimately provide a credential to be "pronounced upon by his future employers should they chance to be of the academy." But the time and effort (not to mention the expense, unless one is fully funded) may not be worth the cost, O'Connor suggests. Her own program at Iowa was "designed to cover the writer's technical needs […], and to provide him with a literary atmosphere which he would not be able to find elsewhere. The writer can expect very little else."
Later, in her collection of essays Mystery and Manners, O'Connor expressed similar sentiments. Concluding a lengthy discussion on the very limited role of the teacher of creative writing, she concludes that "the teacher's work is largely negative […] a matter of saying 'This doesn't work because…' or 'This does work because….'" Remarking on the common observation that universities stifle writers, O'Connor writes, "My opinion is that they don't stifle enough of them. There's many a best-seller that could have been prevented by a good teacher." Creative writing teachers may nod their heads in agreement, and shake them in frustration. But we should return to that phrase "worthless to the spirit," for while MFA programs may turn out "competent" writers of fiction, O'Connor admits, they cannot produce "fine writing":
In the last twenty years the colleges have been emphasizing creative writing to such an extent that you almost feel that any idiot with a nickel's worth of talent can emerge from a writing class able to write a competent story. In fact, so many people can now write competent stories that the short story as a medium is in danger of dying of competence. We want competence, but competence by itself is deadly. What is needed is the vision to go with it, and you do not get this from a writing class.
O'Connor probably overestimates the degree to which "any idiot" can learn to write with competence, but her point is clear. She wrote these words in the mid-fifties, in an essay titled "The Nature and Aim of Fiction." As Harbach's new essay collection demonstrates, the debate about the value of MFA programs—which have expanded exponentially since O'Connor's day—has not by any means been settled. And while there are certainly those writers, she notes wryly, who can "learn to write badly enough" and "make a great deal of money," the true artist may be in the same position after the MFA as they were before it, compelled to "chop a path in the wilderness of his own soul; a disheartening process, lifelong and lonesome."
Related Content:
William S. Burroughs Teaches a Free Course on Creative Reading and Writing (1979)
Toni Morrison, Nora Ephron, and Dozens More Offer Advice in Free Creative Writing "Master Class"
Flannery O'Connor: Friends Don't Let Friends Read Ayn Rand (1960)
Flannery O'Connor Reads 'Some Aspects of the Grotesque in Southern Fiction' (c. 1960)
Flannery O'Connor's Satirical Cartoons: 1942-1945
Josh Jones is a writer and musician based in Durham, NC. Follow him at @jdmagness