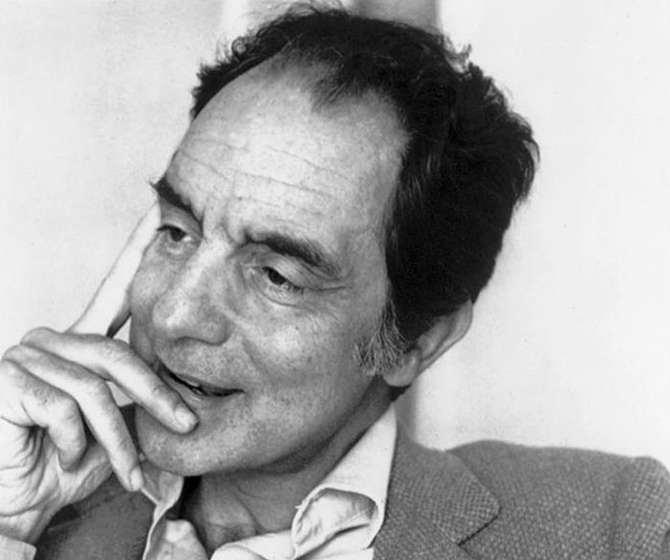 Image by Marie Maye, via Wiki­me­dia Com­mons
In a pre­vi­ous post, we brought you the voice of Ital­ian fan­ta­sist Ita­lo Calvi­no, read­ing from his Invis­i­ble Cities and Mr. Palo­mar. Both of those works, as with all of Calvino's fic­tion, make oblique ref­er­ences to wide swaths of clas­si­cal lit­er­a­ture, but Calvi­no is no show-off, drop­ping in allu­sions for their own sake, nor is it real­ly nec­es­sary to have read as wide­ly as the author to tru­ly appre­ci­ate his work, as in the case of cer­tain mod­ernist mas­ters. Instead, Calvino's fic­tion tends to cast a spell on read­ers, inspir­ing them to seek out far-flung ancient romances and strange folk­tales, to immerse them­selves in oth­er worlds con­tained with­in the cov­ers of oth­er books. Not the least bit pedan­tic, Calvi­no pos­sess­es that rare gift of the best of teach­ers: the abil­i­ty to make Lit­er­a­ture cap­i­tal "L"—an intim­i­dat­ing domain for many—become won­drous and approach­able all over again, as in our ear­ly years when books were mag­i­cal por­tals to be entered, not oner­ous tasks to be checked off a list.
Calvino's short essay, "Why Read the Clas­sics?" (pub­lished in The New York Review of Books in 1986), resounds with this sense of won­der, as well as with the author's friend­ly, unpre­ten­tious atti­tude.
He lays out his rea­son­ing in 14 points—slightly abridged below—beginning with the frank admis­sion that all of us feel some sense of shame for the gaps in our read­ing, and thus often claim to be "re-read­ing" when in fact we're read­ing, for exam­ple, Moby Dick, Anna Karen­i­na, or King Lear, for the first time. Calvi­no states plain­ly the nature of the case;
The reit­er­a­tive pre­fix before the verb "read" may be a small hypocrisy on the part of peo­ple ashamed to admit they have not read a famous book. To reas­sure them, we need only observe that, how­ev­er vast any person's basic read­ing may be, there still remain an enor­mous num­ber of fun­da­men­tal works that he has not read.
Point one, then, goes on to argue for reading—for the first time—classic works of lit­er­a­ture we may have only pre­tend­ed to in the past. The remain­der of Calvino's case fol­lows log­i­cal­ly:
1) ….to read a great book for the first time in one's matu­ri­ty is an extra­or­di­nary plea­sure, dif­fer­ent from (though one can­not say greater or less­er than) the plea­sure of hav­ing read it in one's youth.


2) We use the word "clas­sics" for those books that are trea­sured by those who have read and loved them; but they are trea­sured no less by those who have the luck to read them for the first time in the best con­di­tions to enjoy them.

3) There should there­fore be a time in adult life devot­ed to revis­it­ing the most impor­tant books of our youth.


4) Every reread­ing of a clas­sic is as much a voy­age of dis­cov­ery as the first read­ing.

5) Every read­ing of a clas­sic is in fact a reread­ing.

6) A clas­sic is a book that has nev­er fin­ished say­ing what it has to say.

7) The clas­sics are the books that come down to us bear­ing upon them the traces of read­ings pre­vi­ous to ours, and bring­ing in their wake the traces they them­selves have left on the cul­ture or cul­tures they have passed through.
Calvi­no intro­duces his last 7 points with the obser­va­tion that any for­mal lit­er­ary edu­ca­tion we receive often does more to obscure our appre­ci­a­tion of clas­sic works than to enhance it. "Schools and uni­ver­si­ties," he writes, "ought to help us to under­stand that no book that talks about a book says more than the book in ques­tion, but instead they do their lev­el best to make us think the oppo­site."
Part of the rea­son many peo­ple come to lit­er­ary works with trep­i­da­tion has as much to do with their per­ceived dif­fi­cul­ty as with the schol­ar­ly voice of author­i­ty that speaks from on high through "crit­i­cal biogra­phies, com­men­taries, and inter­pre­ta­tions" as well as "the intro­duc­tion, crit­i­cal appa­ra­tus, and bib­li­og­ra­phy." Though use­ful tools for schol­ars, these can serve as means of com­mu­ni­cat­ing that cer­tain pro­fes­sion­al read­ers will always know more than you do. Calvi­no rec­om­mends leav­ing such things aside, since they "are used as a smoke screen to hide what the text has to say." He then con­cludes:
8) A clas­sic does not nec­es­sar­i­ly teach us any­thing we did not know before.


9) The clas­sics are books that we find all the more new, fresh, and unex­pect­ed upon read­ing, the more we thought we knew them from hear­ing them talked about.

10) We use the word "clas­sic" of a book that takes the form of an equiv­a­lent to the uni­verse, on a lev­el with the ancient tal­is­mans.

11) Your clas­sic author is the one you can­not feel indif­fer­ent to, who helps you to define your­self in rela­tion to him, even in dis­pute with him.

12) A clas­sic is a book that comes before oth­er clas­sics; but any­one who has read the oth­ers first, and then reads this one, instant­ly rec­og­nizes its place in the fam­i­ly tree.
Final­ly, Calvi­no adds two points to explain why he thinks we should read old books, when we are so con­stant­ly over­whelmed "by the avalanche of cur­rent events." To this ques­tion he says:
13) A clas­sic is some­thing that tends to rel­e­gate the con­cerns of the moment to the sta­tus of back­ground noise […]


14) A clas­sic is some­thing that per­sists as a back­ground noise even when the most incom­pat­i­ble momen­tary con­cerns are in con­trol of the sit­u­a­tion.
In oth­er words, clas­sic lit­er­a­ture can have the salu­tary effect of tem­per­ing our high sen­si­tiv­i­ty to every break­ing piece of news and dis­tract­ing piece of triv­ia, giv­ing us the bal­last of his­tor­i­cal per­spec­tive. In our cur­rent cul­ture, in which we live per­pet­u­al­ly plugged into infor­ma­tion machines that ampli­fy every sig­nal and every bit of noise, such a rem­e­dy seems indis­pens­able.
via The New York Review of Books
Relat­ed Con­tent:

Hear Ita­lo Calvi­no Read Selec­tions From Invis­i­ble Cities, Mr. Palo­mar & Oth­er Enchant­i­ng Fic­tions
The Books You Think Every Intel­li­gent Per­son Should Read: Crime and Pun­ish­ment, Moby-Dick & Beyond (Many Free Online)
W.H. Auden's 1941 Lit­er­a­ture Syl­labus Asks Stu­dents to Read 32 Great Works, Cov­er­ing 6000 Pages
Josh Jones is a writer and musi­cian based in Durham, NC. Fol­low him at @jdmagness