A decade before David Lynch's flawed but visually brilliant adaptation of Dune hit the silver screen (see our post on that from Monday), another cinematic visionary tried to turn Frank Herbert's cult book into a movie. And it would have been a mind-bogglingly grand epic.
By 1974, Chilean-French filmmaker Alejandro Jodorowsky had already directed two masterpieces of cult cinema – El Topo and The Holy Mountain. Both films are hallucinatory fever dreams filled with nudity, violence, Eastern mysticism and pungently surreal images. Jodorowsky himself is what they call in Los Angeles a spiritual wanderer. He threw himself into every variety of religious experience that he could – from shamanism to the Kabbalah to hallucinogens. In preparation for shooting Holy Mountain, the director and his wife reportedly went without sleep for a week while under the care of a Zen master. Not surprisingly, leading figures of the counterculture were big fans. John Lennon personally kicked in a million dollars to finance his movies. When French producers asked Jodorowsky to adapt Dune, he was at the peak of his prestige.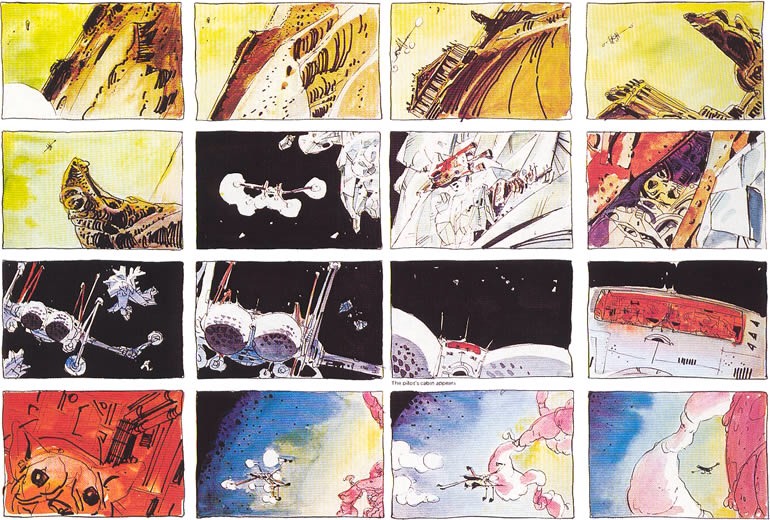 As the 2013 documentary Jodorowsky's Dune shows, the director managed to assemble a jaw-dropping group of talent for the film. This version of Dune was set to star David Carradine, Orson Welles, Salvador Dali and Mick Jagger. It was going to have Pink Floyd do the soundtrack. And it was going to have the then unknown artist H. R. Giger along with French comic book artist Jean Giraud, otherwise known as Moebius, design the sets.
Sadly, Jodorowsky's grand vision proved to be too grand for the film's financiers and they pulled the plug. The movie clearly belongs in the pantheon – along with Stanley Kubrick's Napoleon and Welles's Heart of Darkness – of the greatest movies never made. Compared to those other films, though, Jodorowsky's movie sounds way groovier.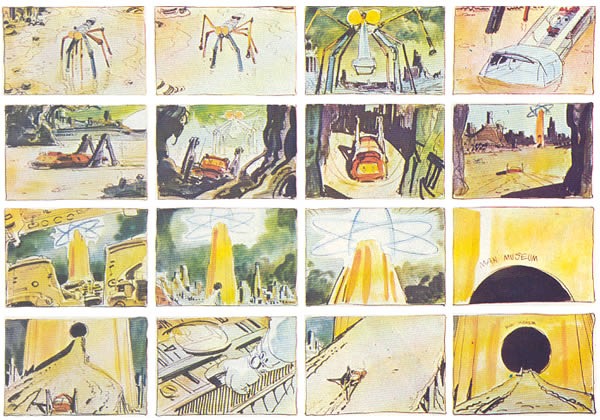 Of all the talent lined up for the project, Moebius proved to be central to helping Jodorowsky realize his grandiose vision during pre-production. Below Jodorowsky describes how the famed, and blindly fast, illustrator proved indispensable to him. Above is a clip from Jodorowsky's Dune, where the director and Moebius describe more or less the same story.
I needed a precise script… I wanted to carry out film on paper before filming it… These days all films with special effects are done as that, but at the time this technique was not used. I wanted a draughtsman of comic strips who has the genius and the speed, who can be used as a camera and who gives at the same time a visual style… I was by chance with my second warrior: Jean Giraud alias Moebius. I say to him: "If you accept this work, you must all give up and leave tomorrow with me to Los Angeles to speak with Douglas Trumbull (2001: A Space Odyssey)". Moebius asked for a few hours to think about it. The following day, we left for the United States. It would take too a long time to tell… Our collaboration, our meetings in America with the strange ones illuminated and our conversations at seven o'clock in the morning in the small coffee which was in bottom of our workshops and which by "chance" was called Café the Universe. Giraud made 3000 drawings, all marvelous… The script of Dune, thanks to his talent, is a masterpiece. One can see living the characters; one follows the movements of camera. One visualizes cutting, the decorations, the costumes…
In this post, you can see some of the storyboards and concept art that Moebius produced. (More can be found at Duneinfo.com.) Looking at them, you can't help but wonder how cinema history would be different if this film ever hit the theaters.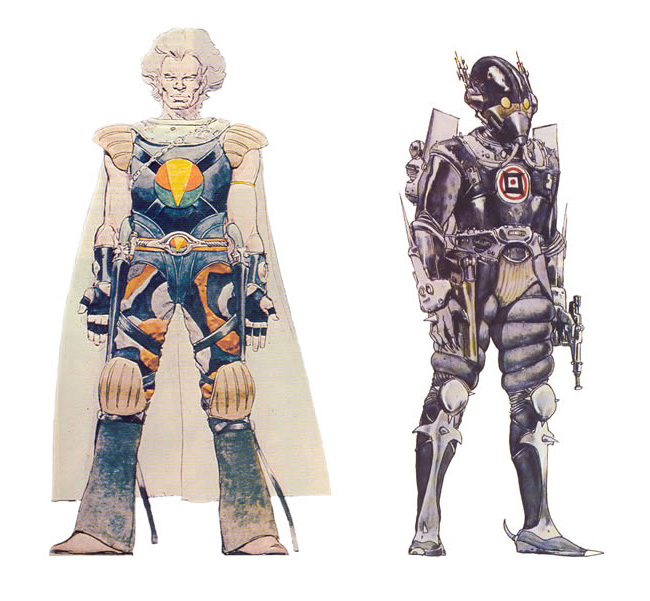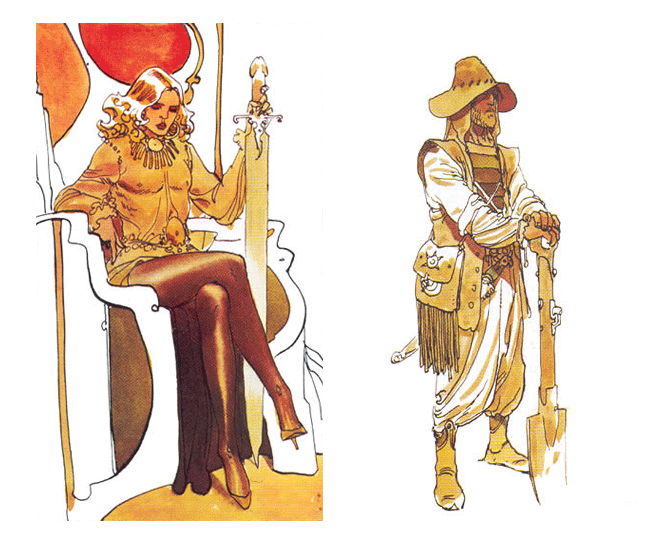 Via Coudal
Related Content: 
The Inscrutable Imagination of the Late Comic Artist Mœbius
The Glossary Universal Studios Gave Out to the First Audiences of David Lynch's Dune (1984)
Napoleon: The Greatest Movie Stanley Kubrick Never Made
Revisit Martin Scorsese's Hand-
Jonathan Crow is a Los Angeles-based writer and filmmaker whose work has appeared in Yahoo!, The Hollywood Reporter, and other publications. You can follow him at @jonccrow. And check out his blog Veeptopus, featuring one new drawing of a vice president with an octopus on his head daily.