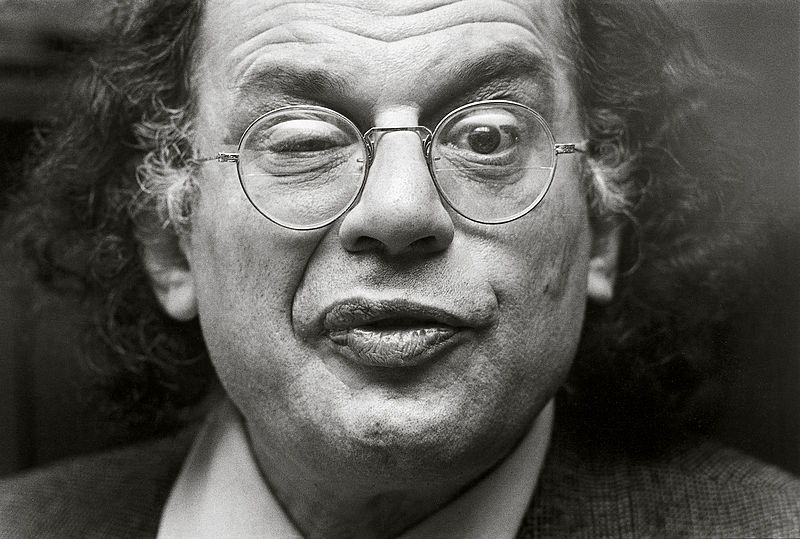 Image by Michiel Hendryckx, via Wikimedia Commons
It's not often one gets the opportunity to take a course on a major literary movement taught by a founding member of that movement. Imagine sitting in on lectures on Romantic poetry taught by John Keats or William Wordsworth? It may be the case, however, that the Romantic poets would have a hard time of it in the cutthroat world of professionalized academic poetry, a world Allen Ginsberg helped create in 1974 with the founding of his Jack Kerouac School of Disembodied Poetics at Naropa University, almost twenty years after he brought hip modern poetry to the masses with the wildly popular City Lights paperback edition of Howl and Other Poems. (Here you can listen to the first recording of Ginsberg reading that famous poem.)
Dismissed by the modernist old guard as "vacuous self-promoters" in their time, the Beats' legend often portrays them as paragons of artistic integrity. There's no reason they couldn't be both in some sense. The anti-authoritarian pranks and poses gained them notoriety for matters of style, and their dedication to radicalizing American literature provided the substance.
As the Academy of American Poets writes, "there is a clear work ethic that reverberates in their lives and in their writing, and in the eyes of many readers and critics, the Beats fostered a sustained, authentic, and compelling attack on post-World War II American Culture," rejecting both "the stultifying materialism and conformism of the cold war era" and "the highly wrought and controlled aesthetic of modernist stalwarts."
Thanks to the archives at Naropa, we can hear Ginsberg himself lecture on both the style and substance of Beat literary culture in a series of lectures he delivered in 1977 for his summer course called "Literary History of the Beats." We've previously featured the extensive "specialized reading list" Ginsberg handed students for that class, which he titled "Celestial Homework." In the first series of lectures—divided in 18 parts in the archive—hear him discuss the list. The Naropa archive describes the first lecture as diving "right into the 40's lives of Ginsberg, Kerouac, Burroughs, Herbert Huncke, and others living in NYC at that time. From consuming Benzadrine inhalers to the discovery of the void, Ginsberg's account and analyses are entertaining and lively as well as insightful." Hear part one of that talk at the top of the post, and part two just above.
Ginsberg focuses on the 40s as the period of Beat origins in his 1977 class. Another section of the course—taught in 1981—covers the 50s, with topics such as "Burroughs' recommended reading lists," "Burroughs on drugs and society," and "the founding of the study of semantics." Hear the first lecture in that series just above.
Literary History of the Beats will be added to our collection, 1,700 Free Online Courses from Top Universities.
Image above was taken by Marcelo Noah.
Related Content:
Allen Ginsberg's "Celestial Homework": A Reading List for His Class "Literary History of the Beats"
William S. Burroughs Teaches a Free Course on Creative Reading and Writing (1979)
"Expansive Poetics" by Allen Ginsberg: A Free Course from 1981
13 Lectures from Allen Ginsberg's "History of Poetry" Course (1975)
Download 55 Free Online Literature Courses: From Dante and Milton to Kerouac and Tolkien
Josh Jones is a writer and musician based in Durham, NC. Follow him at @jdmagness.