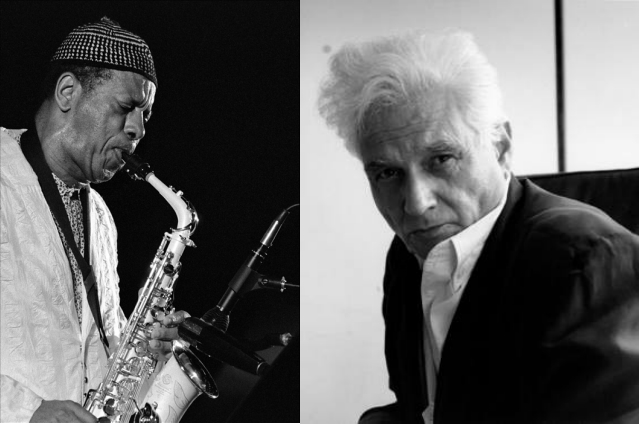 Images of Der­ri­da and Cole­man, via Wiki­me­dia Com­mons
This most cer­tain­ly ranks as one of my favorite things on the inter­net, and I dear­ly wish we had audio to share with you, though I doubt any exists. What we do have is an Eng­lish trans­la­tion from the French of an inter­view that orig­i­nal­ly took place in Eng­lish between philoso­pher Jacques Der­ri­da and jazz great Ornette Cole­man.
Now there are those who dis­miss Der­ri­da—who con­sid­er his meth­ods fraud­u­lent. If you're one of them, this is obvi­ous­ly not for you. For those who appre­ci­ate the turns of his thought, and the fas­ci­nat­ing pos­si­bil­i­ties inher­ent in a Der­rid­i­an approach to jazz impro­vi­sa­tion, not to men­tion the con­ver­gences and points of con­flict between these two dis­parate cul­tur­al fig­ures, read on.
The inter­view took place in 1997, "before and dur­ing Coleman's three con­certs at La Vil­lette, a muse­um and per­form­ing arts com­plex north of Paris that hous­es, among oth­er things, the world-renowned Paris Con­ser­va­to­ry." As I men­tioned, the two spoke in Eng­lish but, as trans­la­tor Tim­o­thy S. Murphy—who worked with a ver­sion pub­lished in the French mag­a­zine Les Inrock­upt­ibles—notes, "orig­i­nal tran­scripts could not be locat­ed." Curi­ous­ly, at the heart of the con­ver­sa­tion is a dis­cus­sion about lan­guage, par­tic­u­lar­ly "lan­guages of ori­gin." In answer to Derrida's first ques­tion about a pro­gram Cole­man would present lat­er that year in New York called Civ­i­liza­tion, the sax­o­phon­ist replies, "I'm try­ing to express a con­cept accord­ing to which you can trans­late one thing into anoth­er. I think that sound has a much more demo­c­ra­t­ic rela­tion­ship to infor­ma­tion, because you don't need the alpha­bet to under­stand music."
As one exam­ple of this "demo­c­ra­t­ic rela­tion­ship," Cole­man cites the rela­tion­ship between the jazz musi­cian and the composer—or his text: "the jazz musi­cian is prob­a­bly the only per­son for whom the com­pos­er is not a very inter­est­ing indi­vid­ual, in the sense that he prefers to destroy what the com­pos­er writes or says." Cole­man goes on lat­er in the inter­view to clar­i­fy his ideas about impro­vi­sa­tion as demo­c­ra­t­ic com­mu­ni­ca­tion:
[T]he idea is that two or three peo­ple can have a con­ver­sa­tion with sounds, with­out try­ing to dom­i­nate or lead it. What I mean is that you have to be… intel­li­gent, I sup­pose that's the word. In impro­vised music I think the musi­cians are try­ing to reassem­ble an emo­tion­al or intel­lec­tu­al puz­zle in which the instru­ments give the tone. It's pri­mar­i­ly the piano that has served at all times as the frame­work in music, but it's no longer indis­pens­able and, in fact, the com­mer­cial aspect of music is very uncer­tain. Com­mer­cial music is not nec­es­sar­i­ly more acces­si­ble, but it is lim­it­ed.
Trans­lat­ing Coleman's tech­nique into "a domain that I know bet­ter, that of writ­ten lan­guage," Der­ri­da ven­tures to com­pare impro­vi­sa­tion to read­ing, since it "doesn't exclude the pre-writ­ten frame­work that makes it pos­si­ble." For him, the exis­tence of a framework—a writ­ten composition—even if only loose­ly ref­er­enced in a jazz per­for­mance, "com­pro­mis­es or com­pli­cates the con­cept of impro­vi­sa­tion." As Der­ri­da and Cole­man try to work through the pos­si­bil­i­ty of true impro­vi­sa­tion, the exchange becomes a fas­ci­nat­ing decon­struc­tive take on the rela­tion­ships between jazz and writ­ing. (For more on this aspect of their dis­cus­sion, see "Deconstructin(g) Jazz Impro­vi­sa­tion," an arti­cle in the open access jour­nal Crit­i­cal Stud­ies in Impro­vi­sa­tion.)
The inter­view isn't all phi­los­o­phy. It ranges all over the place, from Coleman's ear­ly days in Texas, then New York, to the impact of tech­nol­o­gy on music, to Coleman's com­plete­ly orig­i­nal the­o­ry of music, which he calls "har­molod­ics." They also dis­cuss glob­al­iza­tion and the expe­ri­ence of grow­ing up as a racial minority—an expe­ri­ence Der­ri­da relates to very much. At one point, Cole­man observes, "being black and a descen­dent of slaves, I have no idea what my lan­guage of ori­gin was." Der­ri­da responds in kind, ref­er­enc­ing one of his sem­i­nal texts, Mono­lin­gual­ism of the Oth­er:
JD: If we were here to talk about me, which is not the case, I would tell you that, in a dif­fer­ent but anal­o­gous man­ner, it's the same thing for me. I was born into a fam­i­ly of Alger­ian Jews who spoke French, but that was not real­ly their lan­guage of ori­gin [… ] I have no con­tact of any sort with my lan­guage of ori­gin, or rather that of my sup­posed ances­tors.

OC: Do you ever ask your­self if the lan­guage that you speak now inter­feres with your actu­al thoughts? Can a lan­guage of ori­gin influ­ence your thoughts?

JD: It is an enig­ma for me.
Indeed. Der­ri­da then recalls his first vis­it to the Unit­ed States, in 1956, where there were " 'Reserved for Whites' signs every­where." "You expe­ri­enced all that?" he asks Cole­man, who replies:
Yes. In any case, what I like about Paris is the fact that you can't be a snob and a racist at the same time here, because that won't do. Paris is the only city I know where racism nev­er exists in your pres­ence, it's some­thing you hear spo­ken of.
"That does­n't mean there is no racism," says Der­ri­da, "but one is oblig­ed to con­ceal it to the extent pos­si­ble."
You real­ly should read the whole inter­view. The Eng­lish trans­la­tion was pub­lished in the jour­nal Genre and comes to us via Ubuweb, who host a pdf. For more excerpts, see posts at The New York­er and The Lib­er­a­tor Mag­a­zine. As inter­est­ing a read as this dou­bly-trans­lat­ed inter­view is, the live expe­ri­ence itself was a painful one for Der­ri­da. Though he had been invit­ed by the sax­o­phon­ist, Coleman's impa­tient Parisian fans booed him, even­tu­al­ly forc­ing him off the stage. In a Time mag­a­zine inter­view, the self-con­scious philoso­pher recalled it as "a very unhap­py event." But, he says, "it was in the paper the next day, so it was a hap­py end­ing."
Hear more of Coleman's thoughts on lan­guage, sound, and tech­nol­o­gy in the 2008 inter­view above (see here for Part 2). The year pre­vi­ous, in anoth­er con­junc­tion of the worlds of lan­guage and music, Cole­man was award­ed the Pulitzer Prize in music for his live album Sound Gram­mar, a title that suc­cinct­ly express­es Coleman's belief in music as a uni­ver­sal lan­guage.
Image of Ornette Cole­man by Geert Van­de­poele
Relat­ed Con­tent:
Charles Min­gus Explains in His Gram­my-Win­ning Essay "What is a Jazz Com­pos­er?"
Der­ri­da: A 2002 Doc­u­men­tary on the Abstract Philoso­pher and the Every­day Man
1959: The Year that Changed Jazz
How to Pot­ty Train Your Cat: A Handy Man­u­al by Charles Min­gus
Josh Jones is a writer and musi­cian based in Durham, NC. Fol­low him at @jdmagness.