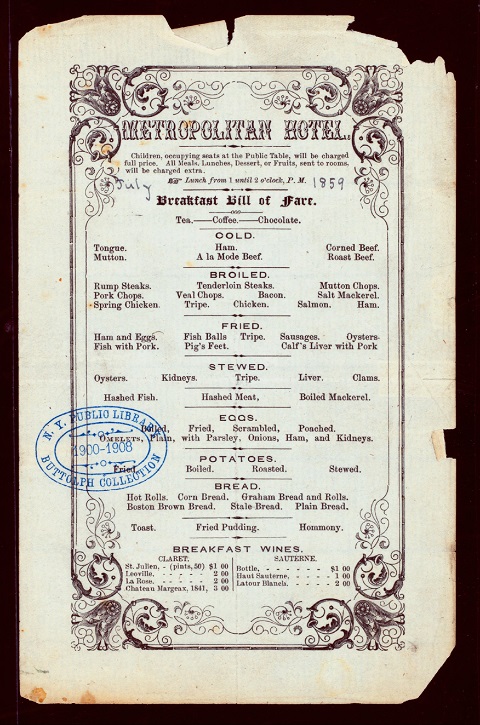 To be a New York­er is to be a gourmand—of food carts, local din­ers, super­mar­kets, out­er bor­ough mer­ca­dos, what­ev­er lat­est upscale restau­rant sur­faces in a giv­en sea­son.… It is to be as like­ly to have a menu in hand as a news­pa­per, er… smart­phone…, and it is to notice the design of said menus. Well, some of us have done that. Often the added atten­tion goes unre­ward­ed, but then some­times it does. Now you, dear read­er, can expe­ri­ence well over one-hun­dred years of star­ing at menus, thanks to the New York Pub­lic Library's enor­mous dig­i­tized col­lec­tion. Fan­cy a time warp through din­ing halls abroad? You'll not only find sev­er­al hun­dred New York restau­rants rep­re­sent­ed here, but hun­dreds more from all over the world. With a col­lec­tion of 17,000 menus and count­ing, a per­son could eas­i­ly get lost.
You may notice I used the word "gour­mand," and not "food­ie" above. While it might be a gross anachro­nism to call some­one a "food­ie" in 1859, the year the menu for the Met­ro­pol­i­tan Hotel (above) was print­ed, it might also import a cos­mopoli­tan con­cept of din­ing that didn't seem to exist, at least at this estab­lish­ment. More than any­thing, the menu resem­bles the var­i­ous descrip­tions of pub food that pop­u­late Joyce's Ulysses. Though much of it was deli­cious, I'm sure, for heavy eaters of meat, eggs, pota­toes, and bread, you won't find a veg­etable so much as men­tioned in pass­ing. The fare does include such hearty sta­ples as "Hashed Fish," "Stale Bread," and "Break­fast Wine." The design mar­ries flow­ery Vic­to­ri­an ele­ments with the kind of font found in Old West type­sets.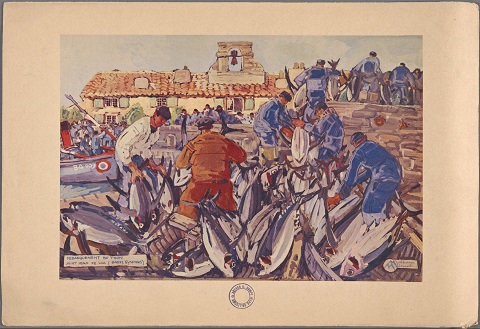 1939 was a good year for menus, at least in Europe. While New York insti­tu­tions like the Wal­dorf Asto­ria prac­ticed cer­tain design aus­ter­i­ties, the Mai­son Prunier, with loca­tions in Paris and Lon­don, spared no expense in the print­ing of their full-col­or fish­er­mans' slice of life paint­ing on the menu cov­er above and the ele­gant typog­ra­phy of its exten­sive con­tents below. A ver­sion was print­ed in English—though The New York Pub­lic Library (NYPL) doesn't seem to have a copy of it dig­i­tized. One Eng­lish phrase stands out at the bot­tom, how­ev­er: the trans­la­tion of "Tout Ce Qui Vient De La Mer–Everything From the Sea." Oth­er menus for this restau­rant show the same kind of care­ful atten­tion to design. Click­ing on the pages of many of the NYPL menus—like this one from a 1938 Mai­son Prunier menu—brings up an inter­ac­tive fea­ture that links each dish to close-up views.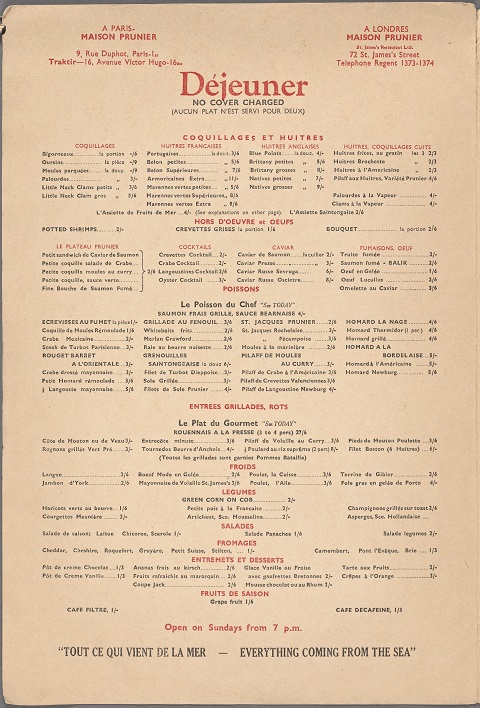 In a post on the NYPL menu col­lec­tion, Buz­zfeed specif­i­cal­ly com­pares New York menus of today with those of 100 years ago, not­ing that prices quot­ed sig­ni­fy cents, not dol­lars. A 1914 Del­moni­co "Rib of Roast" would run you .75 cents, for exam­ple, while a 2014 rib eye there sells for 58 big ones. Of course then, as now, many restau­rants con­sid­ered it gauche to print prices at all. See, for exam­ple, the din­ner menu at New Orleans' St. Charles Hotel from 1908 below. We may have an all-inclu­sive feast here since this comes from a New Years Eve bill, which also includes a "Musi­cal Pro­gram" in two parts and a list of local "Amuse­ments" at such places as Blaney's Lyric The­atre, Tulane, Dauphine, "French Orera" (sic), and the 2:00 pm races at City Park. Mati­nees and 8 o'clock shows every day except Sun­day.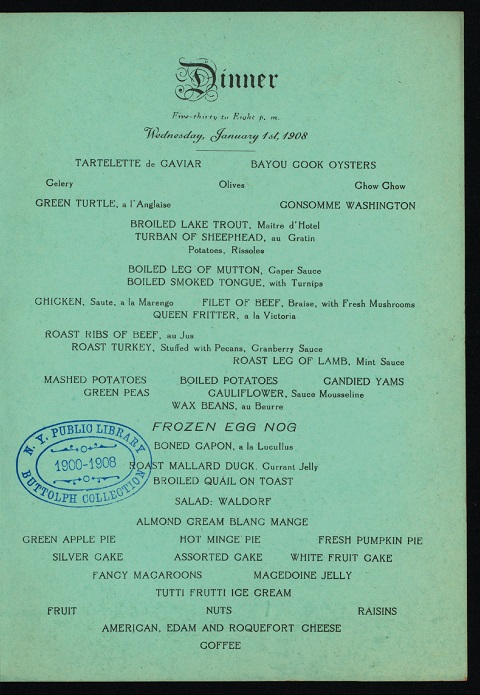 The six­ties gave us an explo­sion of menus that par­al­lel in many cas­es the break­out designs of mag­a­zine and album cov­ers. See two stand­outs below. The North Ger­man Lloyd, just below, went with a funky chil­dren's book-cov­er illus­tra­tion for its 1969 menu cov­er, though its inte­ri­or main­tains a min­i­mal­ist clar­i­ty. Below it, see the strik­ing first page of a menu for John­ny Garneau's Gold­en Spike from that same year. The cov­er boasts a nos­tal­gic head­line sto­ry for Promon­to­ry News: "Gold­en Spike is Dri­ven: The last rail is laid! East meets West in Utah!" Put it on the cov­er of a Band or CSNY album and no one bats an eye.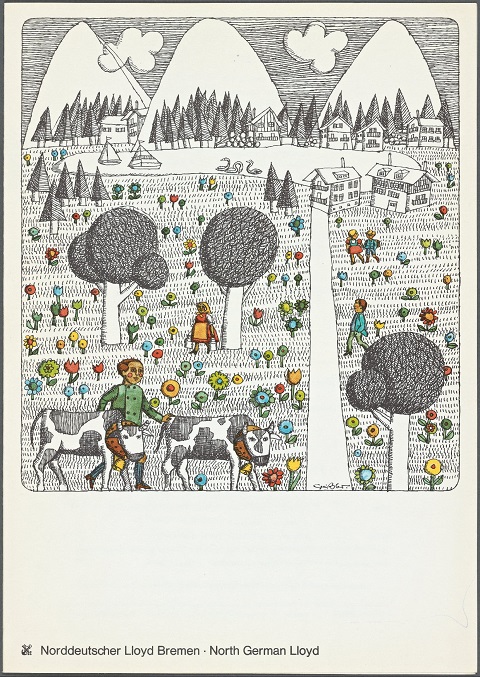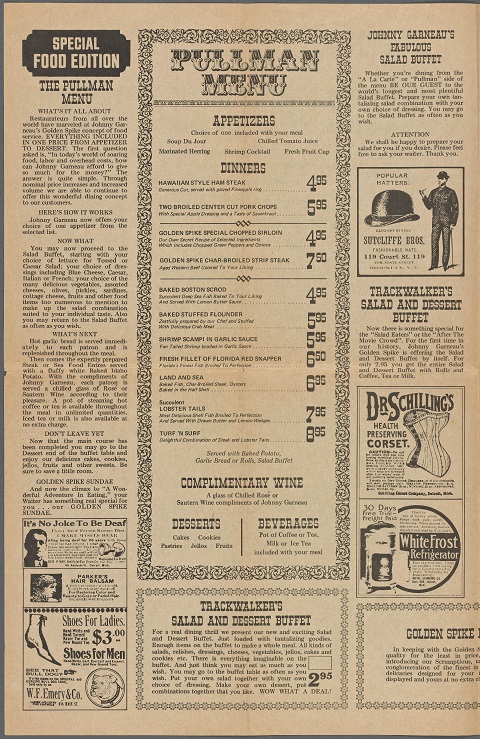 See many, many, many more menus at the NYPL site. With the steady growth of food schol­ar­ship, this col­lec­tion is cer­tain­ly a boon to researchers, as well as curi­ous gour­mands, food­ies, and rabid din­ers of all stripes.
via Buz­zfeed
Relat­ed Con­tent:
What Pris­on­ers Ate at Alca­traz in 1946: A Vin­tage Prison Menu
Howard Johnson's Presents a Children's Menu Fea­tur­ing Kubrick's 2001: A Space Odyssey (1968)
Exten­sive Archive of Avant-Garde & Mod­ernist Mag­a­zines (1890–1939) Now Avail­able Online
Josh Jones is a writer and musi­cian based in Durham, NC. Fol­low him at @jdmagness