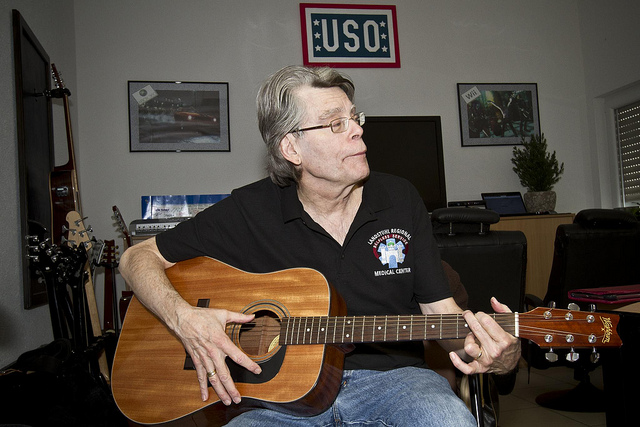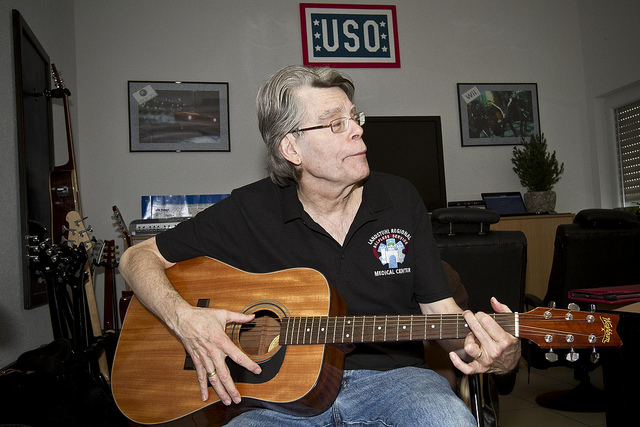 Image by The USO, via Flickr Commons
So you might think that if Stephen King – the guy who wrote such horror classics like Carrie and The Stand – were to rattle off his top ten favorite books, it would feature works by the likes of Edgar Allan Poe, H. P. Lovecraft or maybe J. R. R. Tolkien — authors who have, like King, created enduring dark, Gothic worlds filled with supernatural events and malevolent forces. But you'd be wrong. Author J. Peder Zane asked scores of writers about their favorite novels for his 2007 book The Top Ten: Writers Pick Their Favorite Books. The list King submitted in reply appears below. When possible, we've added links to the texts that you can read for free online, taken from our collection, 800 Free eBooks for iPad, Kindle & Other Devices.
1. The Golden Argosy, The Most Celebrated Short Stories in the English Language – edited by Van Cartmell and Charles Grayson
2. The Adventures of Huckleberry Finn – Mark Twain
3. The Satanic Verses – Salman Rushdie
4. McTeague – Frank Norris
5. Lord of the Flies – William Golding
6. Bleak House – Charles Dickens
7. 1984 – George Orwell
8. The Raj Quartet – Paul Scott
9. Light in August – William Faulkner
10. Blood Meridian – Cormac McCarthy
King, it seems, prefers books that explore basic defects in the human character to spooky tales of fantasy. In other words, he's interested in stories that are actually terrifying. Orwell's portrait of a man breaking under the pressure of totalitarianism or William Golding's parable about a group of boys devolving into beasts are downright troubling. Frank Norris's saga about the mendacious McTeague isn't exactly comforting either. And McCarthy's grim and spectacularly violent masterpiece Blood Meridian might make you crawl into a fetal position and weep for humanity. (That was my reaction, anyway.)
The most striking thing about the list, however, is how uniformly highbrow it is. All books would fit right in on the syllabus of an upper level English college course. On the other hand, David Foster Wallace, when asked for his top ten, filled his list with such mass market crowd pleasers as The Silence of the Lambs by Thomas Harris, The Sum of All Fears by Tom Clancy and, at number two, King's The Stand.
via CS Monitor
Related Content:
Stephen King Reveals in His First TV Interview Whether He Sleeps With the Lights On (1982)
David Foster Wallace's Surprising List of His 10 Favorite Books, from C.S. Lewis to Tom Clancy
Stephen King's Top 20 Rules for Writers
Stephen King Creates a List of 96 Books for Aspiring Writers to Read
Jonathan Crow is a Los Angeles-based writer and filmmaker whose work has appeared in Yahoo!, The Hollywood Reporter, and other publications. You can follow him at @jonccrow. And check out his blog Veeptopus, featuring lots of pictures of vice presidents with octopuses on their heads.  The Veeptopus store is here.