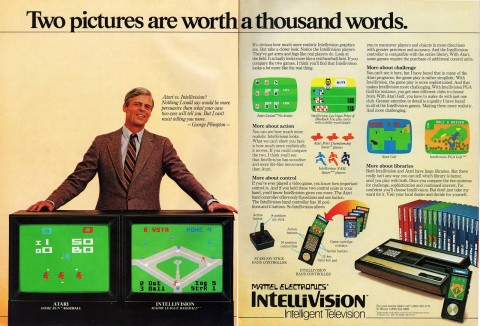 Space, choose Atari; sports, choose Intellivision. So went the conventional wisdom of early-1980s home video gaming, where the Atari 2600 enjoyed an insurmountable advantage when it came to blasting alien invaders, but where the Mattel Intellivision — putting aside the sheer discomfort of those wonky controllers — could satisfy the electronic sportsman like no other console.
For Mattel, winning over the jocks and the nerds at once would require a delicate marketing balance, one attempted by the hiring of George Plimpton, the man who personally pitched against the National League, sparred with Sugar Ray Robinson, trained with the Detroit Lions, tended goal amid the Boston Bruins, hit the PGA Tour in the heyday of Arnold Palmer and Jack Nicklaus, and helped found the Paris Review. (The name did stand for "intelligent television," after all.)
"Who better to vouch for the realism of a sports video game than someone who had actually suited up and played for real?" asks Intellivisionlives.com. "His persona became the persona of Intellivision: a mix of smug superiority with a healthy touch of self-deprecation." He starred, as "Mr. Intellivision," in quite a few memorable television commercials such as the one at the top of the post, where we see him sit down at his trusty typewriter to announce the smaller, cheaper Intellivision II; the one just above, where he presides over a direct comparison with Atari to reveal the Intellivision's sporting advantage (Mattel had provided him both consoles to play so he could honestly sign an affidavit confirming his preference); and spots like the one below, where he even trumpets the superiority of Intellivision space shooters. Plimpton's influence on classic gaming survives him, most recently in the online "retro" game George Plimpton's Video Falconry. Someone even cut together a fake 80s commercial for it, though they inexplicably made it a game for the ColecoVision. Come on — nobody bought a ColecoVision for the sports games.
Related Content:
Run Vintage Video Games (From Pac-Man to E.T.) and Software in Your Web Browser, Thanks to Archive.org
The Great Gatsby and Waiting for Godot: The Video Game Editions
Fellini's Fantastic TV Commercials
David Lynch's Surreal Commercials
Jean-Luc Godard's After-Shave Commercial for Schick
Ingmar Bergman's Soap Commercials Wash Away the Existential Despair
Colin Marshall hosts and produces Notebook on Cities and Culture and writes essays on cities, language, Asia, and men's style. He's at work on a book about Los Angeles, A Los Angeles Primer. Follow him on Twitter at @colinmarshall or on Facebook.