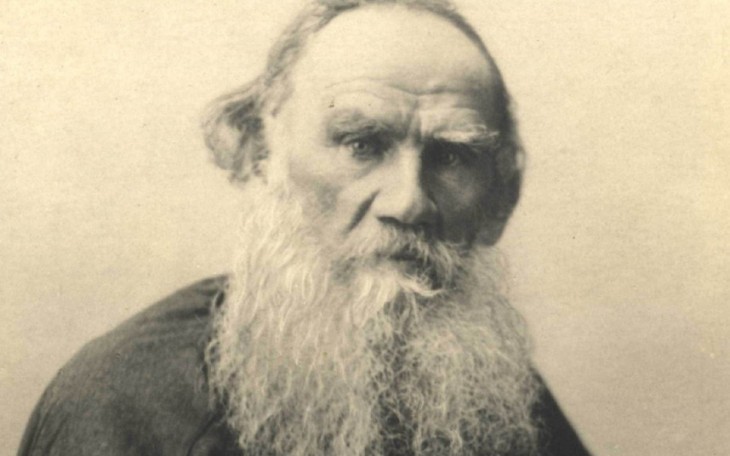 Many aspiring epic novelists surely wouldn't mind writing like Leo Tolstoy. But can you write like the writer you admire without living like the writer you admire? Biographies reveal plenty of facts about how the author of such immortal volumes as War and Peace and Anna Karenina passed his 82 years, none more telling than that even Leo Tolstoy struggled to live like Leo Tolstoy. "I must get used to the idea, once and for all, that I am an exceptional human being," he wrote in 1853, at age 25, underscoring that "I have not met one man who is morally as good as I am, or ready to sacrifice everything for his ideal, as I am."
Clearly, excessive modesty didn't count among Tolstoy's faults. Seven years before making that declaration, he had already envisioned for himself a life of virtue and industry, laying out what he called his "rules of life," perhaps a foreshadowing of his search for a rigorously religious life without belief in a higher being. The website Tolstoy Therapy has posted a selection of these rules, which commanded him as follows:
Wake at five o'clock
Go to bed no later than ten o'clock
Two hours permissible for sleeping during the day
Eat moderately
Avoid sweet foods
Walk for an hour every day
Visit a brothel only twice a month
Love those to whom I could be of service
Disregard all public opinion not based on reason
Only do one thing at a time
Disallow flights of imagination unless necessary
To this list of precepts drawn up at the dawn of his adult life, most of which wouldn't seem out of place as any of our 21st-century new year's resolutions, Tolstoy later added these:
Never to show emotion
Stop caring about other people's opinion of myself
Do good things inconspicuously
Keep away from women
Suppress lust by working hard
Help those less fortunate
Even if you haven't read much about Tolstoy's life, you may sense in some of these general principles evidence of battles with particular impulses: observe, for instance, how his twice-monthly limit on brothel visits becomes the much more stringent and much less realistic forbiddance of women entirely. But perhaps his technique of working hard, however well or poorly it suppressed his lust (the man did father fourteen children, after all), benefited him in the end, given the vast and (often literally) weighty body of work he left behind.
"Between 'rules of life' and life itself, what a chasm!" exclaims biographer Henri Troyat in Tolstoy. But as rich with interest as we find books like that, we ultimately care about writers not because of how they live, but because of how they write. The young Tolstoy knew that, too; "the publication of Childhood and 'The Raid' having made him, in his own eyes, a genuine man of letters," writes Troyat, "he soon added no less peremptory 'Rules of Writing' to his 'Rules of Life':"
When you criticize your work, always put yourself in the position of the most limited reader, who is looking only for entertainment in a book.
The most interesting books are those in which the author pretends to hide his own opinion and yet remains faithful to it.
When rereading and revising, do not think about what should be added (no matter how admirable the thoughts that come to mind) … but about how much can be taken away without distorting the overall meaning.
Then again, War and Peace has in the modern day become a byword for sheer length, and few readers not already steeped in 19th-century Russian literature would turn to Tolstoy for pure entertainment. Perhaps the writer's life implicitly adds one caveat atop all the ever-stricter rules he made for himself while living it: nobody's perfect.
via Tolstoy Therapy
Related content:
Leo Tolstoy Creates a List of the 50+ Books That Influenced Him Most (1891)
Rare Recording: Leo Tolstoy Reads From His Last Major Work in Four Languages, 1909
Vintage Footage of Leo Tolstoy: Video Captures the Great Novelist During His Final Days
The Complete Works of Leo Tolstoy Online: New Archive Will Present 90 Volumes for Free (in Russian)
Leo Tolstoy's Family Recipe for Macaroni and Cheese
Stephen King's Top 20 Rules for Writers
Ray Bradbury Offers 12 Essential Writing Tips and Explains Why Literature Saves Civilization
Colin Marshall hosts and produces Notebook on Cities and Culture as well as the video series The City in Cinema and writes essays on cities, language, Asia, and men's style. He's at work on a book about Los Angeles, A Los Angeles Primer. Follow him on Twitter at @colinmarshall or on Facebook.