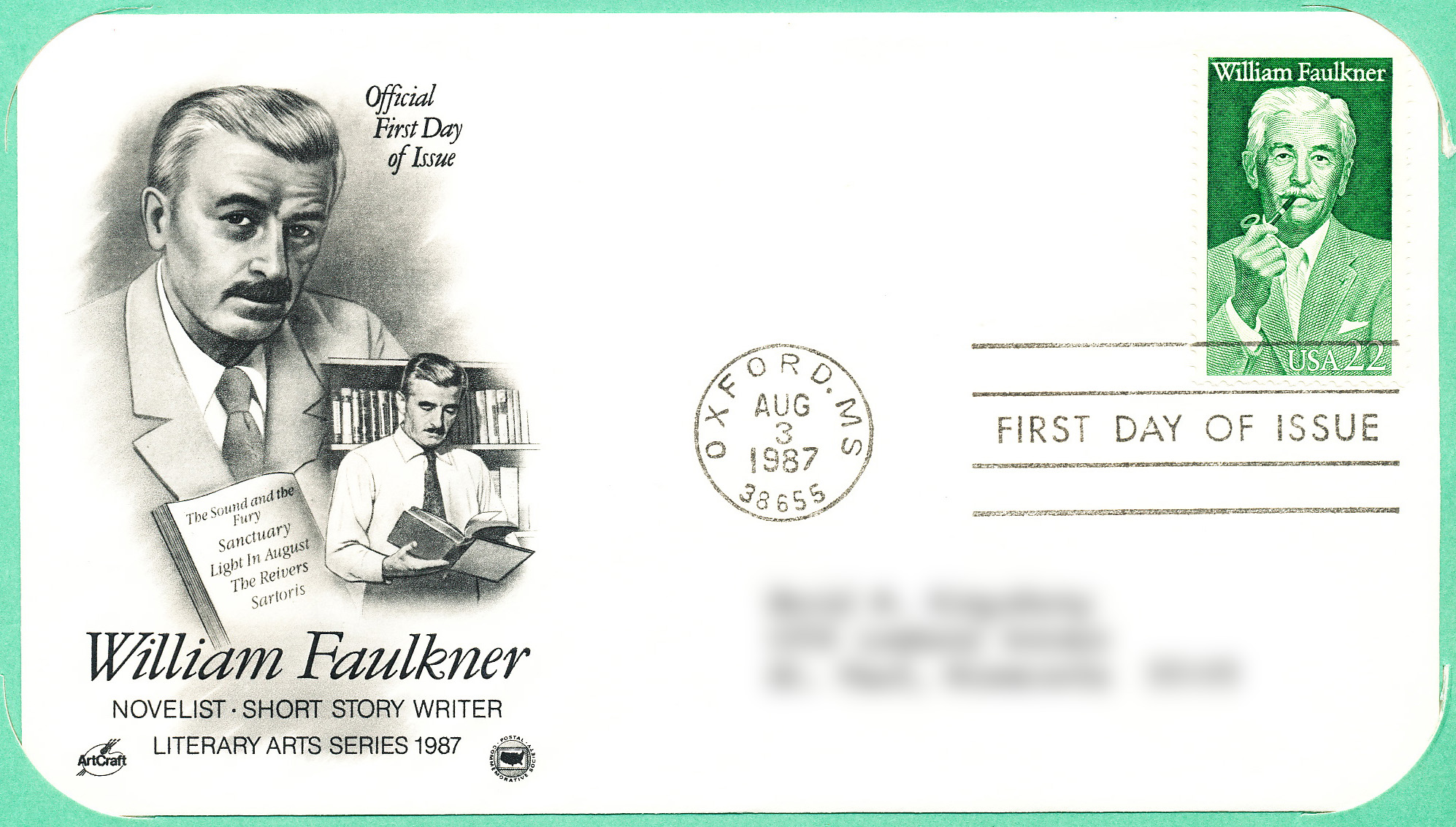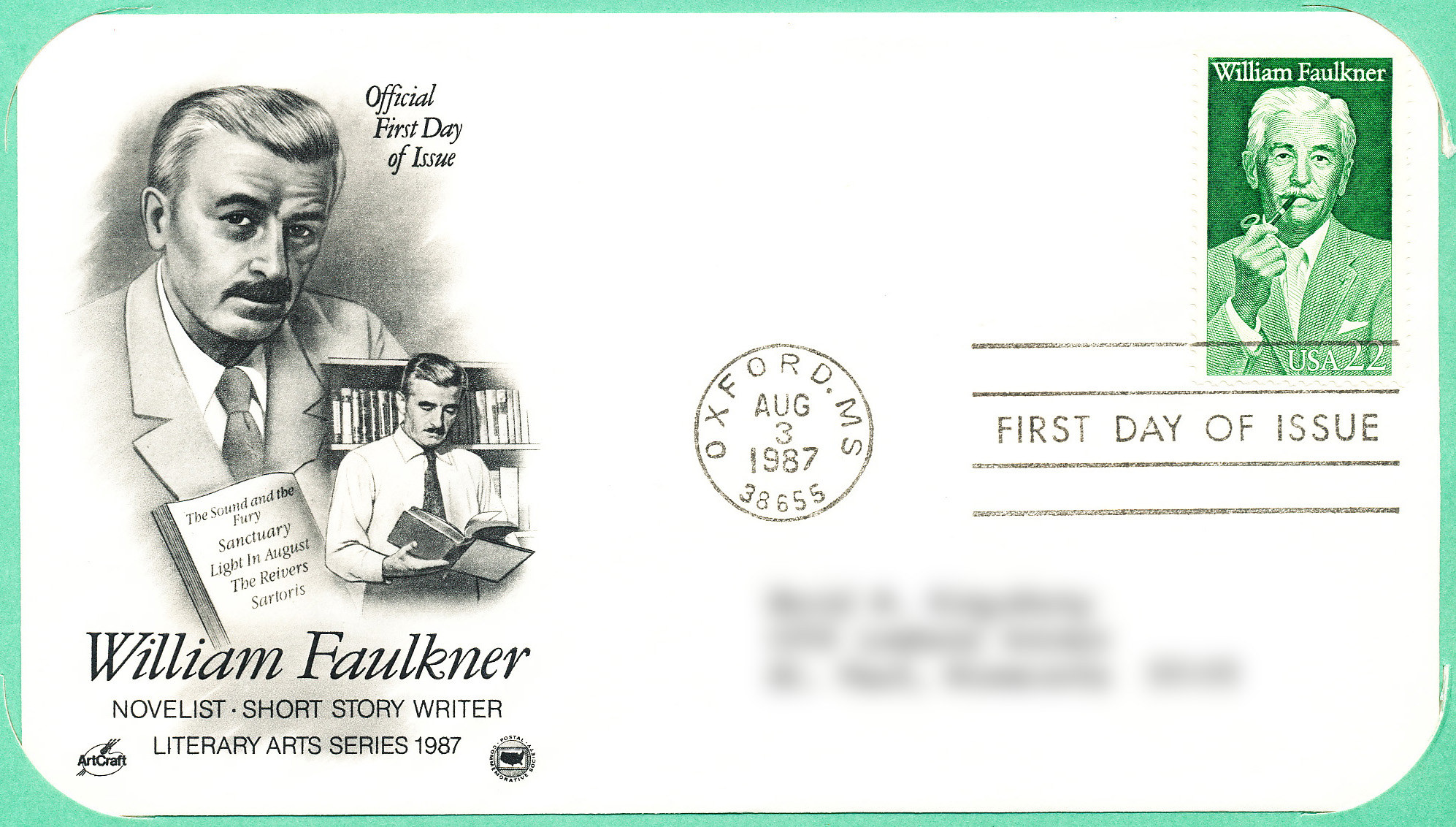 Working a dull civil service job ill-suited to your talents does not make you a writer, but plenty of famous writers have worked such jobs. Nathaniel Hawthorne worked at a Boston customhouse for a year. His friend Herman Melville put in considerably more time—19 years—as a customs inspector in New York, following in the footsteps of his father and grandfather. Both Walt Disney and Charles Bukowski worked at the post office, though not together (can you imagine?), and so, for two years, did William Faulkner.
After dropping out of the University of Mississippi in 1920, Faulkner became its postmaster two years later, a job he found "tedious, boring, and uninspiring," writes Mental Floss: "Most of his time as a postmaster was spent playing cards, writing poems, or drinking." Eudora Welty characterized Faulkner's tenure as postmaster with the following vignette:
Let us imagine that here and now, we're all in the old university post office and living in the '20's. We've come up to the stamp window to buy a 2-cent stamp, but we see nobody there. We knock and then we pound, and then we pound again and there's not a sound back there. So we holler his name, and at last here he is. William Faulkner. We interrupted him. . . . When he should have been putting up the mail and selling stamps at the window up front, he was out of sight in the back writing lyric poems.
By all accounts, she hardly overstates the case. As author and editor Bill Peschel puts it, Faulkner "opened the post office on days when it suited him, and closed it when it didn't, usually when he wanted to go hunting or over to the golf course.
He would throw away the advertising circulars, university bulletins and other mail he deemed junk." A student publication from the time proposed a motto for his service: "Never put the mail up on time."
Unsurprisingly, the powers that be eventually decided they'd had enough. In 1924, Faulkner sensed the end coming. But rather than bow out quietly, as perhaps most people would, the future Nobel laureate composed a dramatic and uncharacteristically succinct resignation letter to his superiors:
As long as I live under the capitalistic system, I expect to have my life influenced by the demands of moneyed people. But I will be damned if I propose to be at the beck and call of every itinerant scoundrel who has two cents to invest in a postage stamp.

This, sir, is my resignation.
The defiant self-aggrandizement, wounded pride, blame-shifting… maybe it's these qualities, as well as a notorious tendency to exaggerate and outright lie (about his military service for example) that so qualified him for his late-life career as—in the words of Ole Miss—"Statesman to the World." Faulkner's gift for self-fashioning might have suited him well for a career in politics, had he been so inclined. He did, after all, receive a commemorative stamp in 1987 (above) from the very institution he served so poorly.
But like Hawthorne, Bukowski, or any number of other writers who've held down tedious day jobs, he was compelled to give his life to fiction. In a later retelling of the resignation, Peschel claims, Faulkner would revise his letter "into a more pungent quotation," unable to resist the urge to invent: "I reckon I'll be at the beck and call of folks with money all my life, but thank God I won't ever again have to be at the beck and call of every son of a bitch who's got two cents to buy a stamp."
via Letters of Note
Related Content:
The Art of William Faulkner: Drawings from 1916-1925
Famous Writers' Report Cards: Ernest Hemingway, William Faulkner, Norman Mailer, E.E. Cummings & Anne Sexton
William Faulkner Outlines on His Office Wall the Plot of His Pulitzer Prize Winning Novel, A Fable (1954)
Guidelines for Handling William Faulkner's Drinking During Foreign Trips From the US State Department (1955)
Josh Jones is a writer and musician based in Durham, NC. Follow him at @jdmagness