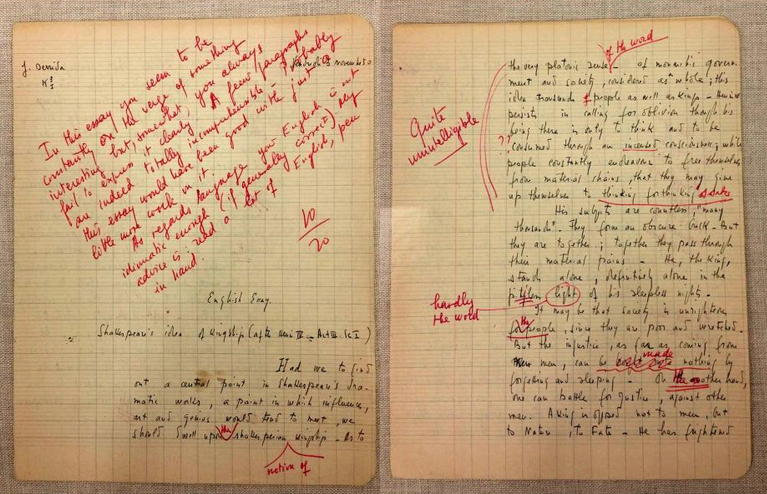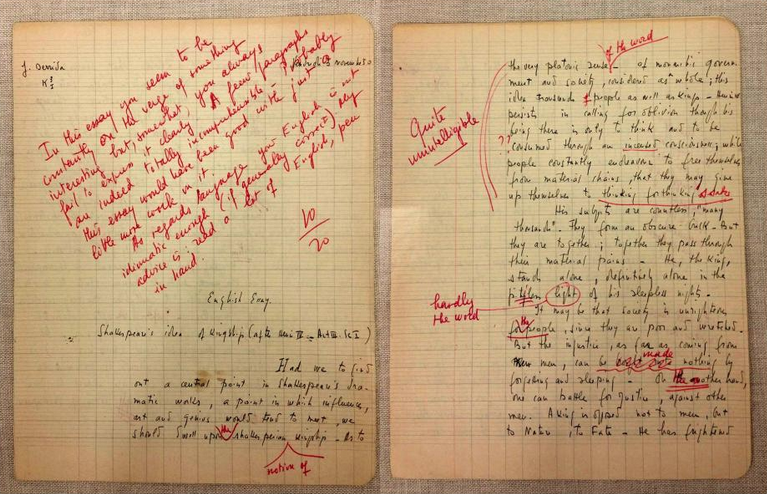 Click here for larger image, then click again to zoom in.
Backstories of famously accomplished people seem incomplete without some past difficulty or failure to be overcome. In narrative terms, these incidents provide biographies with their dramatic tension. We see Abraham Lincoln rise to the highest office in the land despite the humblest of origins; Albert Einstein rewrites theoretical physics against all academic odds, given his supposed early childhood handicaps. In many cases, these stories are apocryphal, or exaggerated for effect. But whatever their accuracy, they always seem to reflect undeniable character traits of the person in question.
In the case of influential philosopher Jacques Derrida, progenitor of the both beloved and reviled critical theory known as "Deconstruction," the stories of academic struggle and great mental suffering are well-documented. Furthermore, their details accord perfectly well with the mature thinker who, remarks the site Critical Theory, "can't answer a simple god-damned question." The good-natured snark on display in this description more or less sums up the feedback Derrida received during some formative years of schooling while he prepared for his entrance exams to France's university system in 1951 at the age of 20.
Derrida may have "left as big a mark on humanities departments as any single thinker of the past forty years," writes The New York Review of Books, but during this period of his life, he failed his exams twice before finally gaining admittance. Once, he "choked and turned in a blank sheet of paper. The same month, he was awarded a dismal 5 out of 20 on his qualifying exam for a license in philosophy." One essay he submitted on Shakespeare, written in English (above), received a 10 out of 20. The feedback from Derrida's instructor will sound very familiar to perplexed readers of his work. "Quite unintelligible," writes the evaluator in one marginal comment. The main comment at the top of the paper reads in part:
In this essay you seem to be constantly on the verge of something interesting but, somewhat, you always fail to explain it clearly. A few paragraphs are indeed totally incomprehensible.
Another examiner—points out the NYRB—left a comment on his work "that has since become a commonplace":
An exercise in virtuosity, with undeniable intelligence, but with no particular relation to the history of philosophy… Can come back when he is prepared to accept the rules and not invent where he needs to be better informed.
As it turns out, Derrida was not particularly interested in the rules, but in inventing a new method. Even if his "apostasy" caused him great mental anguish—"nausea, insomnia, exhaustion, and despair" (all normal features of any higher educational experience)—it's probably fair to say he could not do otherwise. Although his intellectual biography, like the history of any revered figure, is unlikely to offer a blueprint for success, there is perhaps at least one lesson we may draw: Whatever the difficulties, you're probably better off just being yourself.
via Critical Theory
Related Content:
130+ Free Online Philosophy Courses
Philosopher Jacques Derrida Interviews Jazz Legend Ornette Coleman: Talk Improvisation, Language & Racism (1997)
8-Bit Philosophy: Plato, Sartre, Derrida & Other Thinkers Explained With Vintage Video Games
Jacques Derrida Deconstructs American Attitudes
Josh Jones is a writer and musician based in Durham, NC. Follow him at @jdmagness