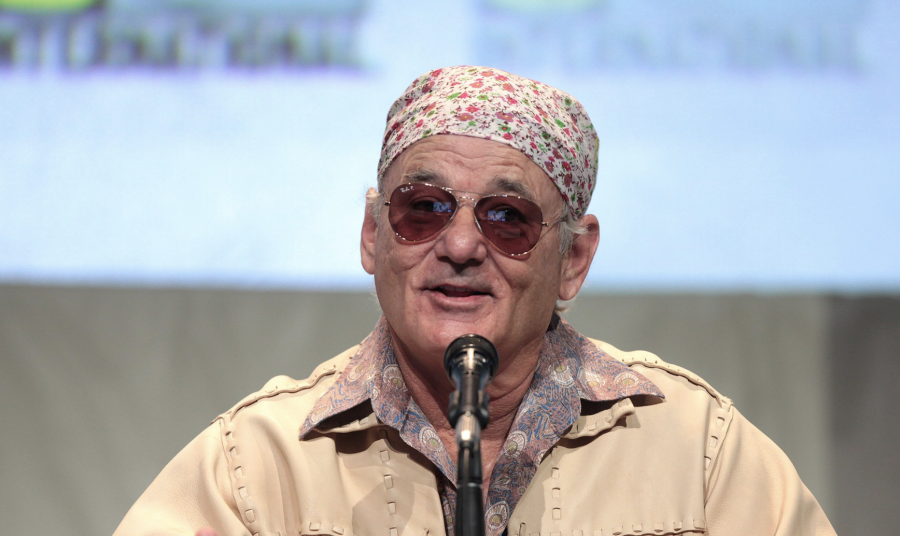 Photo by Gage Skidmore, via Wikimedia Commons
How does it feel to be Bill Murray?
Wonderful, presumably. You're wealthy, well respected, and highly sought. Your random real world cameos bring joy to scores of unsuspecting mortals.
Murray's St. Vincent director Ted Melfi cites his ability to inhabit the present moment:
He doesn't care about what just happened. He doesn't think about what's going to happen. He doesn't even book round-trip tickets. Bill buys one-ways and then decides when he wants to go home.
A stunningly good use of wealth and power. If he were anyone but the inimitable Bill Murray, I bet we'd be seething with envious class rage.
He devises the rules by which he plays, from the way he rubs shoulders with the common man to the toll free number that serves as his agent to indulging in creative acts of rebellion that could get a younger, less nuanced star labelled bratty, if not mentally ill, and desperately in need of rehab.
As if Murray needs anyone else to determine when he needs a break. When his 1984 film adaptation of Somerset Maugham's The Razor's Edge failed at the box office, he granted himself a four year sabbatical. He studied history and philosophy at the Sorbonne, became fascinated with the Greco-Armenian mystic George Gurdjeff…and learned how to avoid spooking the public by putting a light spin on a clearly transformative experience:
I've retired a couple of times. It's great, because you can just say, "Oh, I'm sorry. I'm retired." And people will actually believe that you've retired. There are nutters out there that will go, "Oh, okay!" and then leave you alone.
But how does it really feel to be Bill Murray?
…someone told me some secrets early on about living, and that you just have to remind yourself … you can do the very best you can when you're very very relaxed. No matter what it is, whatever your job is, the more relaxed you are the better you are. That's sort of why I got into acting. I realized the more fun I had the better I did it and I thought, that's a job I can be proud of. If I had to go to work and no matter what my condition, no matter what my mood is, no matter how I feel … if I can relax myself and enjoy what I'm doing and have fun with it, I can do my job really well. It has changed my life, learning that.
When the question was put to him at the 2014 Toronto International Film Festival, Murray led a guided meditation, below, to help the audience get a feel for what it feels like to be as relaxed and in the moment as Bill Murray. Putting all joking to the side, he shares his formula as sincerely as Mr. Rogers addressing his young television audience. Don't forget that this is a man who read the poetry of Emily Dickinson to a roomful of rapt construction workers with a straight and confident face. Complete text is below.
Let's all ask ourselves that question right now: What does it feel like to be you? What does it feel like to be you? Yeah. It feels good to be you, doesn't it? It feels good, because there's one thing that you are — you're the only one that's you, right?
So you're the only one that's you, and we get confused sometimes — or I do, I think everyone does — you try to compete. You think, damn it, someone else is trying to be me. Someone else is trying to be me. But I don't have to armor myself against those people; I don't have to armor myself against that idea if I can really just relax and feel content in this way and this regard.
If I can just feel… Just think now: How much do you weigh? This is a thing I like to do with myself when I get lost and I get feeling funny. How much do you weigh? Think about how much each person here weighs and try to feel that weight in your seat right now, in your bottom right now. Parts in your feet and parts in your bum. Just try to feel your own weight, in your own seat, in your own feet. Okay? So if you can feel that weight in your body, if you can come back into the most personal identification, a very personal identification, which is: I am. This is me now. Here I am, right now. This is me now. Then you don't feel like you have to leave, and be over there, or look over there. You don't feel like you have to rush off and be somewhere. There's just a wonderful sense of well-being that begins to circulate up and down, from your top to your bottom. Up and down from your top to your spine. And you feel something that makes you almost want to smile, that makes you want to feel good, that makes you want to feel like you could embrace yourself.
So, what's it like to be me? You can ask yourself, "What's it like to be me?" You know, the only way we'll ever know what it's like to be you is if you work your best at being you as often as you can, and keep reminding yourself: That's where home is.
Related Content:
Bill Murray Reads Great Poetry by Billy Collins, Cole Porter, and Sarah Manguso
Bill Murray Gives a Delightful Dramatic Reading of Twain's Huckleberry Finn (1996)
Bill Murray Sings the Poetry of Bob Dylan: Shelter From the Storm
Ayun Halliday is an author, illustrator, and Chief Primatologist of the East Village Inky zine. Follow her @AyunHalliday