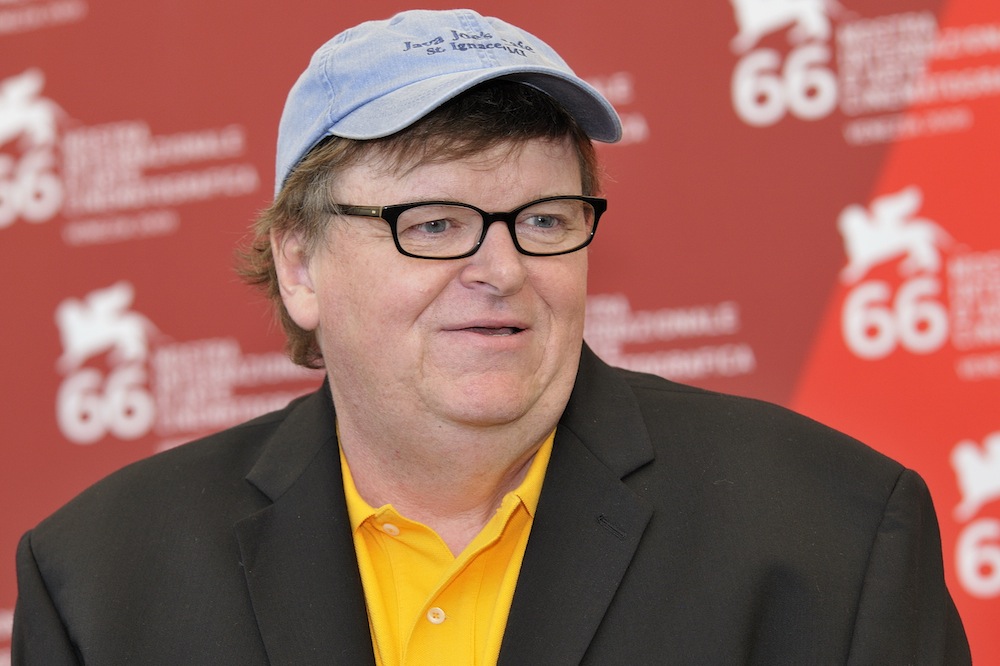 Flickr Commons Image by Nicolas Genin
You don't rile up as many people as Michael Moore has without mastering the art of button pushing. Clint Eastwood threatened to kill him (allegedly). Christopher Hitchens, echoing the sentiments of many Iraq war supporters, called his work "dishonest and demagogic." And the State Department—opponents of both socialized healthcare and the Cuban government—attempted to discredit Moore with lies about his film Sicko. Those are some powerful enemies, especially for a "comedian and a populist" whose only weapons are cameras, microphones, and bestselling topical rants. On the other hand, Moore inspires millions of regular folks. As far back as 2004, a profile in The New Yorker described the simultaneously angry and jovial documentarian as "a political hero" to millions who "revere" him.
How does a documentary filmmaker create such passion? Moore, writes The New Yorker, intentionally provokes; but he is also "exquisitely sensitive to his audience's mood and response. The harshness of his comedy, the proportion of comedy to political anger, the flattery or mockery of the audience, the number and type of swearwords he uses…." All carefully controlled. And all of it adds up to something more than documentary. Moore treats the term almost as a pejorative, as he told an audience in his keynote speech at the 2014 Toronto International Film Festival's Doc Conference. Typical documentarians, Moore said, "sound like a scold. Like you're Mother Superior with a wooden ruler in your hand."
Some critics of Moore make this very charge against him. Nonetheless, his ability to move people, both in theaters and live audiences, to tears, peals of laughter, and fits of rage, speaks of much more than humorless moralism. Documentarians, Moore says in the 13-point "manifesto" of his speech, should aspire to more. Hence his first rule, which he derives partly from Fight Club. Below it, see abridgments of the other twelve guidelines, and read Moore's speech in its entirety at Indiewire. If he repeats himself, and he does, a lot, I suppose it's because he feels the point is important enough to drive home many times:
1. The first rule of documentaries is: Don't make a documentary — make a MOVIE.

…the audience, the people who've worked hard all week — it's Friday night, and they want to go to the movies. They want the lights to go down and be taken somewhere. They don't care whether you make them cry, whether you make them laugh, whether you even challenge them to think — but damn it, they don't want to be lectured, they don't want to see our invisible wagging finger popping out of the screen. They want to be entertained.

2. Don't tell me shit I already know.

Oh, I see — you made the movie because there are so many people who DON'T know about genetically modified foods. And you're right. There are. And they just can't wait to give up their Saturday to learn about it

3. The modern documentary sadly has morphed into what looks like a college lecture, the college lecture mode of telling a story.

That has to stop. We have to invent a different way, a different kind of model.

4. I don't like Castor Oil…. Too many of your documentaries feel like medicine.

The people don't want medicine. If they need medicine, they go to the doctor. They don't want medicine in the movie theaters. They want Goobers, they want popcorn, and they want to see a great movie.

5. The Left is boring.

…we've lost our sense of humor and we need to be less boring. We used to be funny. The Left was funny in the 60s, and then we got really too damn serious. I don't think it did us any good.

6. Why don't more of your films go after the real villains — and I mean the REAL villains?

Why aren't you naming names? Why don't we have more documentaries that are going after corporations by name? Why don't we have more documentaries going after the Koch Brothers and naming them by name?

7. I think it's important to make your films personal.

I don't mean to put yourself necessarily in the film or in front of the camera. Some of you, the camera does not like you. Do not go in front of the camera. And I would count myself as one of those. … But people want to hear the voice of a person. The vast majority of these documentary films that have had the most success are the ones with a personal voice.

8. Point your cameras at the cameras.

Show the people why the mainstream media isn't telling them what is going on.      

9. Books and TV have nonfiction figured out. People love to watch Stewart and Colbert. Why don't you make films that come from that same spirit? 

Why wouldn't you want the same huge audience they have? Why is it that the American audience says, I love nonfiction books and I love nonfiction TV — but there's no way you're dragging me into a nonfiction movie! Yet, they want the truth AND they want to be entertained. Yes, repeat after me, they want to be entertained!

10. As much as possible, try to film only the people who disagree with you.

That is what is really interesting. We learn so much more by you training your camera on the guy from Exxon or General Motors and getting him to just blab on.

11. The audience is part of the film.

While you are filming a scene for your documentary, are you getting mad at what you are seeing? Are you crying? Are you cracking up so much that you are afraid that the microphone is going to pick it up? If that is happening while you are filming it, then there is a very good chance that's how the audience is going to respond, too. Trust that. You are the audience, too.

12. Less is more. You already know that one.

Edit. Cut. Make it shorter. Say it with fewer words. Fewer scenes. Don't think your shit smells like perfume. It doesn't.

13. Finally… Sound is more important than picture.

Pay your sound woman or sound man the same as you pay the DP, especially now with documentaries. Sound carries the story. It's true in a fiction film, too.
So there you have it aspiring filmmakers. Should you to wish to galvanize, polarize, move, and inspire your audience as you tell them the truth (as you see it), you'd do well to take a few pointers from Michael Moore. Political differences—and homicidal urges—aside, even particularly right-leaning documentary directors might consider taking a few pages from Moore's playbook. A few media personalities, it seems, already have, at least when it comes to defining their purpose. One last time, with feeling, for the TL;DR crowd: "Yes, repeat after me, [audiences] want to be entertained! If you can't accept that you are an entertainer with your truth, then please get out of the business."
via Indiewire
Related Content:
Michael Moore Tells Wisconsin Teachers "America Isn't Broke"
Bowling for Columbine: It's Online and 10 Years Later the School Massacres Continue. Have You Had Enough?!
Josh Jones is a writer and musician based in Durham, NC. Follow him at @jdmagness