Every ten years, film journal Sight and Sound conducts a worldwide survey of film critics to decide which films are considered the best ever made. Started in 1952, the poll is now widely regarded as the most important and respected out there.
And the critical consensus for a long time was that the masterpiece Citizen Kane by Orson Welles (born 100 years ago today, by the way) is the best of the best. The film topped the list for five decades from 1962 until 2002. Then in 2012, perhaps out of Kane fatigue, Alfred Hitchcock's Vertigo muscled its way to the top.
That's what the critics think. But what about the filmmakers?
Beginning in 1992, Sight and Sound started to poll famed directors about their opinions. People like Martin Scorsese, Francis Ford Coppola, Mike Leigh and Michael Mann. So what is the best movie ever made according to 358 directors polled in 2012? Kane? Vertigo? Perhaps Jean Renoir's brilliant Rules of the Game, the only movie to appear in the top ten for all seven critics polls? No.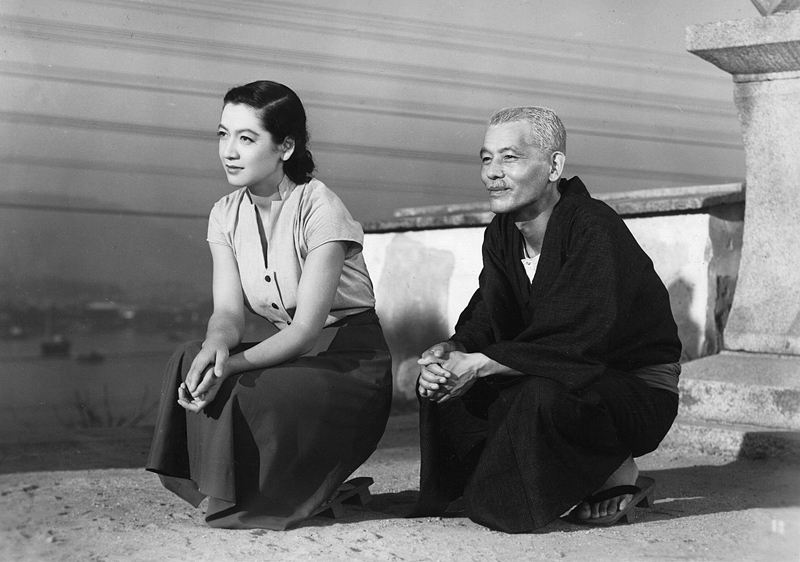 Instead, the top prize goes to Yasujiro Ozu's Tokyo Story.
It's a surprising, an enlightened, choice. Ozu's work is miles away from the flash of Kane and the psychosexual weirdness of Vertigo. Tokyo Story is a gentle, nuanced portrait of a family whose bonds are slowly, inexorably being frayed by the demands of modernization. The movie's emotional power is restrained and cumulative; by the final credits you'll be overwhelmed both with a Buddhist sense of the impermanence of all things and a strong urge to call your mother.
But perhaps the reason filmmakers picked Tokyo Story of all the other cinematic masterpieces out there is because of Ozu's unique approach to film. Since the days of D. W. Griffith, almost every filmmaker under the sun, even cinematic rebels like Jean-Luc Godard, followed some basic conventions of the form like continuity editing, the 180-degree rule and matching eyelines. Ozu discarded all of that. Instead, he constructed a highly idiosyncratic cinematic language revolving around match cuts and rigorously composed shots. His film form was radical but his stories were universal. That is the paradox of Ozu. You can see the trailer of the movie above.

Citizen Kane does make number two on the list but the film is tied with another formally rigorous masterpiece – Stanley Kubrick's 2001: A Space Odyssey. Next on the list is perhaps the best movie ever about making a movie – Federico Fellini's 8 ½. And Ozu's film might be number one, but Francis Ford Coppola is the only filmmaker to have two movies on the list – The Godfather and Apocalypse Now. And that's no mean feat.
You can see the full list below:
1. Tokyo Story – Yasujiro Ozu (1953)
= 2. 2001: A Space Odyssey – Stanley Kubrick (1968)
= 2. Citizen Kane – Orson Welles (1941)
4. 8 ½ – Federico Fellini (1963)
5. Taxi Driver – Martin Scorsese (1976)
6. Apocalypse Now – Francis Ford Coppola (1979)
= 7. The Godfather – Francis Ford Coppola (1972)
= 7. Vertigo – Alfred Hitchcock (1958)
9. Mirror – Andrei Tarkovsky (1974)
10. Bicycle Thieves – Vittorio De Sica (1949)
Related Content:
4,000+ Free Movies Online: Great Classics, Indies, Noir, Westerns, Documentaries & More
The 10 Greatest Films of All Time According to 846 Film Critics
Woody Allen Lists the Greatest Films of All Time: Includes Classics by Bergman, Truffaut & Fellini
Martin Scorsese Reveals His 12 Favorite Movies (and Writes a New Essay on Film Preservation)
Orson Welles Explains Why Ignorance Was the Genius Behind Citizen Kane
Jonathan Crow is a Los Angeles-based writer and filmmaker whose work has appeared in Yahoo!, The Hollywood Reporter, and other publications. You can follow him at @jonccrow. And check out his blog Veeptopus, featuring lots of pictures of badgers and even more pictures of vice presidents with octopuses on their heads.  The Veeptopus store is here.