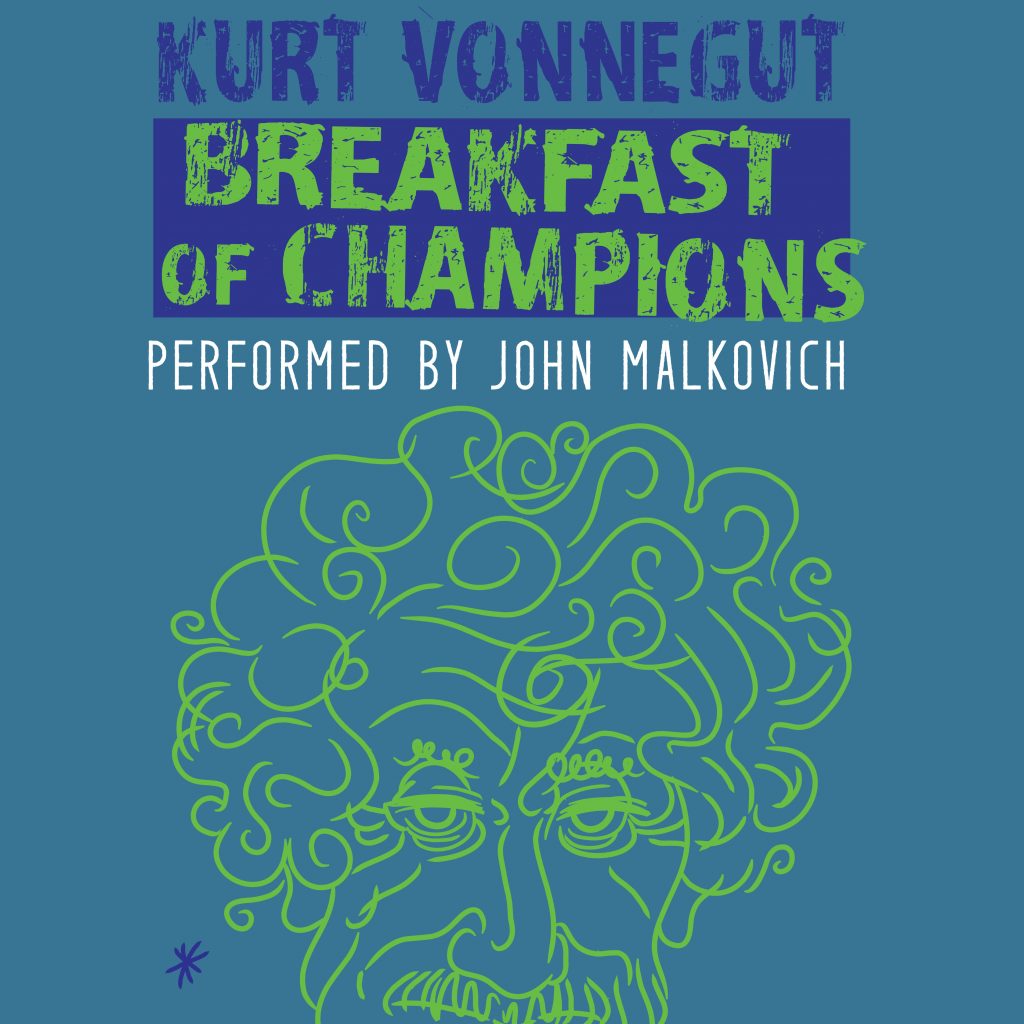 In high school when I was trying to write surrealistic short stories in the vein of Richard Brautigan, despite not really understanding 90 percent of Richard Brautigan, my English teacher recommended I start reading Kurt Vonnegut, so later that day I went down to our city's sci-fi book/comic book store and bought on her recommendation Breakfast of Champions. A comic novel, it was breezy and fun, and by gum, had cartoons in it! (One was of a cat's butthole, the effect of which on a high schooler's mind cannot be overstated.)
But, I admit, I haven't read it since–the world and my tsundoku is too big for rereadings–and maybe you haven't read it at all, or perhaps it's your favorite book. It was the novel Vonnegut published four years after his best known work Slaughterhouse Five. When he graded his novels in his 1981 "Autobiographical Collage" Palm Sunday he gave Breakfast a C. It's certainly one of his most rambling novels, where he brings back Slaughterhouse Five's sci-fi author Kilgore Trout and pairs him with the delusional Dwayne Hoover, and unpacks all the dark parts of American history, from racism to capitalism to environmental degradation in passages both sober and bleakly comic.
John Malkovich doesn't seem like the obvious choice to read Vonnegut for this audiobook, a short excerpt of which can be heard above. (Note: you can download the complete Malkovich reading for free via Audible's Free Trial program.) But the passage is key in that it introduces the martini cocktail lounge origins of the book's title, and Malkovich brings out the droll irony of Vonnegut's writing, especially the way he rolls the word "schizophrenia" off his tongue. There's a bit of the schizoid in every author, letting a world of characters speak through them like a medium.
For comparison, check out this earlier Open Culture post about Vonnegut reading a long section from Breakfast of Champions in 1970. The author chuckles at some of his more comic passages, and the audience roars along. The timing is that of a standup routine, but this opening—one assumes its the opening—would go on to be furiously rewritten, dropping the first person style. It's an alternative universe Breakfast that can only leave one to wonder how the rest of the novel might have been handled.
h/t Ayun
Related content:
Richard Brautigan's Story, 'One Afternoon in 1939,' Read From a Wooden Spool
Kurt Vonnegut's 8 Tips on How to Write a Good Short Story
22-Year-Old P.O.W. Kurt Vonnegut Writes Home from World War II: "I'll Be Damned If It Was Worth It"
Ted Mills is a freelance writer on the arts who currently hosts the FunkZone Podcast. You can also follow him on Twitter at @tedmills, read his other arts writing at tedmills.com and/or watch his films here.