Thomas Hardy—archi­tect, poet, and writer (above)—gave us the fierce, stormy romance Far From the Madding Crowd, cur­rent­ly impress­ing crit­ics in a film adap­ta­tion by Thomas Vin­ter­berg. He also gave us Tess of the D'Urbervilles, The Return of the Native, and Jude the Obscure, books whose per­sis­tent­ly grim out­look might make them too depress­ing by far were it not for Hardy's engross­ing prose, unfor­get­table char­ac­ter­i­za­tion, and, per­haps most impor­tant­ly, unshak­able sense of place. Hardy set most of his nov­els in a region he called Wes­sex, which—much like William Faulkn­er's Yoknapatawpha—is a thin­ly fic­tion­al­ized recre­ation of his rur­al home­town of Dorch­ester and its sur­round­ing coun­ties.
Now, thanks to the Uni­ver­si­ty of Texas at Austin's Har­ry Ran­som Cen­ter, we can learn all about this ancient region in South West Eng­land, and Hardy's trans­mu­ta­tion of it, through Hardy's own proof copy of a 1905 book by Frank R. Heath called Dorch­ester (Dorset) and its Sur­round­ings, with revi­sions in Hardy's hand. In the excerpt above, for exam­ple, from page 36 of this schol­ar­ly work, the author dis­cuss­es Hardy's use of Dorch­ester in The May­or of Cast­er­bridge and the so-called "Wes­sex Poems." In the mar­gins on the right, we see Hardy's cor­rec­tions and gloss­es. Though this may not seem the most excit­ing piece of Hardy mem­o­ra­bil­ia, for stu­dents of the author and his invest­ment in a rur­al cor­ner of Eng­land, it is indeed a trea­sure.
The Hardy archive also con­tains scans of the author's cor­re­spon­dence, man­u­scripts and signed type­scripts, and archi­tec­tur­al draw­ings, like that of St. Juliot's Church in Corn­wall, above. This exten­sive dig­i­tal Hardy col­lec­tion is but one of many housed in the Ran­som Cen­ter's Project Reveal, an acronym for "Read and View Eng­lish & Amer­i­can Lit­er­a­ture." Read and view you can indeed, through the inti­ma­cy of first drafts, man­u­scripts, per­son­al writ­ing, and oth­er ephemera.
See, for exam­ple, a hand­writ­ten draft of Oscar Wilde's Salome, in French, (excerpt above). Below, we have a hand­writ­ten list of Robert Louis Steven­son's favorite books, and fur­ther down, a manuscript draft of Kather­ine Mans­field­'s "Now I am a plant, a weed" from her per­son­al poet­ry note­book.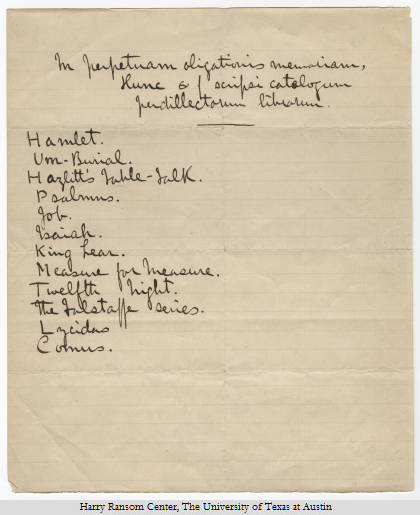 Oth­er authors includ­ed in the Project Reveal archive include Char­lotte Perkins Gilman, Hart Crane, Hen­ry James, Joseph Con­rad, and William Thack­er­ay. The project, writes the Ran­som Cen­ter in a press release, gen­er­at­ed more than 22,000 high-res­o­lu­tion images, avail­able for use by any­one for any pur­pose with­out restric­tion or fees" (but with attri­bu­tion). The lit­er­ary store­house on dis­play here only adds to an already essen­tial col­lec­tion of arti­facts the Ran­som Cen­ter hous­es, such as the papers of Gabriel Gar­cia Mar­quez, syl­labi, anno­tat­ed books, and man­u­scripts from David Fos­ter Wal­lace, scrap­books of Har­ry Hou­di­ni, and the first known pho­to­graph ever tak­en. See a com­plete list of con­tents of the Ran­som Cen­ter's Dig­i­tal Col­lec­tions here, and learn more about this amaz­ing library in the heart of Texas at their main site.
Relat­ed Con­tent:
Library of Con­gress Launch­es New Online Poet­ry Archive, Fea­tur­ing 75 Years of Clas­sic Poet­ry Read­ings
Yale Launch­es an Archive of 170,000 Pho­tographs Doc­u­ment­ing the Great Depres­sion
Lit­er­ary Remains of Gabriel Gar­cía Márquez Will Rest in Texas
David Fos­ter Wallace's Love of Lan­guage Revealed by the Books in His Per­son­al Library
Josh Jones is a writer and musi­cian based in Durham, NC. Fol­low him at @jdmagness