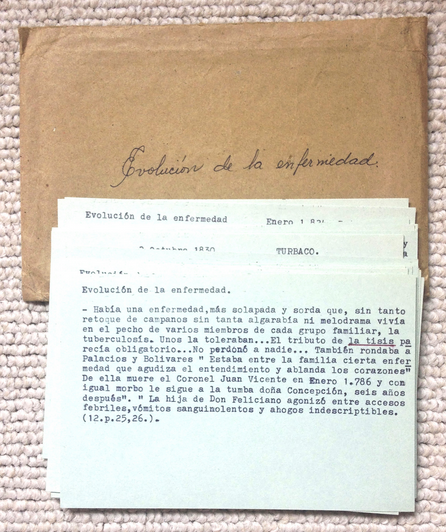 Gabriel García Márquez's notes for The General in His Labyrinth (1989) via The Ransom Center & The New York Times
Quick note: The Harry Ransom Center, a humanities research library at UT-Austin, announced this morning that it has acquired the archive of Gabriel García Márquez, the Nobel Prize-winning, Colombian novelist who passed away earlier this year. His literary remains include "original manuscript materials for 10 books ...; more than 2,000 pieces of correspondence, including letters from Carlos Fuentes and Graham Greene; drafts of his 1982 Nobel Prize acceptance speech; more than 40 photograph albums documenting all aspects of his life over nearly nine decades; the Smith Corona typewriters and computers on which he wrote some of the 20th century's most beloved works; and scrapbooks meticulously documenting his career via news clippings from Latin America and around the world."
All of this material, The Harry Ransom Center goes on to say, will conveniently site alongside archives of others authors who inspired García Márquez -- most notably, Jorge Luis Borges, William Faulkner and James Joyce.
The New York Times has a small gallery of images showcasing photos in the newly acquired collection. Take a quick spin through it here.
Related Content:
Read 10 Short Stories by Gabriel García Márquez Free Online (Plus More Essays & Interviews)
Jorge Luis Borges' 1967-8 Norton Lectures On Poetry (And Everything Else Literary)
Carlos Fuentes: "You Have to See the Face of Death in Order to Start Writing Seriously"