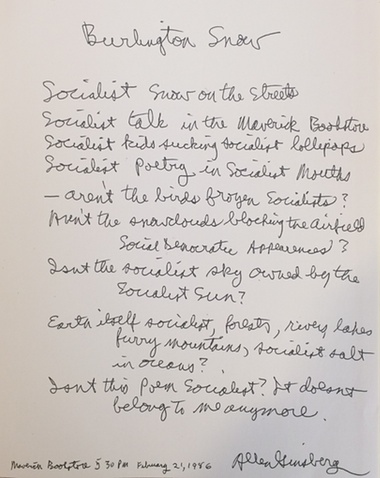 Special Collections, University of Vermont Libraries
No matter how much of a political junkie you are, you must surely have had enough of the spectacle that is the 2016 campaign for the presidency. At current count, we are faced with an astounding 15 candidates for the Republican nomination, one of whom is doing his best to revive the ugliest nativism of the 19th century. On the other side of our binary party system, we have only One. Or so it would seem if you were to pay attention to much of the media coverage, which only rarely mentions the handful of other Democratic contenders and mostly ignores the rising tide of support for Bernie Sanders.
The Senator from Vermont has unabashedly referred to himself, throughout his long political career, as a democratic socialist or, on occasion, simply a "socialist"—a word that strikes fear into the heart of many an American, and resonates widely with another portion of the electorate. Debates over what this means rage on. George Will calls Sanders' socialism a "charade." Thor Benson in the New Republic accuses him of playing "loose with the terminology." The history and current state of "socialism" is so long and complex that no one definition seems to suit. Its political baggage in American discourse, however, is undeniable.
This was just as true in 1986, when Allen Ginsberg wrote a poem in praise of Sanders, then mayor of Burlington, Vermont. Ginsberg playfully draws on the loose associations we have with the word, hammering it home with tongue-in-cheek repetition, then turning reflective.
Socialist snow on the streets
Socialist talk in the Maverick bookstore
Socialist kids sucking socialist lollipops
Socialist poetry in socialist mouths
—aren't the birds frozen socialists?
Aren't the snowclouds blocking the airfield
Social Democratic Appearances?
Isn't the socialist sky owned by
the socialist sun?
Earth itself socialist, forests, rivers, lakes
furry mountains, socialist salt
in oceans?
Isn't this poem socialist? It doesn't
belong to me anymore.
Calling it "Burlington Snow," Ginsberg composed the poem—equal parts goofy and sincere—on a visit to the city, one of many pilgrimages made by left-wing writers and artists after Sanders' string of attempted foreign policy interventions. You can read all about the optimistic socialist—or democratic socialist, or whatever—in Paul Lewis' Guardian portrait.
via Mother Jones
Related Content:
Allen Ginsberg & The Clash Perform the Punk Poem "Capital Air," Live Onstage in Times Square (1981)
'The Ballad of the Skeletons': Allen Ginsberg's 1996 Collaboration with Philip Glass and Paul McCartney
The First Recording of Allen Ginsberg Reading "Howl" (1956)
Josh Jones is a writer and musician based in Durham, NC. Follow him at @jdmagness