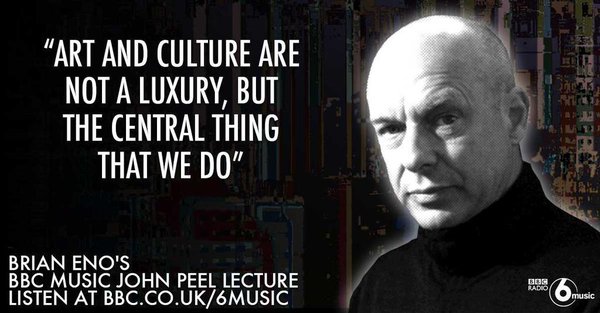 Image by BBC Radio 6
"Symphonies, perfume, sports cars, graffiti, needlepoint, monuments, tattoos, slang, Ming vases, doodles, poodles, apple strudels. Still life, Second Life, bed knobs and boob jobs" — why do we make any of these things? That question has driven much of the career (and indeed life) of Brian Eno, the man who invented ambient music and has brought his distinctive, at once intellectual and visceral sensibility to the work of bands like Roxy Music, U2, and Coldplay as well as the realm of visual art. Back in September, he laid out all the illuminating and entertaining answers at which he has thus far arrived in giving the BBC's 2015 John Peel Lecture.
We featured Eno's wide-ranging talk on the nature of art and culture, as well as its utility to the human race, back when the Beeb offered it streaming for a limited time only. But now they've made it freely available to download and listen to as you please: you can download the MP3 at this link.
You can also follow along, if you like, with the PDF transcript available here, which will certainly be of assistance when you go to look up all the people, ideas, works of art, and pieces of history Eno references along the way, including but not limited to the "STEM" subjects, Baked Alaska, black Chanel frocks, the Riemann hypothesis, Little Dorrit, Morse Peckham, Coronation Street, airplane simulators, the dole, Lord Reith, John Peel himself, Basic Income, Linux, and collective joy.
If you haven't had enough Eno after that — and here at Open Culture, we never get enough Eno — have a look at and a listen to clips of a conversation he recently had with science writer Steven Johnson, all of which have an intellectual overlap with the Peel Lecture. The first deals with music, something this self-professed "non-musician" has done much more than his share of thinking about. The second has to do with punchlines, or rather, Eno's conception of a piece of art, not as a thing with value in and of itself, but as a kind of punchline on the order of "I used to have a car like that." (To hear its setup, you'll have to watch the video.)
In the third, Johnson and Eno discuss an idea at the core of the Peel Lecture, Eno's famous definition of culture, and later art: "Everything you don't have to do." That covers all the aforementioned symphonies, perfume, sports cars, graffiti, needlepoint, monuments, tattoos, slang, Ming vases, doodles, poodles, apple strudels, still life, Second Life, bed knobs and boob jobs: "All of those things are sort of unnecessary in the sense that we could all survive without doing any of them," Eno says, "but in fact we don't. We all engage with them." And if you want to know why we should keep engaging with them, and in fact engage with them more vigorously than ever, Eno can tell you.
Related Content:
Hear 150 Tracks Highlighting Brian Eno's Career as a Musician, Composer & Producer & Stream His 2015 John Peel Lecture
Jump Start Your Creative Process with Brian Eno's "Oblique Strategies"
Revisit the Radio Sessions and Record Collection of Groundbreaking BBC DJ John Peel
Brian Eno Lists 20 Books for Rebuilding Civilization & 59 Books For Building Your Intellectual World
Listen to "Brian Eno Day," a 12-Hour Radio Show Spent With Eno & His Music (Recorded in 1988)
When Brian Eno & Other Artists Peed in Marcel Duchamp's Famous Urinal
Prof. Iggy Pop Delivers the BBC's 2014 John Peel Lecture on "Free Music in a Capitalist Society"
Based in Seoul, Colin Marshall writes and broadcasts on cities and culture. He's at work on a book about Los Angeles, A Los Angeles Primer, the video series The City in Cinema, the crowdfunded journalism project Where Is the City of the Future?, and the Los Angeles Review of Books' Korea Blog. Follow him on Twitter at @colinmarshall or on Facebook.