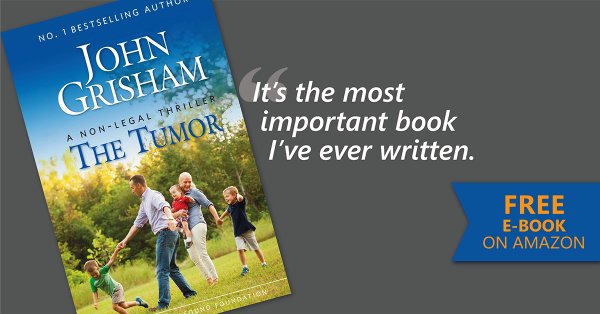 FYI: Bestselling author John Grisham is giving away his new novel called The Tumor: A Non-Legal Thriller. Available as a free ebook on Amazon, Grisham has called The Tumor "the most important book I've ever written." And, as the subtitle suggests, this new book isn't another one of those legal thrillers Grisham is known for. No, this novel focuses on medicine and how a "new medical technology could revolutionize the future of medicine by curing with sound."
Here's how the book is briefly summarized on Amazon:
The Tumor follows the present day experience of the fictional patient Paul, an otherwise healthy 35-year-old father who is diagnosed with a malignant brain tumor. Grisham takes readers through a detailed account of Paul's treatment and his family's experience that doesn't end as we would hope. Grisham then explores an alternate future, where Paul is diagnosed with the same brain tumor at the same age, but in the year 2025, when a treatment called focused ultrasound is able to extend his life expectancy.

Focused ultrasound has the potential to treat not just brain tumors, but many other disorders, including Parkinson's, Alzheimer's, hypertension, and prostate, breast and pancreatic cancer…

Readers will get a taste of the narrative they expect from Grisham, but this short book will also educate and inspire people to be hopeful about the future of medical innovation.
You can download Grisham's book here, and find many other free reads in our collection, 800 Free eBooks for iPad, Kindle & Other Devices.
You can also see Grisham talking about the material in his novel at this TEDx talk.
Would you like to support the mission of Open Culture? Please consider making a donation to our site. It's hard to rely 100% on ads, and your contributions will help us continue providing the best free cultural and educational materials to learners everywhere.
Also consider following Open Culture on Facebook and Twitter and sharing intelligent media with your friends. Or sign up for our daily email and get a daily dose of Open Culture in your inbox. 
h/t Robin