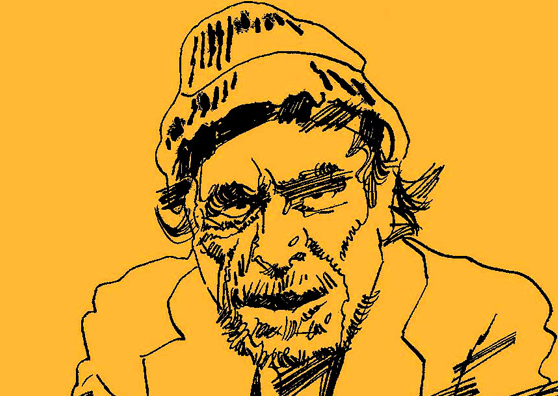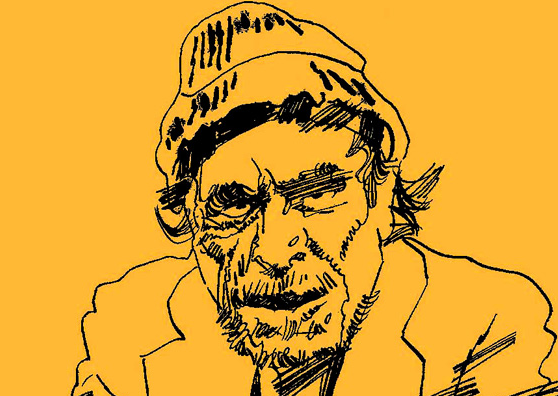 Drawing by Graziano Origa, via Wikimedia Commons
An old man sits alone, ranting in a nasally monotonous drone. He breaks into rueful laughter, threats of violence, mockery, maudlin lament…. An angry drunken uncle crying out into the wilderness of a Tuesday night bender? A tough guy left behind in the world, unable to stomach its restrictions and blithe hypocrisies? A mad poet on his way to the grave? An everyman rambler whose seen-it-all candor and hardass sense of humor command the common people's ear?
All of the above was beloved novelist, raconteur, poet, and trenchant essayist Charles Bukowski. It's easy to caricature Bukowski for his lifelong romance with booze, a dominant theme in nearly all of his autobiographically-inspired poems and stories. But in writing of the life an alcoholic artist, himself, he also uncovered in extremis general truths about human existence that many people spend their lives trying to avoid. The pain, and solace, of loneliness, rejection, and self-doubt, the desperate need for fortitude in the face of seeming hopelessness.
Bukowski is not only a hero to so many would-be writers because of his epic barroom tales and rock-star-caliber drinking bouts. If that were so, his stories might quickly grow tedious. What Bukowski had over the run-of-the-mill pub regulars was a surprising amount of emotional vulnerability and self-awareness, and a desire to communicate his experiences with the same raw honesty as his literary hero, Dostoevsky. Put simply, Bukowski possessed an abundance of what Keats called "negative capability."
He also had a good deal of luck. If even a handful of the stories he tells about his life are true, it's a wonder he didn't die several times over. Take his recounting below of a live 1979 Vancouver performance, footage of which became the documentary film There's Gonna Be a God Damn Riot in Here. In a letter that year to a friend, he wrote:
Back from Canadian reading. Took Linda. Have video tapes of the thing in color, runs about two hours. Saw it a couple nights back. Not bad. Much fighting with the audience. New poems. Dirty stuff and the other kind. Drank before the reading and 3 bottles of red wine during but read the poems out. Dumb party afterwards. I fell down several times while dancing. They got me back on the elevator back at the hotel and I kept hollering for another bottle. Poor Linda. Afterwards in hotel room, kept falling. Finally fell against the radiator and cracked a 6 inch gash in skull. Blood everywhere. Hell of a trip…Nice Canadian people who set up reading, though. Not poet types at all. All in all, a good show…
The video tapes were Bukowski's idea—he insisted on the recording as a condition for making the trip. And you can hear audio of the entire performance at the top on Spotify (get Spotify's software here; or listen on Youtube here). Also on the playlist are two other Bukowski spoken-word albums, Charles Bukowski Master Collection, and Hostage. The latter, writes Amazon, "has to be one of the rowdiest poetry records ever released, which makes sense considering how drunk Bukowski plainly is." But "the drink never gets in the way of his delivery," and his tough-but-tender verse comes through plainly, even if it seems like there might be a riot any minute. Only Bukowski could have pulled this off and lived to tell the tale.
Find these Bukowski readings added to our collection, 1,000 Free Audio Books: Download Great Books for Free.
Related Content:
Listen to Charles Bukowski Poems Being Read by Bukowski Himself & the Great Tom Waits
Watch "Beer," a Mind-Warping Animation of Charles Bukowski's 1971 Poem Honoring His Favorite Drink
Four Charles Bukowski Poems Animated
Josh Jones is a writer and musician based in Durham, NC. Follow him at @jdmagness