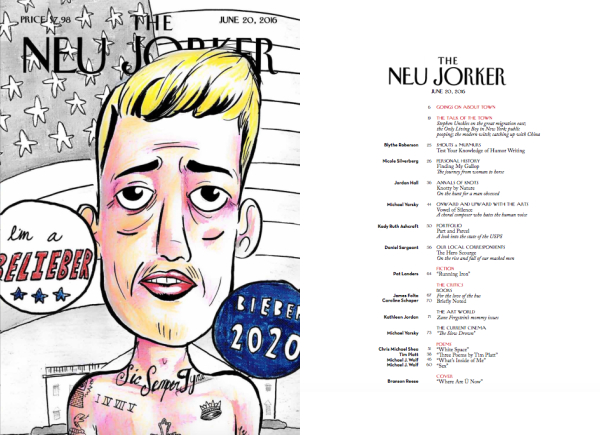 From Andrew Lipstein & James Folta comes The Neu Jorker, a great parody of the high-brow magazine, The New Yorker. The table of contents, the contributor bios, the cartoons, the ads, the articles–they're all imitated in a nearly pitch perfect way, just taken one degree further into the realm of slight absurdity. Download The Neu Jorker in high-res formats via Dropbox and Scribd, and you'll see what I mean.
On page 4 of the magazine, Lipstein and Volta write, "The Neu Jorker was a labor of love… Not a single cent was spent or made on this project. We've done our share of research on fair use and parody law (a solid Wikipedia skim), and are pretty sure we're good, but we do hope that the magazine-not-to-be-named understands that this is somewhere between satire, parody, and homage." We're hoping, too, that David Remnick and the lawyers at Conde Nast will appreciate the effort that went into this 80 page, cover-to-cover parody.
Contributors to The Neu Jorker come from The Onion, ClickHole, The New Yorker, the Late Show with David Letterman, the Late Show with Stephen Colbert, McSweeney's, the Upright Citizens Brigade and various other funny places.
Download the parody here. And speaking of The New Yorker, just a quick reminder that Malcolm Gladwell has launched a podcast called "Revisionist History" today. You can hear the first episode here.
via Metafilter/AV Club
If you would like to sign up for Open Culture's free email newsletter, please find it here.
If you would like to support the mission of Open Culture, consider making a donation to our site. It's hard to rely 100% on ads, and your contributions will help us continue providing the best free cultural and educational materials to learners everywhere. You can contribute through PayPal, Patreon, Venmo (@openculture) and Crypto. Thanks!
Related Content:
Malcolm Gladwell Has Launched a New Podcast, Revisionist History: Hear the First Episode
Al Jaffee, the Longest Working Cartoonist in History, Shows How He Invented the Iconic "Folds-Ins" for Mad Magazine
The New Yorker's "Comma Queen" Mercifully Explains the Difference Between Who/Whom, Lay/Lie, Less/Fewer & Beyond
The New Yorker's Fiction Podcast: Where Great Writers Read Stories by Great Writers