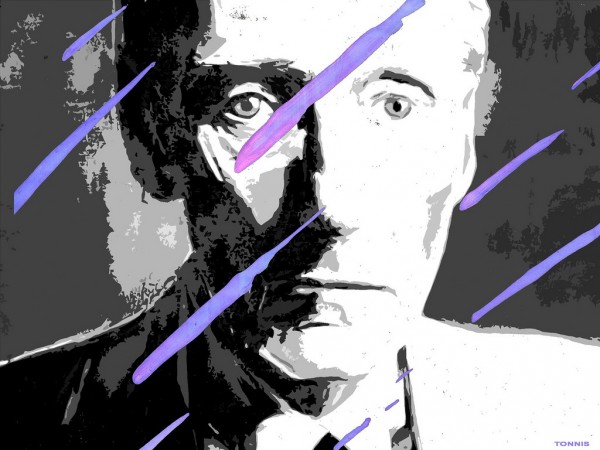 Image by Christiaan Tonnis, via Wikimedia Commons
William S. Burroughs may have died almost twenty years ago, but that doesn't mean his fans have gone entirely without new material since. This year, for instance, has seen the release of the Naked Lunch author's new spoken word album Let Me Hang You, which you can listen to free on Spotify. (If you don't have Spotify's free software, download it here.) Its content, in fact, comes straight from that form- and taboo-breaking 1959 novel, which Burroughs committed to tape — along with a trio of accomplished experimental musicians — not long before his passing, and which thus got lost along the way to commercial release.
"But more than 20 years later," writes the New York Times' Joe Coscarelli, "those surreal recordings — which featured music from the guitarist and composer Bill Frisell, along with the pianist Wayne Horvitz and the violist Eyvind Kang — are getting a second life as an album with an assist from the independent musician King Khan, best known for his raucous live shows as an eccentric punk and soul frontman." Fans of Burroughs' roughest-edged material can rest assured that, in these sessions, the writer focused on speaking the "unspeakable" parts of Naked Lunch: "think sex, drugs, and defecation," Coscarelli says.
Hard as it may seem to believe that a novel written well over half a century ago, let alone one written by an author born more than a century ago, could retain its power to shock, this newly published musical interpretation of Burrough's substance-inspired, random-access, "obscenity"-laden text freshens its transgressive impact. "One particularly jagged track on the record is 'Clem Snide the Private Ass Hole,'" writes Rolling Stone's Kory Grow. "As Burroughs stiltedly reads his own bizarre prose in which the titular Snide recites every lurid, gritty detail he notices while watching a junky 'female hustler,' Khan and his fellow musicians play a brittle, upbeat groove and funky, bluesy guitar solos." Finally, someone has taken this work of the most offbeat of all the Beats and set it to a beat.
Related Content:
William S. Burroughs Reads Naked Lunch, His Controversial 1959 Novel
The "Priest" They Called Him: A Dark Collaboration Between Kurt Cobain & William S. Burroughs
How to Jumpstart Your Creative Process with William S. Burroughs' Cut-Up Technique
William S. Burroughs on the Art of Cut-up Writing
William S. Burroughs Explains What Artists & Creative Thinkers Do for Humanity
William S. Burroughs on Saturday Night Live, 1981
Based in Seoul, Colin Marshall writes and broadcasts on cities and culture. He's at work on a book about Los Angeles, A Los Angeles Primer, the video series The City in Cinema, the crowdfunded journalism project Where Is the City of the Future?, and the Los Angeles Review of Books' Korea Blog. Follow him on Twitter at @colinmarshall or on Facebook.