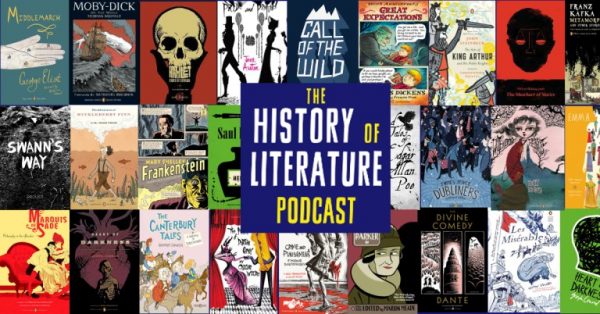 Even before you start on a journey through the history of literature, you know some of the stops you'll make on the way: the Epic of Gilgamesh, the Bible, Homer's Iliad and Odyssey, Greek tragedy, Shakespeare, Joyce. And so it comes as no surprise that Jacke Wilson, creator and host of the History of Literature podcast (from ancient epics to contemporary classics – Android – RSS), has so far devoted whole episodes, and often more than one, to each of them. A self-described "amateur scholar," Wilson aims with this show, which he launched last October, to take "a fresh look at some of the most compelling examples of creative genius the world has ever known."
Wilson also addresses questions like "How did literature develop? What forms has it taken? And what can we learn from engaging with these works today?" And yet he asks this rhetorical one in The History of Literature's very first episode: "Is it just me, or is literature dying?" The also self-described "wildly unqualified host" admits that he at first tried to create a straightforward, straight-faced march through literary history, but found the result staid and lifeless. And so he loosened up, allowing in not just more of his personality but more of his doubts about the very literary enterprise in the 21st century.
Given that we get so much of our knowledge, human interaction, and pure wordcraft on the internet today, laments Wilson, what remains for novels, stories, poetry, and drama to provide us? As a History of Literature listener, I personally see things differently. The fact that we now have such abundant outlets from which to receive all those other things may strip literature of some of the relevance it once held by default, but it also lifts from literature a considerable burden. Just as the development of photography freed painting from the obligation to ever more faithfully represent reality, literature can now find forms and subjects better suited to the artistic experience that it, and only it, can deliver.
Jorge Luis Borges counts as only one of the writers who grasped the unexplored potential of literature, and Wilson uses one of the occasional episodes that breaks from the linearity of history to discuss the "Garden of Forking Paths" author's thoughts on the meaning of life. He recorded it (listen above) in response to two deaths: that of "Fifth Beatle" George Martin, and even more so that of his uncle. Other relatable parts of Wilson's life come into play in other conversations about writers both ancient and modern, such as the conversation about the works of Graham Greene and whether he can still get as much out of them as he did during his youthful traveling days. Literature, after all, may have no greater value than that it gets us asking questions — a value The History of Literature demonstrates in every episode. 
Related Content:
What Are Literature, Philosophy & History For? Alain de Botton Explains with Monty Python-Style Videos
A Crash Course in English Literature: A New Video Series by Best-Selling Author John Green
Entitled Opinions, the "Life and Literature" Podcast That Refuses to Dumb Things Down
The Dead Authors Podcast: H.G. Wells Comically Revives Literary Greats with His Time Machine
The History of Philosophy Without Any Gaps Podcast, Now at 239 Episodes, Expands into Eastern Philosophy
The Complete History of the World (and Human Creativity) in 100 Objects
78 Free Online History Courses: From Ancient Greece to The Modern World
55 Free Online Literature Courses: From Dante and Milton to Kerouac and Tolkien
Based in Seoul, Colin Marshall writes and broadcasts on cities and culture. He's at work on a book about Los Angeles, A Los Angeles Primer, the video series The City in Cinema, the crowdfunded journalism project Where Is the City of the Future?, and the Los Angeles Review of Books' Korea Blog. Follow him on Twitter at @colinmarshall or on Facebook.