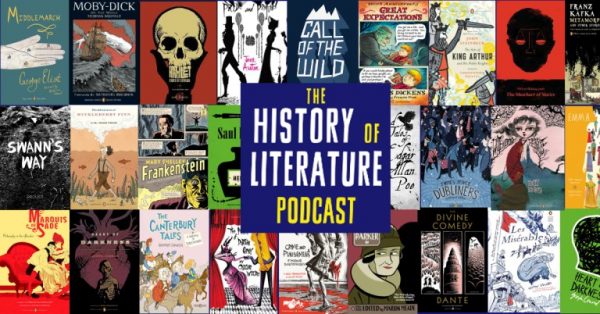 Even before you start on a jour­ney through the his­to­ry of lit­er­a­ture, you know some of the stops you'll make on the way: the Epic of Gil­gamesh, the Bible, Home­r's Ili­ad and Odyssey, Greek tragedy, Shake­speare, Joyce. And so it comes as no sur­prise that Jacke Wil­son, cre­ator and host of the His­to­ry of Lit­er­a­ture pod­cast (from ancient epics to con­tem­po­rary clas­sics — Android — RSS), has so far devot­ed whole episodes, and often more than one, to each of them. A self-described "ama­teur schol­ar," Wil­son aims with this show, which he launched last Octo­ber, to take "a fresh look at some of the most com­pelling exam­ples of cre­ative genius the world has ever known."
Wil­son also address­es ques­tions like "How did lit­er­a­ture devel­op? What forms has it tak­en? And what can we learn from engag­ing with these works today?" And yet he asks this rhetor­i­cal one in The His­to­ry of Lit­er­a­ture's very first episode: "Is it just me, or is lit­er­a­ture dying?" The also self-described "wild­ly unqual­i­fied host" admits that he at first tried to cre­ate a straight­for­ward, straight-faced march through lit­er­ary his­to­ry, but found the result staid and life­less. And so he loos­ened up, allow­ing in not just more of his per­son­al­i­ty but more of his doubts about the very lit­er­ary enter­prise in the 21st cen­tu­ry.
Giv­en that we get so much of our knowl­edge, human inter­ac­tion, and pure word­craft on the inter­net today, laments Wil­son, what remains for nov­els, sto­ries, poet­ry, and dra­ma to pro­vide us? As a His­to­ry of Lit­er­a­ture lis­ten­er, I per­son­al­ly see things dif­fer­ent­ly. The fact that we now have such abun­dant out­lets from which to receive all those oth­er things may strip lit­er­a­ture of some of the rel­e­vance it once held by default, but it also lifts from lit­er­a­ture a con­sid­er­able bur­den. Just as the devel­op­ment of pho­tog­ra­phy freed paint­ing from the oblig­a­tion to ever more faith­ful­ly rep­re­sent real­i­ty, lit­er­a­ture can now find forms and sub­jects bet­ter suit­ed to the artis­tic expe­ri­ence that it, and only it, can deliv­er.
Jorge Luis Borges counts as only one of the writ­ers who grasped the unex­plored poten­tial of lit­er­a­ture, and Wil­son uses one of the occa­sion­al episodes that breaks from the lin­ear­i­ty of his­to­ry to dis­cuss the "Gar­den of Fork­ing Paths" author's thoughts on the mean­ing of life. He record­ed it (lis­ten above) in response to two deaths: that of "Fifth Bea­t­le" George Mar­tin, and even more so that of his uncle. Oth­er relat­able parts of Wilson's life come into play in oth­er con­ver­sa­tions about writ­ers both ancient and mod­ern, such as the con­ver­sa­tion about the works of Gra­ham Greene and whether he can still get as much out of them as he did dur­ing his youth­ful trav­el­ing days. Lit­er­a­ture, after all, may have no greater val­ue than that it gets us ask­ing ques­tions — a val­ue The His­to­ry of Lit­er­a­ture demon­strates in every episode.
Relat­ed Con­tent:
What Are Lit­er­a­ture, Phi­los­o­phy & His­to­ry For? Alain de Bot­ton Explains with Mon­ty Python-Style Videos
A Crash Course in Eng­lish Lit­er­a­ture: A New Video Series by Best-Sell­ing Author John Green
Enti­tled Opin­ions, the "Life and Lit­er­a­ture" Pod­cast That Refus­es to Dumb Things Down
The Dead Authors Pod­cast: H.G. Wells Com­i­cal­ly Revives Lit­er­ary Greats with His Time Machine
The His­to­ry of Phi­los­o­phy With­out Any Gaps Pod­cast, Now at 239 Episodes, Expands into East­ern Phi­los­o­phy
The Com­plete His­to­ry of the World (and Human Cre­ativ­i­ty) in 100 Objects
78 Free Online His­to­ry Cours­es: From Ancient Greece to The Mod­ern World
55 Free Online Lit­er­a­ture Cours­es: From Dante and Mil­ton to Ker­ouac and Tolkien
Based in Seoul, Col­in Mar­shall writes and broad­casts on cities and cul­ture. He's at work on a book about Los Ange­les, A Los Ange­les Primer, the video series The City in Cin­e­ma, the crowd­fund­ed jour­nal­ism project Where Is the City of the Future?, and the Los Ange­les Review of Books' Korea Blog. Fol­low him on Twit­ter at @colinmarshall or on Face­book.